Memories of this dish are bittersweet.  On the one hand, thinking about it makes me happy because it was so so yummy.  On the other hand, I'm sad because I finished the last leftovers yesterday.
This was super quick to whip up after work and so satisfying.  I cooked my orzo in vegetable broth to give it even more flavor although this pasta certainly isn't lacking in the flavor department: the tangy sun-dried tomatoes, smoky peppers, zesty artichoke, hearty zucchini, and salty olives all combine into something amazing.  My mouth is actually watering just remembering.  We topped ours with light feta cheese but eat as-is to keep it vegan.   
Mix up the vegetables to give it a twist: I think it would be great with fresh tomatoes, heart of palm, summer squash, or pine nuts.  I'll have to try some variations soon just to have an excuse to make this again!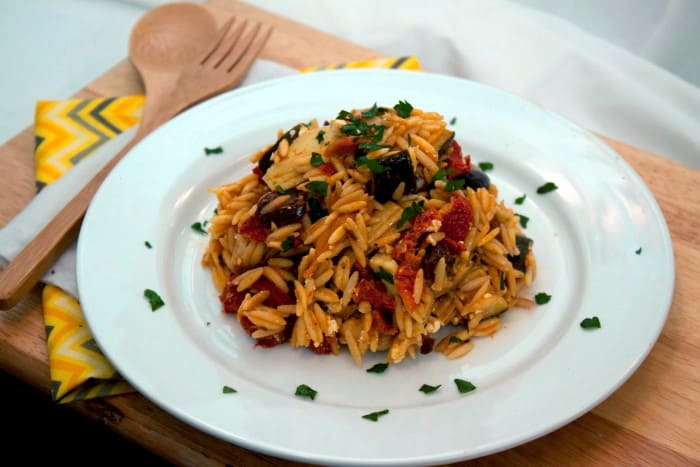 Ingredients
1/4 c sun-dried tomatoes, julienned
2 tbs hot water
1 red bell pepper
1 yellow bell peper
8 oz orzo
1 tsp olive oil
1/2 tsp crushed red pepper, or to taste
1 clove garlic, minced
1 large zucchini, cubed
1 tbs Italian seasoning
1 14.5-oz artichoke hearts in brine, drained and halved or quartered if large
1/3 c kalamata Olives
1 tbs lemon juice
Salt and pepper, to taste
Instructions
Soak sun-dried tomatoes in hot water while prepping other ingredients.
Place the peppers under a broiler on high heat for about 10 minutes, turning until the skin is blistered and charred. Seal the peppers in a plastic bag for 10 minutes to let steam. Then remove the seeds and skins.
Bring a large pot of salted water to a boil over high heat. Cook orzo according to package instructions, drain and set aside.
Meanwhile, heat olive oil in a large pan over medium heat. Add red pepper, garlic and zucchini cubes. Saute, stirring, until beginning to brown, about 5 minutes. Season with Italian seasoning.
Add artichoke hearts, drained tomatoes, peppers, olives. Saute another 1-2 minutes until vegetables are warmed through.
Add cooked orzo and stir to combine. Sprinkle with lemon juice, adjust seasoning to taste and serve.
Top with minced fresh basil, oregano, parsley, or crumbled feta cheese, if desired.
Nutritional Information
Calories 301 / Total Fat 4.8g / Saturated Fat 0.6g / Cholesterol 2mg / Sodium 291mg / Potassium 370mg / Total Carbohydrates 54.6g / Dietary Fiber 7.6g / Sugars 8.3g / Protein 10.3g Weight Watchers Points: 6 / Points Plus: 8
https://www.homesweetjones.com/2014/04/mediterranean-orzo/