Ever since Kramer went nuts for the Soup Nazi's mulligatawny soup on Seinfeld, I've been curious to try this soup.  Cut to 15 years later and I hadn't found a chance.  I realized I needed to take matters into my own hands and set about doing some recipe research.
What I discovered is that there are many versions of the soup.  Most call for apples, traditional Indian spices, tomatoes and coconut milk.   Many are thickened with rice but I was intrigued by those that used lentils instead.  The recipe below is a result of my tinkering: a hearty, richly spiced, subtly sweet soup that makes a satisfying meal served with a side of naan bread.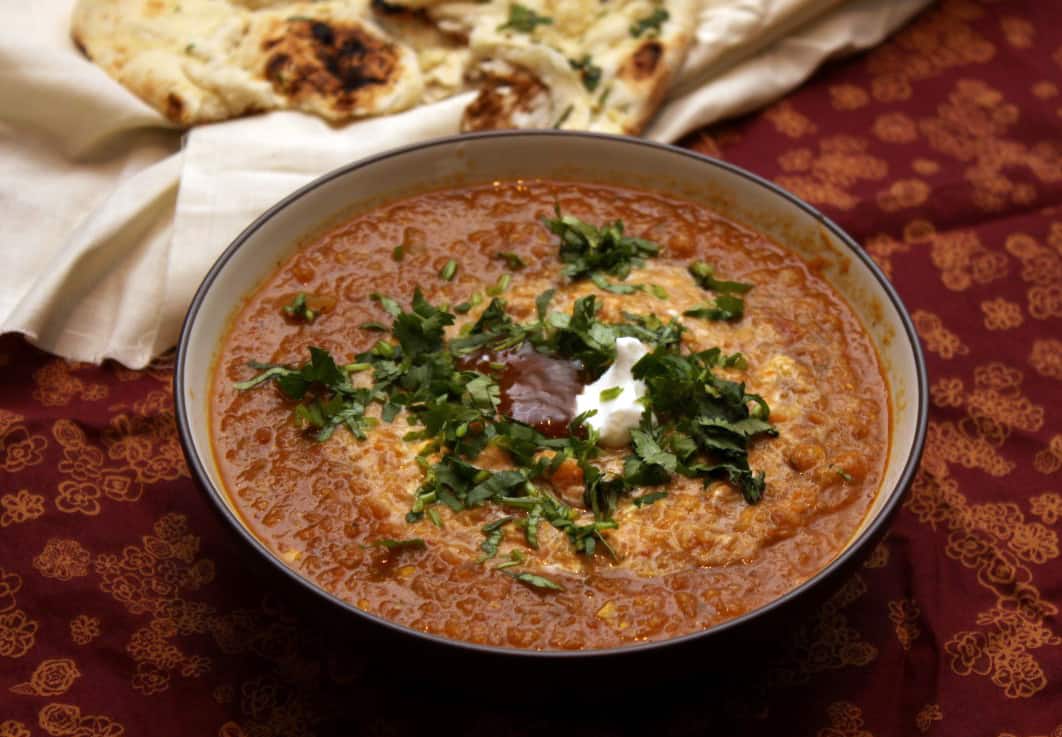 Ingredients
1 tsp olive oil
1 large onion, diced
2 celery ribs, diced
2 carrots, diced
1 large apple, diced
1 tbs garlic, minced
1 tbs ginger, minced
1 tbs curry
1 tbs garam masala
1/4 tsp cayenne, optional
1 tbs tomato paste
1 can light coconut milk
1 c vegetable broth
1 15.5-oz can diced tomatoes with liquid
1/2 c lentils
1 tbs cilantro, for garnish
Instructions
Heat oil in a large pot or dutch oven over medium heat. Saute onion, celery, and carrots until slightly softened, about 5 minutes.
Add garlic, ginger, curry, garam masala, and cayenne, if using. Saute another minute, until fragrant.
Stir in tomato paste, coconut milk, vegetable broth, tomatoes, and lentils. Bring to a boil. Reduce heat to low, cover, and simmer until lentils are cooked through, about 20 minutes.
Blend with a hand blender and serve, garnished with cilantro, yogurt, and mango chutney.
Nutritional Information
Calories: 277 / Total Fat 6.7g / Saturated Fat 3.8g / Trans Fat 0.0g / Cholesterol 0mg / Sodium 290mg / Potassium 645mg / Total Carbohydrates 43.0g / Dietary Fiber 12.3g / Sugars 16.9g / Protein 12.4g Weight Watchers Points: 5 / Points Plus 7
https://www.homesweetjones.com/2014/04/muligatawny-soup/