This simple, classic pasta dish makes it to the table in 15 minutes and is perfect for busy weeknights.  Colorful tomatoes, fresh basil, and just a hint of creamy mozzarella make this dish so zesty-delicious and satisfying that it would be a favorite even if it weren't so effortless.
Make this a one pot meal by making the sauce in the same pot after draining the pasta.  Doing it in series this way adds 5 more minutes to cooking time but might save you time on the clean-up end if you're a hand washer like me.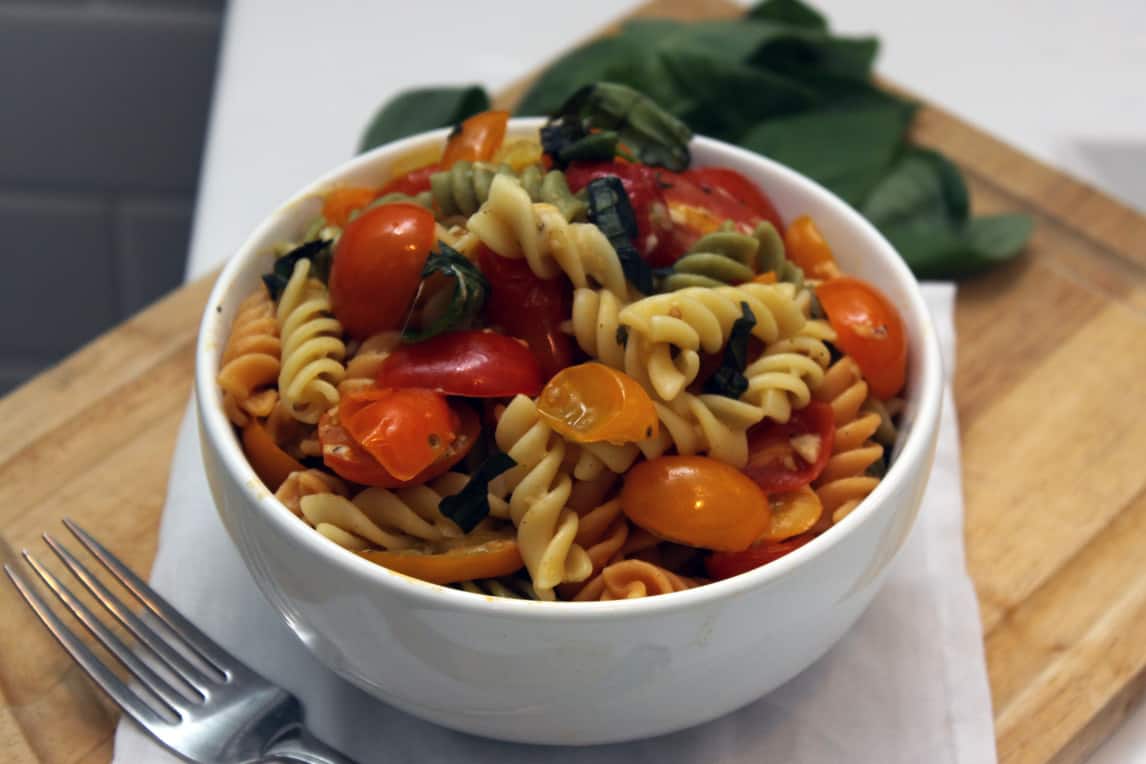 Ingredients
8 oz rotini pasta
1 tablespoons olive oil
3 cloves garlic, minced
1 lb cherry tomatoes, halved
salt and pepper, to taste
1/2 cup basil, chopped
4 oz Part Skim mozzarella, shredded or cubed
Instructions
Cook pasta according to package instructions.
Meanwhile, in a medium skillet heat the olive oil over medium heat. Add the garlic and saute until fragrant, about 1 minute.
Add the tomatoes and season to taste. Cook until the tomatoes are softened, about 5 minutes.
Add pasta to the tomato sauce and stir in the basil and mozzarella. Serve.
Nutritional Information
Calories: 264 / Total Fat: 6.1g / Saturated Fat: 0.7g / Cholesterol: 566mg / Sodium: 53mg / Potassium: 460mg / Total Carbohydrates: 36.3g / Dietary Fiber: 1.5g / Sugars: 3.0g / Protein: 16.8g Weight Watchers Points: 5 / Points Plus: 7
https://www.homesweetjones.com/2014/04/rotini-alla-caprese/