You're four ingredients and 15 minutes away from one of the best, simplest pasta dishes you'll ever have.  This is Brad's favorite year round.  I usually make it with farfalle or penne but have been long plotting to make it with this beautiful Italian Harvest Olandesine.
The sage in our backyard has been growing like gangbusters despite the drought here in LA so we've had a great excuse to scarf up this pasta a couple of times a month.  I used to make it with only a sprinkling of sage leaves for flavor but the crispy, buttery leaves are really the prize of this dish and I'm now up to a quarter cup of packed leaves.
There is a little bit of technique to timing it so that the butter reaches the nutty brown stage when the sage leaves are crispy but not burned.  I find that adding the leaves just when the butter is foaming times out well but keep an eye on things and be sure to remove any leaves that have browned before the butter solids separate.  There's a lot of room for error if you err on the side of not burning anything: this dish is wonderful even if the butter hasn't browned.
The only other warning I'd give is not to add the pasta water with the Parmesan as this can cause clumping.  As in the recipe below, I've had much more success adding the Parmesan at the very end.
Enjoy this with some crusty bread to mop up any extra butter and a glass of your favorite wine – Brad goes for Merlot while I enjoy it paired with a herby Sauvignon Blanc.  Yum!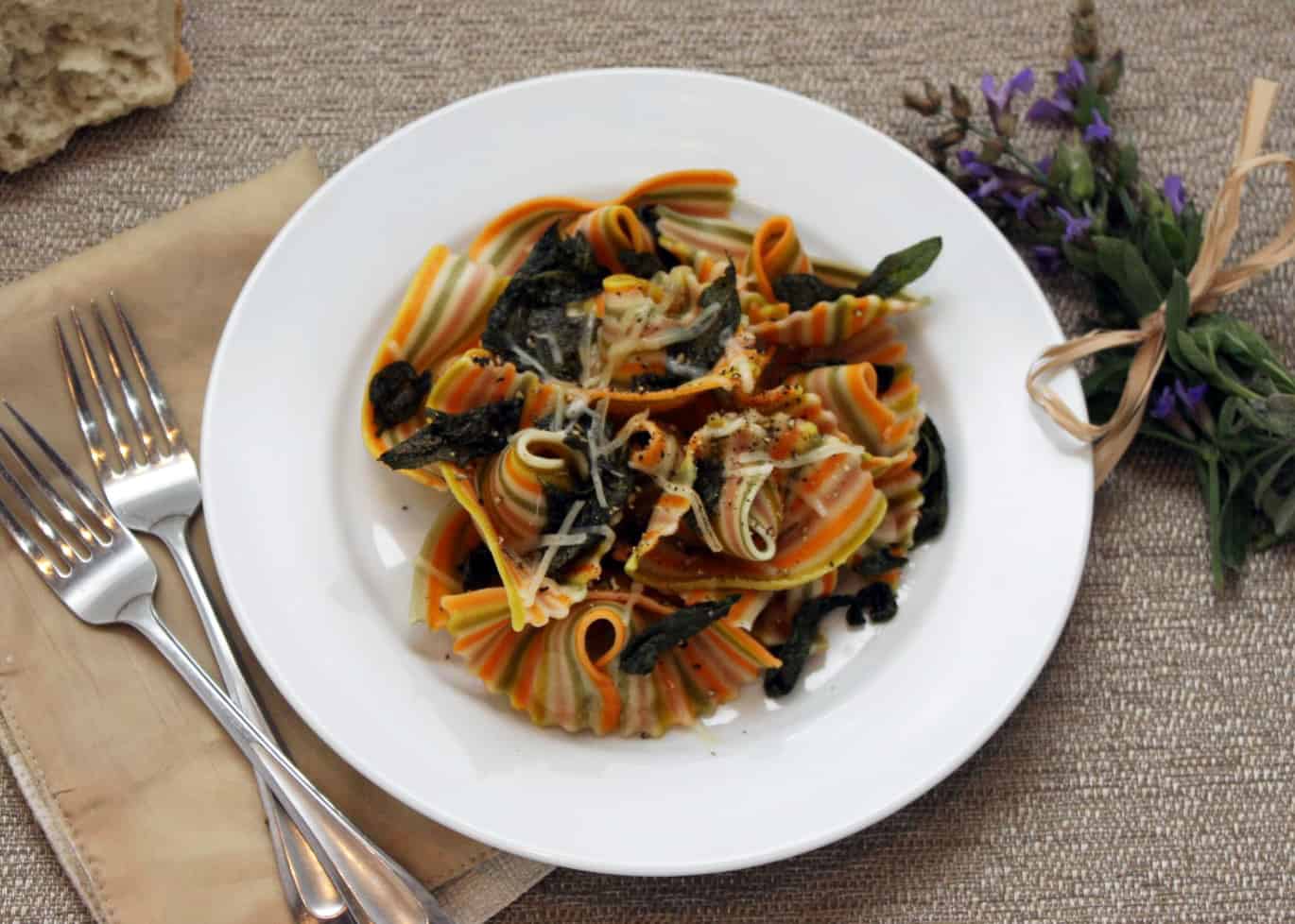 Ingredients
8 oz pasta (farfalle or penne work great)
2 tbs butter
1 handful fresh sage leaves
1/4 c Parmesan cheese
salt and pepper, to taste
Instructions
Bring a large pot of salted water to a roiling boil over high heat. Add pasta and cook according to package instructions. Drain, reserving 1/4 c pasta water, and set aside.
Meanwhile, in a large saucepan or braiser, melt butter over medium heat. After two minutes, as the butter begins to foam, add the sage leaves in a single layer.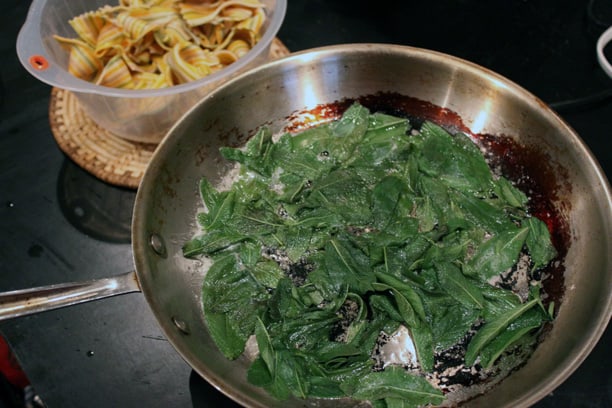 Cook until the sage leaves become crispy and begin to brown and the butter solids begin to separate and take on a nutty color and fragrance.
Add the drained pasta to the sage butter pan and combine. Add pasta water to further moisten. Season with salt and pepper to taste, top with Parmesan, and serve.
Nutritional Information
Calories 243 / Total Fat 8.8g / Saturated Fat 5.0g / Trans Fat 0.0g / Cholesterol 62mg / Sodium 122mg / Potassium 125mg / Total Carbohydrates 32.5g / Dietary Fiber 0.8g / Protein 9.0g Weight Watchers Points: 5 / Points Plus: 7
https://www.homesweetjones.com/2014/04/sage-beurre-noisette-pasta/