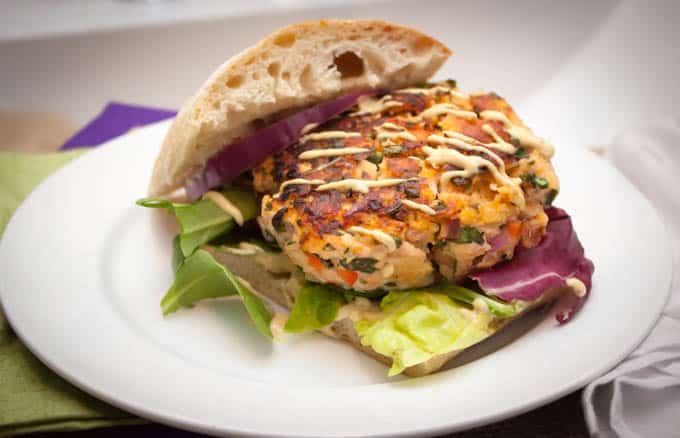 We make these amazingly delicious burgers for special occasions, small summer celebrations or when entertaining. However, they're simple enough to make anytime if you have more self control than I do.
I made them this weekend for our anniversary and, about two thirds of the way through the giant burger I had to admit that I was full but was going to keep eating, anyway. Shame… Mustardy, delicious shame.
Brad gets the credit for the recipe development here – I just refined. Many years ago he set out to make salmon burgers but happily bought crab-stuffed salmon fillets. He also received the divine inspiration to pair the luscious result with a super tangy, addictive mustard sauce that we've perfected over time. This recipe makes a ton of sauce but we still end up scraping the bowl at the end.
Make these this summer, gorge yourself, and, as you're licking the sauce off your greasy fingers, take comfort in the fact that these are less than 350 calories a serving, gluten free, paleo-friendly and a good source of omega-3s. I lighten them up even more with light mayo and the result is just as crazy yummy.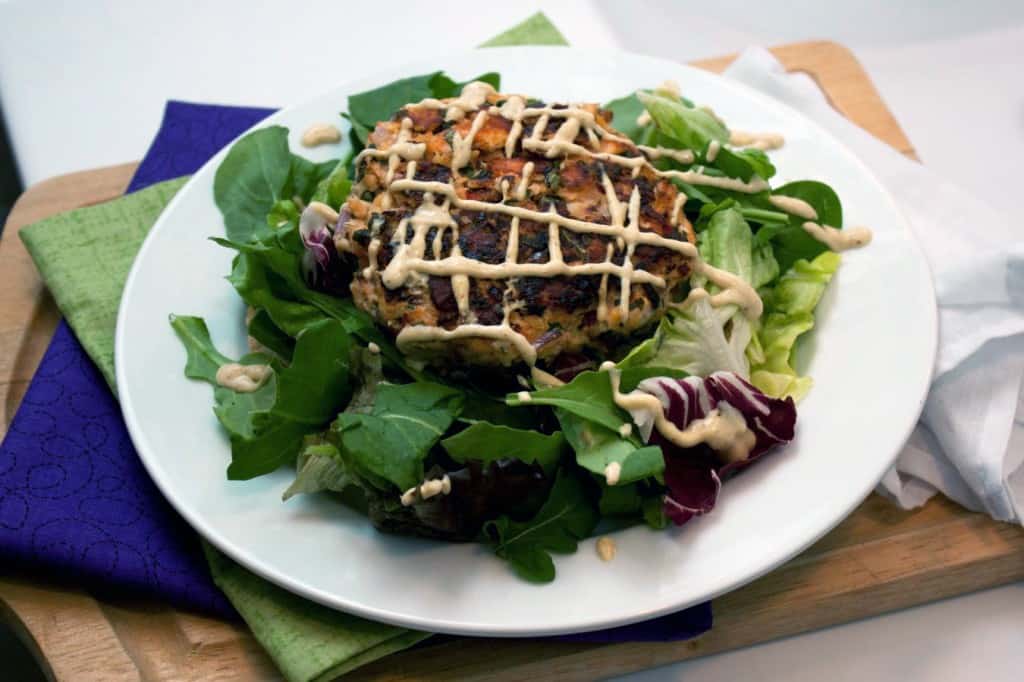 Ingredients
Burgers

3/4 lb skinless salmon, chopped
1 6-oz can crabmeat, drained
1 c red onion, finely diced
1/4 c red bell pepper, finely diced
1/2 c basil, finely chopped
1 egg + 1 egg white
1 tbs Louisiana hot sauce
1/4 tsp salt
1/2 tsp pepper
2 tbs lemon juice
2 cloves garlic, minced
olive oil spray (I use my Misto)

Mustard Sauce

1/4 c mayonaise
1/4 c mustard
1/2 tbs Worcestershire sauce
1/2 tsp horseradish
1 tbs lemon juice
Instructions
Burgers
In a large bowl, combine all ingredients except olive oil.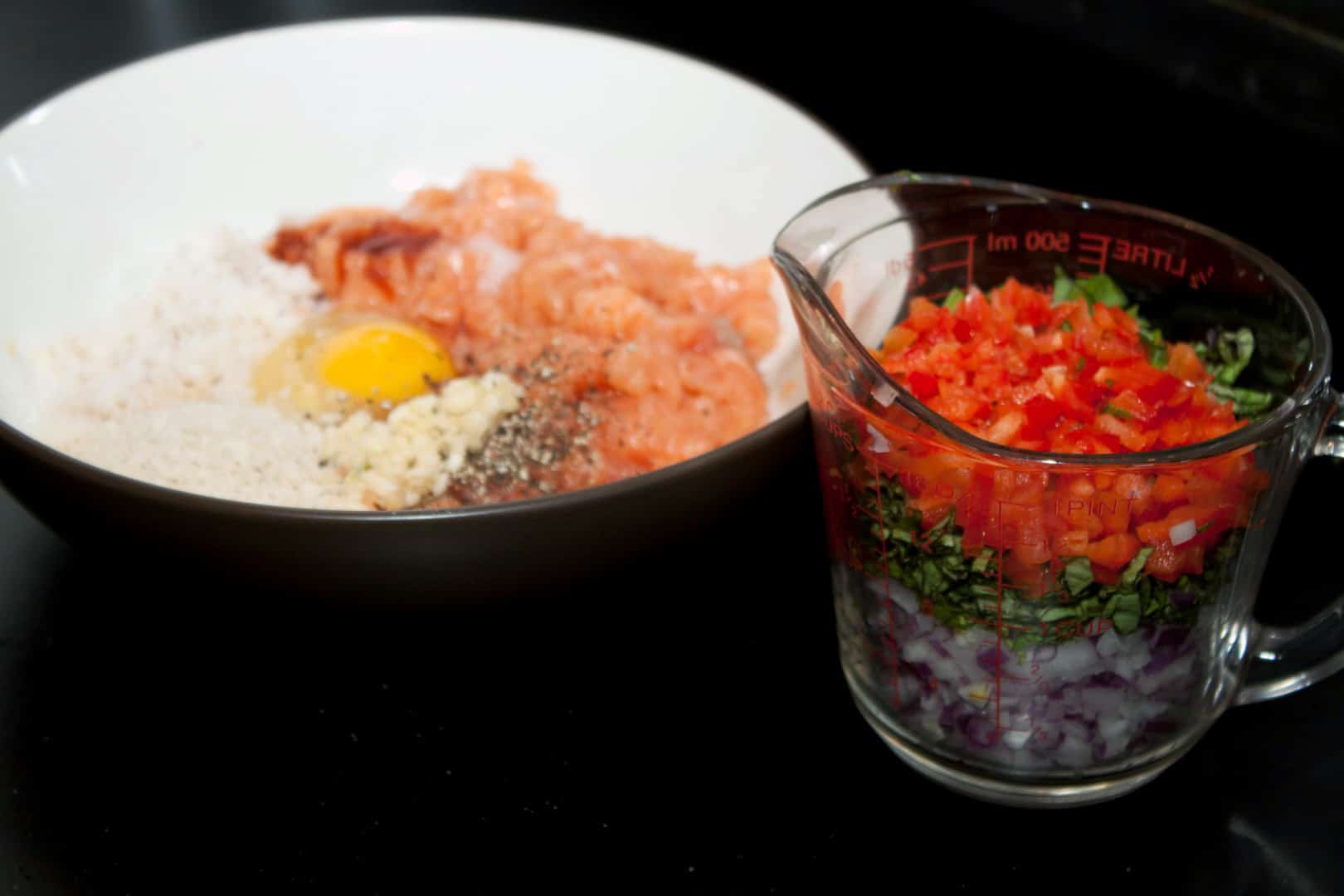 Mix well and divide into quarters. Shape each quarter into a patty.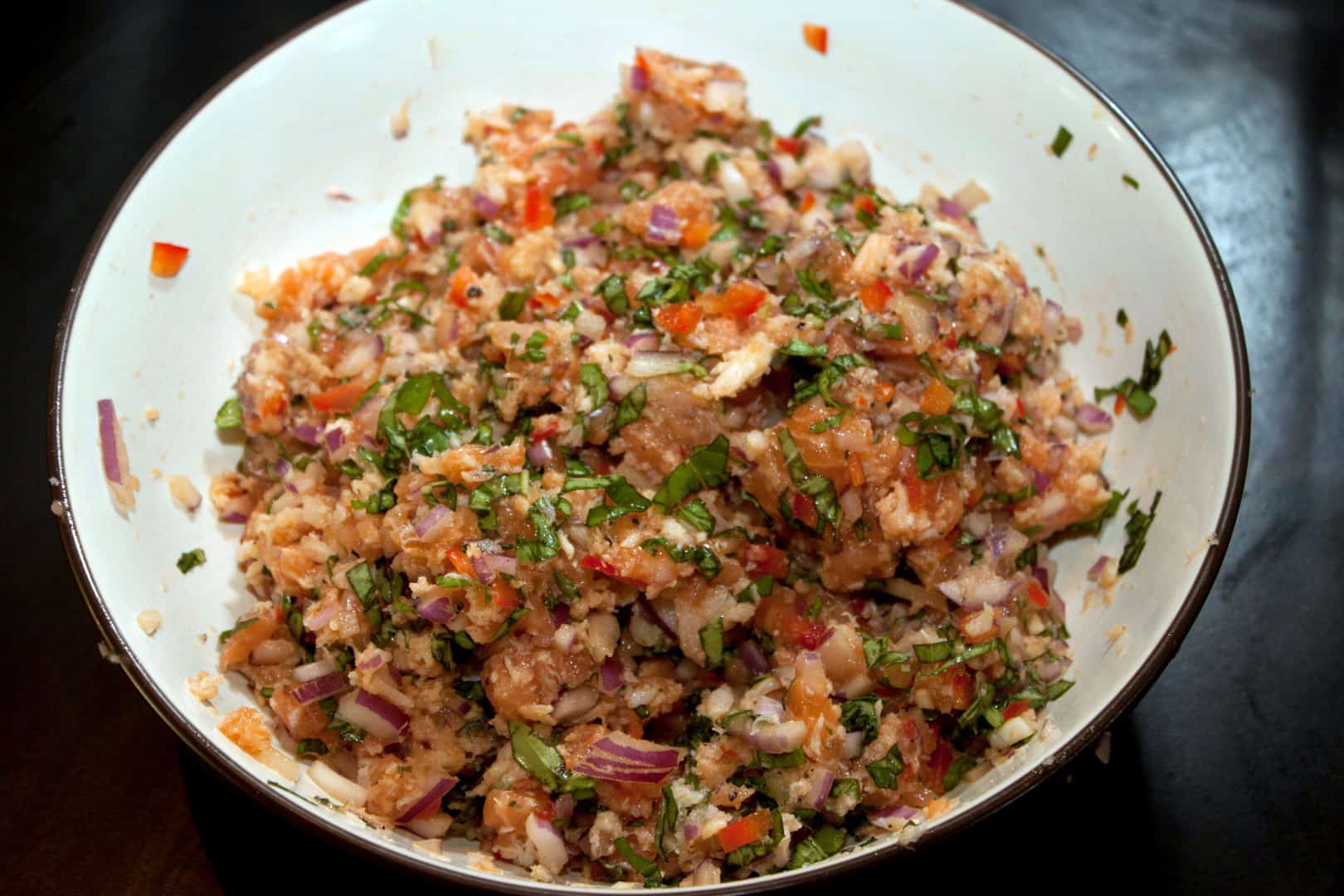 Heat a large pan over medium heat and spray with olive oil. Add the patties and cook until bottoms are browned, about 5 minutes. Turn and cook until the other side is brown and the burger is cooked through, another 5 minutes or so.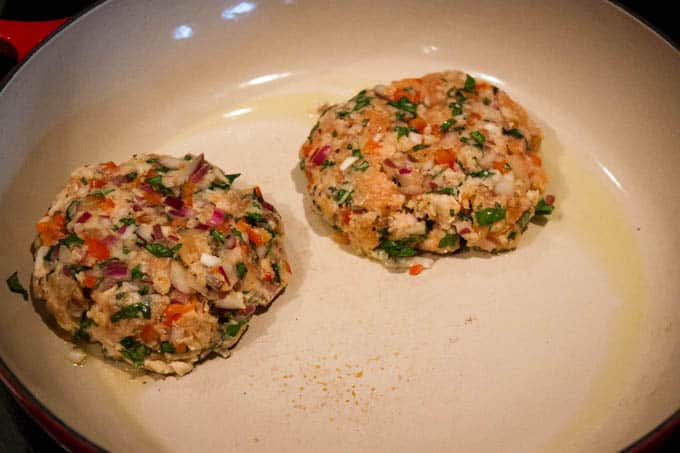 Serve burger with mustard sauce on a bed of greens or on toasted ciabatta.
Mustard Sauce
Combine all ingredients and mix well.
Nutritional Information
Calories 332 / Total Fat 19.6g / Saturated Fat 2.9g / Trans Fat 0.0g / Cholesterol 92mg / Sodium 783mg / Potassium 554mg / Total Carbohydrates 14.5g / Dietary Fiber 2.6g / Sugars 5.7g / Protein 25.1g Weight Watchers Points: 8 / Points Plus: 9
https://www.homesweetjones.com/2014/04/salmon-crab-burger-mustard-sauce/