Some of the very best recipes are created as a way to use up stale bread: french toast, croutons, bread pudding, and, my favorite, panzanella.
From the first moment I heard that there was such a thing as "bread salad" I knew I would love it. Crusty bread, crisp vegetables, and tangy vinaigrette combine for the perfect Spring or Summer dish. I've had wild success bringing this as a side to BBQs but make it most often for dinner at home.
This is the simplest incarnation but there are so many variations! Try it with artichokes, asparagus, roasted vegetables, or any other vegetables you have on hand. I often add fresh mozzarella pearls or cubes.
I usually let my bread sit out for 4-5 days to make sure it's stale and won't get soggy. If you only have fresh bread, you can spread the cubes on a baking sheet and toast at 300F for 5-10 minutes until dry.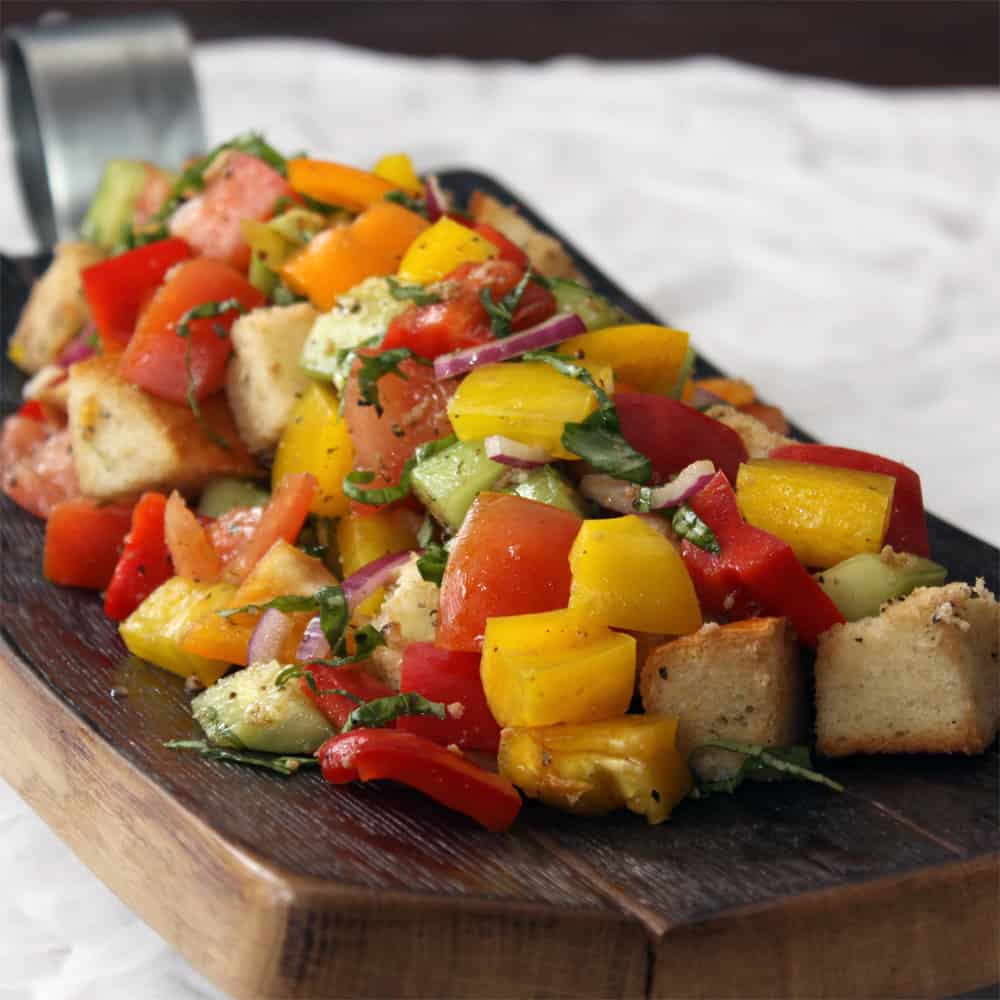 Ingredients
1 cucumber, seeded and diced
3 tomatoes, diced
3 bell peppers, assorted colors, diced
2 tbs red onion, thinly sliced
1/2 c basil, thinly sliced
salt and pepper, to taste
2 tbs olive oil
1 tbs balsamic vinaigrette
8oz stale Italian or French bread, cubed
Instructions
Combine vegetables in a large bowl and season with salt and pepper. Add olive oil and stir to coat. Then stir in balsamic.
Add the bread and stir. Let sit, covered, at least 30 minutes or, ideally, several hours. This is great the next day as well.
Nutritional Information
Calories 227 / Total Fat 6.9g / Saturated Fat 1.1g / Trans Fat 0.0g / Cholesterol 0mg / Sodium 303mg / Potassium 487mg / Total Carbohydrates 35.5g / Dietary Fiber 4.0g / Sugars 6.3g / Protein 7.2g Weight Watchers Points: 4 / Points Plus: 6
https://www.homesweetjones.com/2014/04/simple-panzanella/