I've been struggling to find crock pot recipes that don't require pre-cooking but also don't result in a pot of mush. After mixed success, I asked my Super Mom sister for help.  I had a hunch that someone balancing three kids, a high powered job, and a commitment to healthy eating might know her way around the slow cooker and boy, was I right.  She immediately sent a list of awesome recipes.  I can't wait to share more once I figure out how to make them a little more photogenic.
The second recipe I tried was this deliciously easy shredded barbecue chicken. I served it on potato rolls, as she recommended, with a side of quick coleslaw made from a dressing of 2 tbs light mayo, 1 tbs apple cider vinegar, a pinch of celery seeds, a pinch of sugar, salt and black pepper mixed with 2 cups of shredded cabbage.
For leftovers, I was craving a little extra spice and swapped about a third of the BBQ sauce with Frank's buffalo sauce. Also delicious!  This chicken is incredibly versatile and I can't wait to try it in a Southwest salad, in tacos, or with roast veggie enchiladas. Yum!
My sister recommends Baby Ray's BBQ sauce. I used my homemade sauce and calculated the nutritional information accordingly.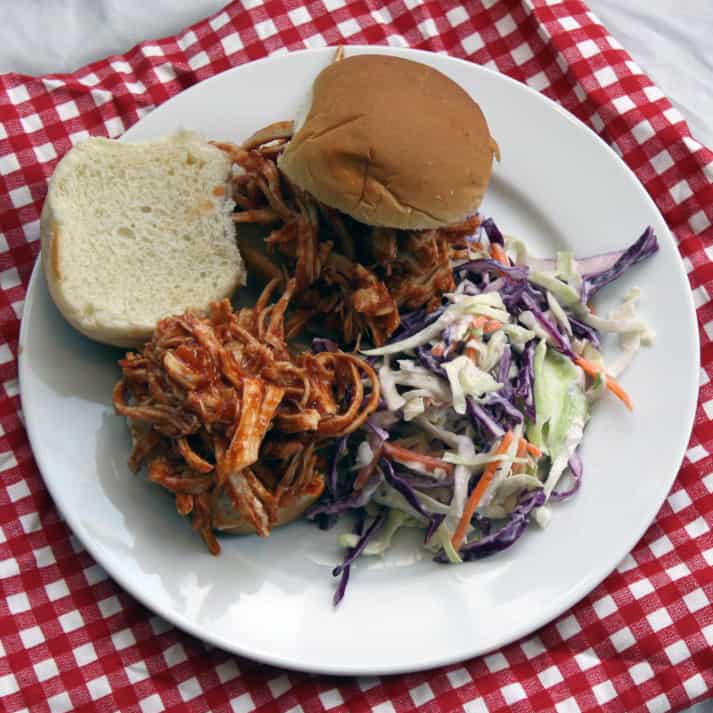 Ingredients
1 lb boneless, skinless chicken breasts
1 tsp salt
1 tsp onion powder
1 tsp garlic powder
1 tsp pepper
1 c low sodium chicken broth
1 c barbeque sauce
Instructions
In a crock pot, combine chicken, spices and broth. Cover and cook on low for 6-7 hours.
Remove to a bowl and shred using 2 forks or a mixer with paddle attachment.
Stir in BBQ sauce. If the mixture is too dry, add some liquid from the crock pot.
Nutritional Information
Calories: 207 / Total Fat: 3.3g / Trans Fat: 0.0g / Cholesterol: 73mg / Sodium: 858mg / Potassium: 895mg / Total Carbohydrates: 16.0g / Dietary Fiber: 2.5g / Sugars: 10.8g / Protein: 26.7g Weight Watchers Points: 4 / Points Plus: 5
https://www.homesweetjones.com/2014/04/slow-cooker-shredded-bbq-chicken-2/