I love vegetables. I could eat ratatouille 5 nights a week and be wildly happy. Brad gets tired of ratatouille more than once a week so I try to find ways to combine the same ingredients but call it different things: my chicken Puttanesca is pretty much ratatouille with chicken, Mediterranean orzo is ratatouille with orzo, etc.
And so it was that I was super excited to find this recipe that combined some of my classic favorite ingredients  into something totally original with a fancy name Brad wouldn't recognize. The fresh, herby flavors of the zucchini pesto create an interesting counterpoint to the complex, richer flavor of the slightly spicy eggplant and tomato. I also loved that I could take advantage of the recent mint explosion in our herb garden.
I made a few adjustments to make this vegan but I don't feel like the pesto is missing Parmesan – it's light and deliciously zesty. Most of the calories in the nutritional information below are for the olive oil in the pesto but it's unlikely you'll be able to scoop up all the pesto so I'd count this meal at just over 300 calories. It's also paleo and gluten-free.
Ingredients
1 large eggplant
salt
1 1/2 c fresh basil leaves, diveded
1 c fresh mint leaves
1/2 cup pine nuts, toasted
4 cloves garlic
1 lemon, zested and juiced
1/4 cup plus 2 tablespoons olive oil, divided
3 firm small to medium zucchini
4 cups vegetable broth
1 teaspoon chili flakes, or more to taste
1 pint cherry tomatoes
black pepper, to taste
Instructions
Cut the eggplant into one inch disks and then lengthwise into one inch batons. Place in a colander over a plate and mix liberally with salt. Allow the salted eggplant to sit at least 20 minutes to draw out the bitter juices.
Meanwhile, make the pesto.
Combine 1 cup basil leaves, mint leaves, pine nuts, garlic, lemon juice and lemon zest in a food processor. Process on low and drizzle in 1/4 c olive oil until smooth.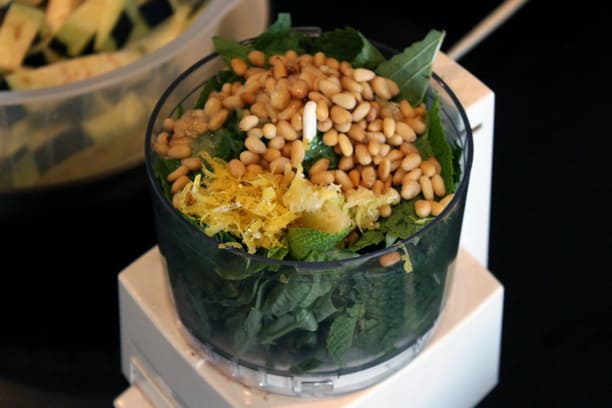 Place the pesto in a large bowl.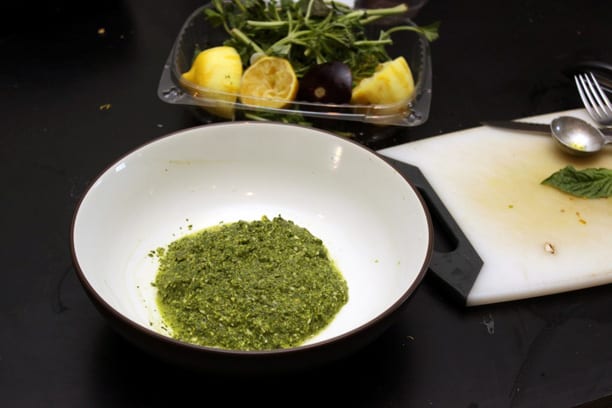 Cook the Zucchini
Bring the broth to a boil in a large pot or deep pan. Use a vegetable peeler to slice long, thin zucchini ribbons.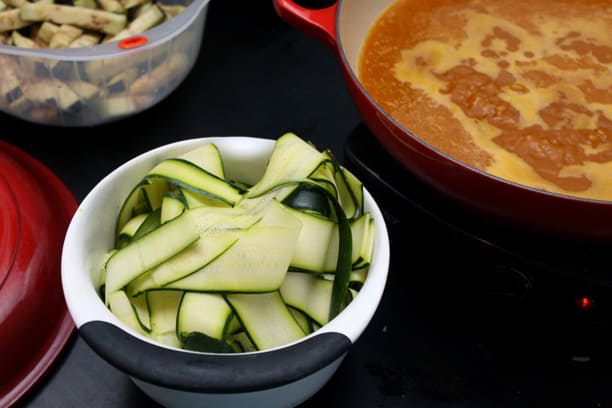 Add the zucchini ribbons to the broth and boil for 2 minutes until just tender.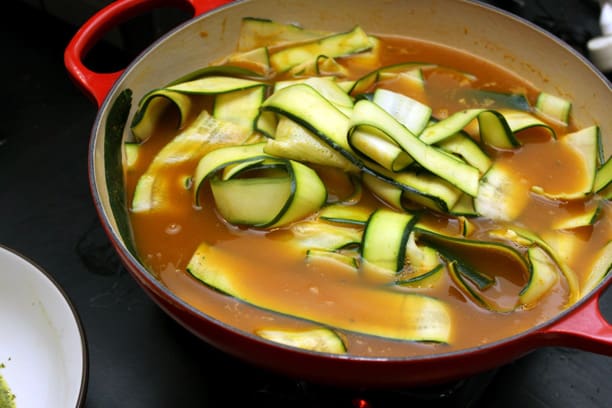 Using tongs, remove the zucchini and add it to the pesto bowl. Stir to combine. Don't throw away the vegetable broth; it can be re-used.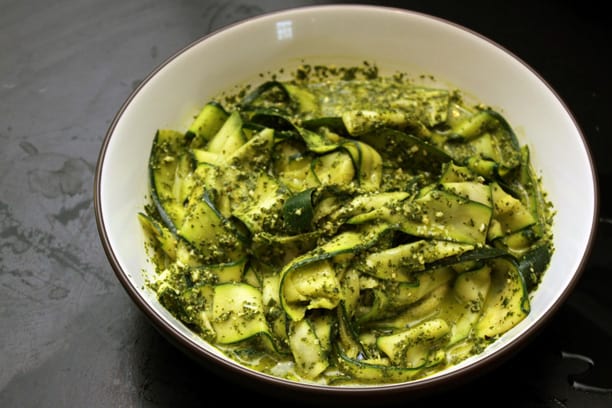 Make the Eggplant
Heat the remaining 2 tbs olive oil in a large pan with a tight fitting lid. Rinse the salt off the eggplant and add to the pan along with the chili flakes. Cook uncovered, stirring, for 5 minutes.
Add the tomatoes to the pan and cover. Cook, covered, about 10 minutes until the tomatoes burst and the eggplant is beginning to brown. Shake the covered pan vigorously every few minutes to keep the eggplant from sticking. Season to taste.
Serve
Serve the eggplant and zucchini side by side. Top with a dollop of ricotta, burratta or feta cheese, if desired.
Nutritional Information
Calories 358 / Total Fat 32.2g / Saturated Fat 3.8g / Cholesterol 0mg / Sodium 25mg / Potassium 930mg / Total Carbohydrates 18.2g / Dietary Fiber 8.3g / Sugars 7.0g / Protein 6.5g Weight Watchers Points: 9 / Points Plus: 10
https://www.homesweetjones.com/2014/04/zucchini-pesto-alla-norma/
Adapted from the Food Network.