This recipe is the magical result of a crazy series of coincidences: finding what can only be the last sunchokes of the season at the market, herb garden overflow, leftover white wine butter sauce from this weekend's Tuna Poke Rolls and the leftover heavy cream I used to make it. Perhaps this recipe was inevitable, fated, foretold by the Gods. It will definitely live forever in our memory as one of the best meals we've had in a long line of stupid good meals. That memory will have to sustain us since I'm temporarily banning white wine butter sauce in our house. Maybe.
You, however, probably don't need to worry about butter as much as I do and should therefore make this the very next moment you can get your hands on some sunchokes.
Also known as Jerusalem artichokes, sunchokes are the tuber part of a certain sunflower and taste somewhat artichoky. We all know that nothing goes better with artichoke than a tangy, buttery mustard sauce. And the tilapia is is light enough to keep from weighing down an otherwise rich dish while still standing up to the flavors. It was amazing. Totally breathtakingly amazing.
Note that sunchokes can cause gastrointestinal distress for some but supposedly this preparation (boiled in cream) prevents those problems. This meal didn't have any musical side effects for Brad and me. Older sunchokes are also less likely to cause an issue as the indigestible carbohydrate responsible is converted to sugar over time. So it might be a good thing if your end of season sunchokes aren't super fresh.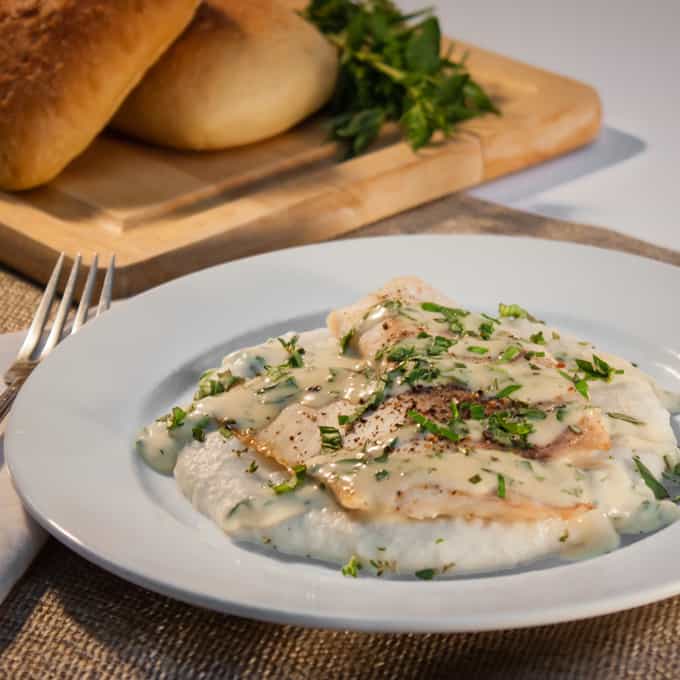 Ingredients
1.5 lbs tilapia
salt and pepper, to taste
1 lb sunchokes, peeled and chopped into 1 inch pieces
1-1/4 c heavy cream, divided
1 tbs butter
1/2 c white wine butter sauce (below)
2 tbs mustard
1/4 c of your favorite fresh herbs, finely chopped, plus more for garnish (I use basil, tarragon, thyem, oregano, sage, rosemary, parsley and chives)



White Wine Butter Sauce

1/4 c. dry white wine
1/4 c. onion, chopped
2 Tbs. parsley, chopped
2 Tbs. chives, chopped
juice of one lemon
1/4 c. heavy cream
1 stick unsalted butter, softened
1/4 tsp. salt
Instructions
Add 1 cup of cream to a medium saucepan and add peeled sunchokes. Add water until just covering sunchokes. Bring to a boil over medium heat, cover, and simmer until tender, about 15 minutes. Using a slotted spoon, transfer sunchokes to a blender or hand blender sleeve. Add remaining 1/4 c cream, 1 tbs butter and blend until creamy. Add additional boiling liquid if needed.
Meanwhile, season tilapia with salt and pepper. Place on a foil-lined baking sheet and broil on high until fish is beginning to flake, about 8-12 minutes.
In a small bowl, combine white wine butter sauce with mustard and herbs.
Serve tilapia over sunchoke puree and topped with 2 tbs sauce.
White Wine Butter Sauce
Combine wine, onion, parsley, chives, and lemon juice in small saucepan over medium heat. Simmer until liquid is reduced to about 2 tbs, about 5 minutes. Stir in the heavy cream and simmer another 2 minutes. Remove the saucepan from the heat and whisk in the butter one tablespoon at a time. When all the butter has been incorporated, pour the mixture through a fine sieve or cheesecloth into a clean bowl and hold at room temperature. Sauce can be stored in the refrigerator up to 5 days.
Nutritional Information
Calories 397 / Total Fat 23.1g / Saturated Fat 13.3g / Cholesterol 142mg / Sodium 242mg / Potassium 78mg / Total Carbohydrates 11.7g / Dietary Fiber 1.5g / Protein 34.9g
Weight Watchers Points: 10 / Points Plus: 10
https://www.homesweetjones.com/2014/05/baked-tilapia-sunchoke-puree-herb-mustard-sauce/