I love Huevos Rancheros: spicy sauce, oozy egg yolk, melty cheese, and the chance to mop the whole mess up with a tortilla pretty much sums up my favorite qualities in a breakfast food item.  This is especially true when Brad makes the item for me.
This recipe reminds me of all the summer weekends when we played hooky from our chores to hang out in the backyard.  Brad cooks this up on the burner of our grill while we sip ice cold coronas with lime.
The poblano pepper is the really crucial part of this.  Poblanos are a mildly spicy chili that is often confused with an Anaheim pepper at some markets.  The good news is that, if you can't find a poblano, an Anaheim pepper is the best substitute.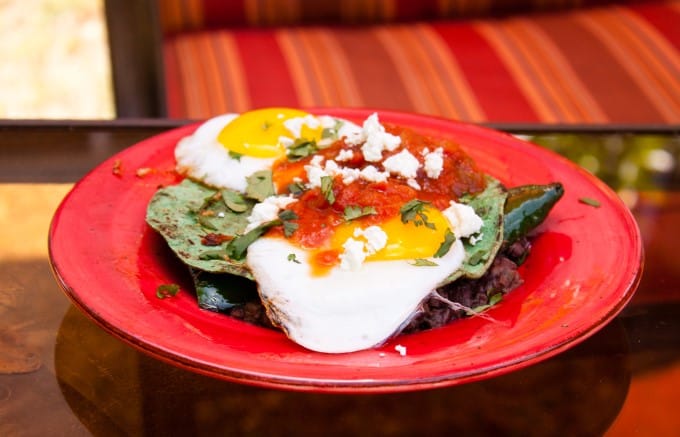 Ingredients
1 c low sodium black beans
Olive Oil Spray (we use our misto)
1 poblano pepper, sliced in half lengthwise, seeds removed
2 corn tortilla
4 eggs
1/2 c salsa
2 tbs reduced fat (2%) cheddar cheese
Instructions
Heat black beans in the microwave or a small saucepan and set aside.
Spray a large skillet with cooking spray and heat over medium heat. Add the poblano pepper halves and cook until tender crisp, about 5 minutes each side.
Divide the beans between two plates and top with a half poblano. Keep warm.
Add additional cooking spray to the pan and warm the tortillas, about 30 seconds a side. Place on top of the poblano.
Reduce heat to medium low and refresh the cooking spray, if needed. Add the eggs. Cook until whites are solid and egg yolks are just beginning to turn opaque around the edges, about 3-5 minutes. Place two eggs on top of the tortilla.
Top each egg with 1/4 c salsa and 1 tbs light cheddar cheese.
Serve with additional hot sauce, cilantro, avocado, and a lime wedge, if desired.
Nutritional Information
Calories 332 / Total Fat 11.9g / Saturated Fat 3.4g / Trans Fat 0.0g / Cholesterol 372mg / Sodium 667mg / Potassium 448mg / Total Carbohydrates 35.6g / Dietary Fiber 10.9g / Sugars 4.1g / Protein 22.4g
Weight Watchers Points: 7 / Points Plus: 8
https://www.homesweetjones.com/2014/05/brads-huevos-rancheros/