Beans! The classic canned food which, along with canned tomatoes, makes up over half of our pantry.
No longer now that I've discovered just how easy it is to make beans from scratch in the crockpot. The night before we were planning to have these for dinner, I started the beans soaking and chopped/ measured the other ingredients into a large bowl in the fridge. The next morning before work, I dumped the bowl and the beans into the crockpot and added water. Eleven hours later when I returned to a wonderfully aromatic house, I only needed to start some brown rice in the rice maker and dinner was ready.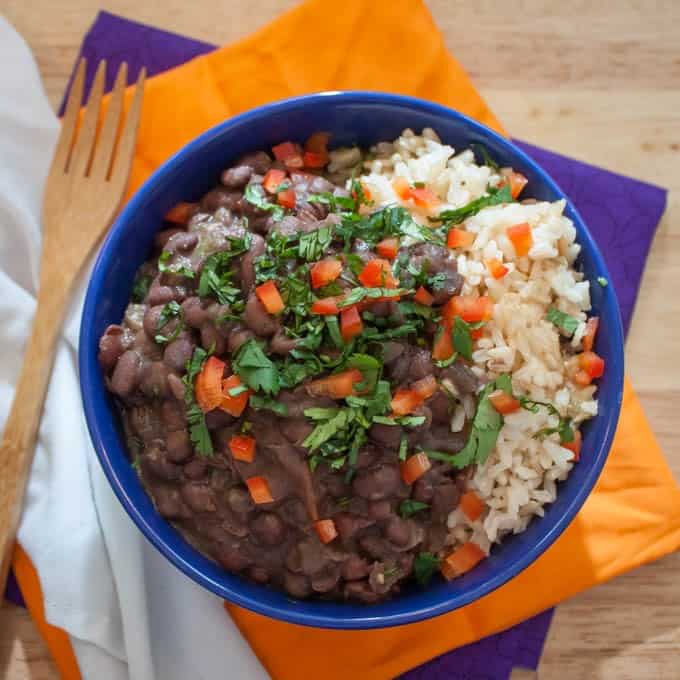 Ingredients
1 lb dried black beans
1 large onion, diced
1 green bell pepper, diced
4 cloves garlic, minced
2 bay leaves
1 tbs ground cumin
1 tbs dried oregano
1 tsp cayenne pepper
2 tsp salt, plus more to taste
1 tsp chipotle pepper
1/2 tsp cayenne pepper
1 tsp garlic powder
1 tsp onion powder
Instructions
Sort beans and soak overnight.
Combine the first 8 ingredients, through cayenne pepper, in a crock pot and cook on low for 8 hours.
Remove 1 cups of beans, mash with a fork, and stir back into the pot. Stir in the remaining ingredients and adjust seasoning to taste.
Nutritional Information
Calories 145 / Total Fat 0.8g / Cholesterol 0mg / Sodium 391mg / Potassium 629mg / Total Carbohydrates 26.6g / Dietary Fiber 6.5g / Sugars 2.0g / Protein 8.6g
Weight Watchers Points: 2 / Points Plus: 3
https://www.homesweetjones.com/2014/05/crockpot-black-beans/