This is one of the all-time best grilled chicken recipes and quite possibly the best salsa period.  It has just the right amount of heat and so. much. flavor.  My mouth is watering right now just thinking about it. The vinegar, ginger, and Indian-infused spices take the salsa to a completely new level.  We made the full recipe Friday, ate this three days in a row and were still fighting over the leftovers on Monday.


I'm not sure where we first found this recipe by Susan Feniger and Mary Sue Milliken. At first I thought it was in our heavily annotated copy of their Mesa Mexicana
 cookbook, the source of all great Mexican-inspired recipes.


It turns out it was only in that book because Brad taped it in. Along with a reminder that it is "Awesome!"


We like this paired with their Cucumber Jalapeño margaritas but, truth be told, we like just about everything in summer paired with those margaritas.
In all seriousness, though, you must make this recipe.  Brad's cookbook notes never lie: it is truly awesome.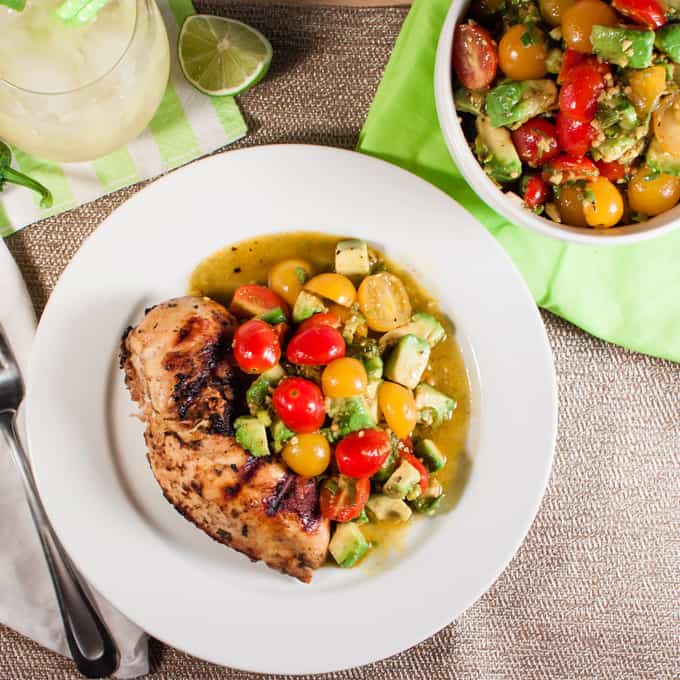 Ingredients
Salsa

1 lb grape tomatoes, halved
1-2 Serrano chilies, thinly sliced
1/2 c green onions, thinly sliced
1/2 c white vinegar
2 1/2 tbs packed brown sugar
1 1/2 teaspoons kosher salt
1/4 c extra-virgin olive oil
4 tsp minced fresh ginger
1 tbs minced garlic
2 tsp mustard seeds
2 tsp freshly cracked black pepper
2 tsp ground cumin
1 tsp cayenne
1/2 tsp turmeric
2 firm-ripe avocados, diced



Chicken

1/4 c extra-virgin olive oil
1/4 c lime juice
1/2 c cilantro, chopped
1 tbs ground cumin
1/2 tsp kosher salt
1/2 tsp black pepper
4 8-oz boneless skinless chicken breasts
Instructions
Combine tomatoes, chilies and green onions in a large bowl.
Bring white vinegar to a simmer in a small saucepan over medium-high heat. Add brown sugar and salt and stir until dissolved. Transfer vinegar to a cup or small bowl.
Add oil to the saucepan and heat over medium heat. Add ginger, garlic, mustard seeds, black pepper, cumin, cayenne and turmeric and cook until fragrant, 1-2 minutes.
Add vinegar mixture to the oil and stir to combine. Pour mixture over tomatoes, cover, and refrigerate 1-4 hours.
Meanwhile, combine olive oil, lime juice, cilantro, cumin, salt and pepper in a large bowl and add chicken breasts. Massage the marinade into the breasts and let sit 1-2 hours, turning occasionally.
Heat the grill to 500-550 degrees. Remove chicken from the marinade and add to grill. Cook, covered, until the chicken is cooked to an internal temperature of 165, about 20 minutes. Remove chicken to a platter and let sit 10 minutes.
Slice each breast in half lengthwise. Add diced avocado to the tomato salsa and stir. Using a slotted spoon to drain excess liquid, spoon salsa over chicken and serve.
Nutritional Information
Calories 345 / Total Fat 21.5g / Saturated Fat 3.3g / Trans Fat 0.0g / Cholesterol 73mg / Sodium 655mg / Potassium 903mg / Total Carbohydrates 13.0g / Dietary Fiber 4.9g / Sugars 4.9g / Protein 26.3g
Weight Watchers Points: 8 / PointsPlus: 9
https://www.homesweetjones.com/2014/05/grilled-cilantro-chicken-pickled-tomato-avocado-salsa/
Adapted from 
Susan Feniger and Mary Sue Millike
n.