Grilled vegetables and North African spices: two of my great food loves together in one crazy healthy dish.   I knew as soon as I got last month's issue of Cooks Illustrated that I would make this recipe for Mechouia as soon as I could.  Ratatouille is one of my favorite meals but I don't want Brad to get tired of it so try not to make it more than once or twice a month. This variation was a fantastic way to sneak in more veggie entrees.  Of course, it would also be great served on the side of grilled chicken or fish.

The spicy, exotic dressing hits all my favorite North African notes and perfectly compliment the smokey grilled vegetables.   It was a bit too time-consuming for a weeknight given our busy schedule but the leftovers were wonderful after the flavors had had more time to combine so I won't hesitate to make this a day or two in advance.  We served it with a crumble of feta and toasted pita points.
If you don't have the whole spices, just substitute ground.  This dish is paleo, gluten-free, vegan, and chock full of goodness that your body will love as much as your tastebuds.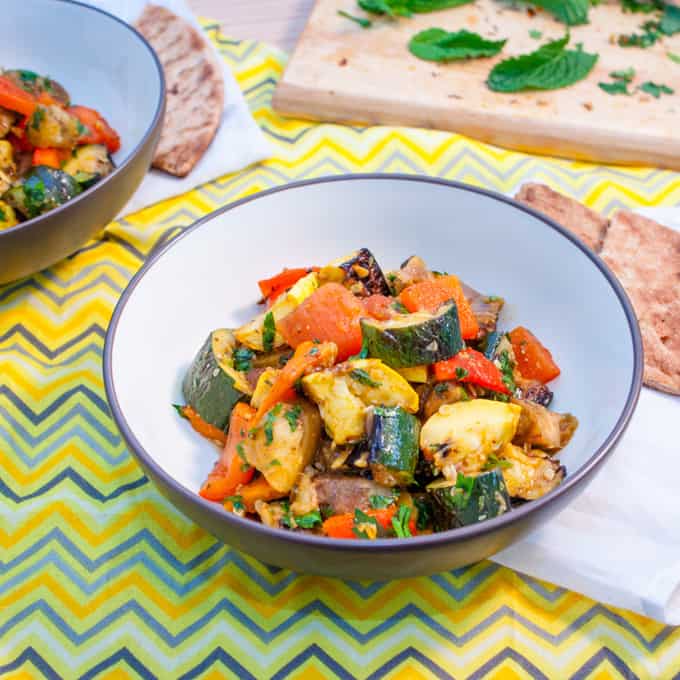 Ingredients
3 bell peppers, assorted colors
1 small eggplant, halved lengthwise
2 zucchini, halved lengthwise
1 yellow squash, halved lengthwise
3 plum tomatoes, cored and halved lengthwise
2 medium shallots, unpeeled
Salt and pepper



Dressing

2 teaspoons coriander seeds
1 1/2 teaspoons caraway seeds
1 teaspoon cumin seeds
5 tablespoons olive oil
1/2 teaspoon sweet paprika
1/8 teaspoon cayenne pepper
3 garlic cloves, minced
1/4 cup chopped fresh parsley
1/4 cup chopped fresh cilantro
2 tablespoons chopped fresh mint
1 teaspoon grated lemon zest plus 2 tablespoons juice
Salt
Instructions
Make the Vinaigrette
Grind the coriander, caraway, and cumin seeds in spice grinder until finely ground.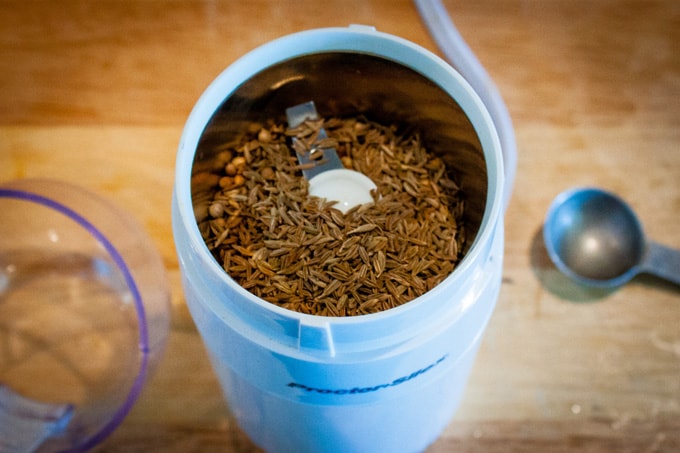 Alternatively, use equal amounts of pre-ground spices.
Combine ground spices, oil, paprika, and cayenne in a small bowl. Reserve 3 tablespoons of the oil mixture to a separate cup and set aside.
Heat remaining oil mixture and garlic in small skillet over low heat, stirring occasionally, until fragrant and small bubbles appear, about 8 to 10 minutes. Remove from heat and let cool, about 10 minutes. Add mint, cilantro, parsley, lemon zest and lemon juice into oil mixture; stir to combine and season to taste. Set aside.
Prep the Vegetables
Cut off the top and bottom of the bell peppers and remove ribs and seeds. Cut down one side and press flat. Reserve the bottoms.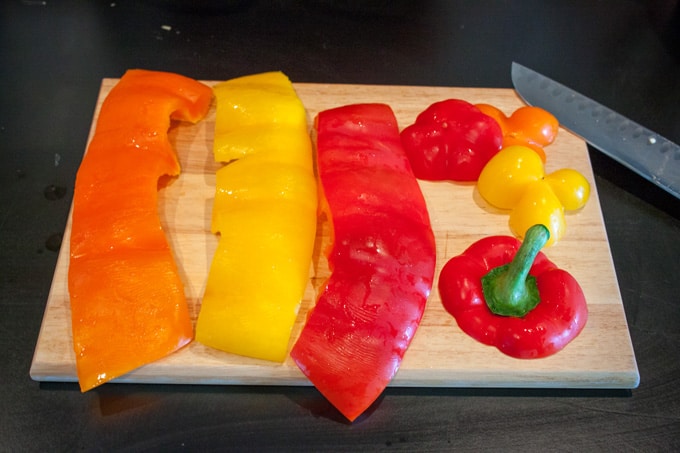 Cut a half-inch cross-hatch pattern in the flesh of the eggplant, zucchini, and squash. Be careful not to cut through the skin.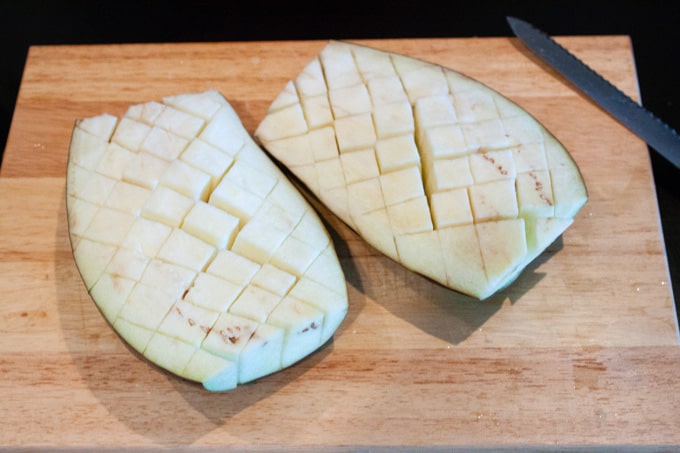 Grill Vegetables
Heat the grill to medium-high. Brush the cut sides of the vegetables with the reserved oil mixture and grill, cut side down, until tender, about 10-15 minutes. Turn and continue cooking until the skins are charred, another 5-10 minutes.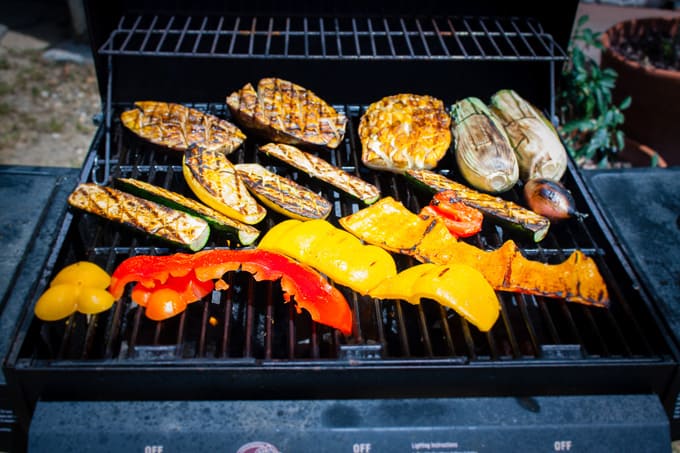 Place the peppers in a plastic produce bag or a bowl covered with plastic wrap to steam off the skins. Remove the other vegetables to a platter or baking dish and let cool.
When vegetables have cooled, peel the eggplant, peppers and shallots. Dice the vegetables into 1/2-inch pieces. Transfer to a serving bowl and toss with the dressing. Season to taste and serve warm or at room temperature.
Nutritional Information
Calories 270 / Total Fat 18.9g / Saturated Fat 2.7g / Cholesterol 0mg / Sodium 34mg / Potassium 1191mg / Total Carbohydrates 25.2g / Dietary Fiber 9.4g / Sugars 11.6g / Protein 5.7g Weight Watchers Points: 6 / PointsPlus: 7
https://www.homesweetjones.com/2014/05/grilled-tunisian-vegetables/
Adapted from Cooks Illustrated.