This post is the result of two facts:
1. I love Caprese salad.  It's not a secret; I have a blog where half the recipes are about something Caprese.  What can I do? It's a great flavor combination.
2. Verrines are all the rage in the French food blogs right now.  Food in a glass – why not? Anything I could have just put on a plate I can put in a glass and it's automatically four times fancier.  I'd do it more often except that our kitchen's still packed up for the remodel so I only have these glasses handy and, let's face it, you've seen a lot of food in these glasses already.
Anyway, here it is: Heirloom Tomato Caprese Verrine –  as delicious as any Caprese salad but way fancier because it's in a glass.  Snarkiness aside ,it actually was kind of fun to eat these out of the glasses.  Give it a try and impress your friends. 🙂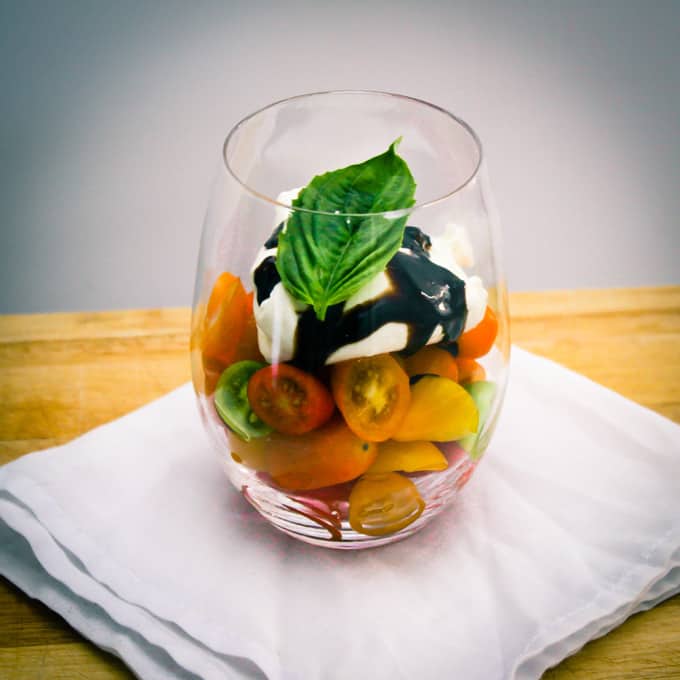 Ingredients
2 c heirloom cherry tomatoes, halved or quartered
1/4 c basil leaves, finely chopped plus more for garnish
salt and pepper, to taste
1 tbs olive oil
2 oz burrata cheese



Sweet Balsamic Glaze

1/2 c apple juice
1/2 c balsamic vinegar
Instructions
Prepare balsamic glaze by combining apple juice and balsamic vinegar in a small saucepan over medium heat. Simmer until reduced to 1/4 cup, about 10 minutes. Set aside.
Combine tomatoes, chopped basil, olive oil, salt and pepper in a medium bowl. Divide between 4 glasses and top each with 1/2 ounce of burrata. Spoon 1 tbs of balsamic glaze over each glass and garnish with additional basil.
Nutritional Information
Calories 110 / Total Fat 7.2g / Saturated Fat 2.5g / Trans Fat 0.0g / Cholesterol 10mg / Sodium 49mg / Potassium 240mg / Total Carbohydrates 6.9g / Dietary Fiber 1.0g / Sugars 5.4g / Protein 3.3g
Weight Watchers Points: 3 / Points Plus: 3
https://www.homesweetjones.com/2014/05/heirloom-tomato-caprese-verrine/