I love my weekly meal planning and usually adhere strictly to my list while grocery shopping, only calling an audible if there's an amazing sale.  My Achilles death star exhaust port of impulse buying, however, is colorful food.  Heirloom carrots, rainbow chard, combo grape packs, purple and green cauliflower – all these end up in my cart with only hand-waving justification.  So it was with these adorable colorful baby potatoes.
While my standard method is to roast them, I had fish in the oven and opted for the quick skillet method.  The herbs and mustard seed were a great flavor combination that was low-fuss and totally justified the impulse buy.  Now I'll never learn.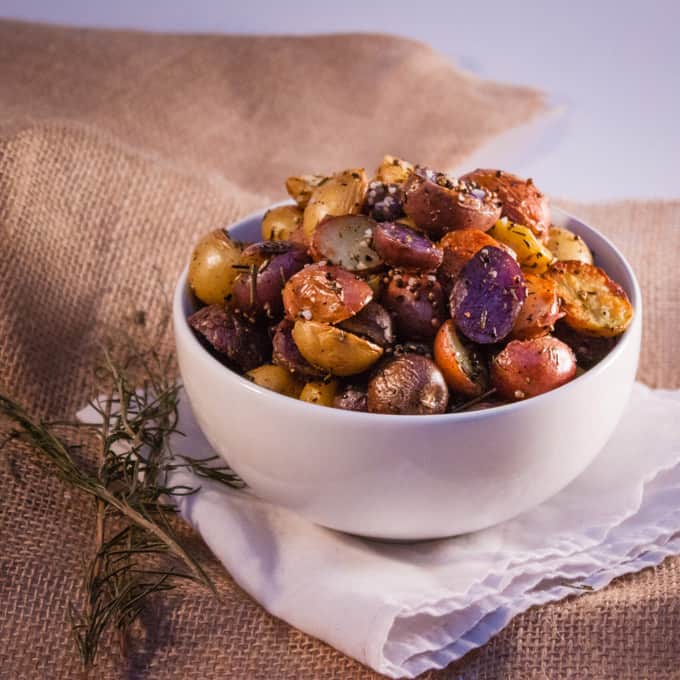 Ingredients
1 tbs olive oil
2 tsp yellow mustard seeds
1 tsp dried rosemary
1/2 tbs dried thyme
1 lb baby potatoes, halved
salt and pepper, to taste
Instructions
Heat oil in a large skillet with a tight fitting lid over medium heat.
Add the mustard seeds and saute until they begin to pop, Add the potatoes, rosemary and thyme. Cover and cook, shaking vigorously every few minutes to prevent sticking, until potatoes are just tender, about 15 minutes. Uncover and continue cooking, stirring frequently, until potatoes are brown on the outside and tender on the inside, about 5 more minutes.
Season to taste and serve.
Nutritional Information
Calories 105 / Total Fat 4.2g / Saturated Fat 0.6g / Cholesterol 0mg / Sodium 12mg / Potassium 485mg / Total Carbohydrates 15.1g / Dietary Fiber 3.3g / Protein 3.4g
Weight Watchers Points: 2 / Points Plus: 3
https://www.homesweetjones.com/2014/05/herb-mustard-baby-potatoes/