Brad and I go to Seattle a few times a year to visit my brother and his parents. In summer, we like to stop by the Ballard Locks where a fish ladder allows the fish to climb from the salt water below to fresh water above.  It's so much fun watching them navigate the ladder.  It also makes me a little hungry.
We recently switched from farm-raised to wild salmon and I can't believe the difference.  We changed to avoid the toxins and chemicals more common in farmed fish but I wasn't expecting it to taste so much better. It's certainly more expensive but we can cope with eating better salmon less often.
This recipe is great for letting the flavor of the salmon shine through while adding just a hint of smokey sweetness.  Brad absolutely loved this dish and I adored how fast it was to throw together.  I cooked up some Spicy Garlic Snow Peas while the fish marinated and had a hearty, super nutritious,  sub-250-calorie dinner on the table in under 20 minutes. Plus there was only one dish to clean.  This is my kind of weeknight meal!
Substitute liquid aminos or tamari for the soy sauce to make this gluten-free.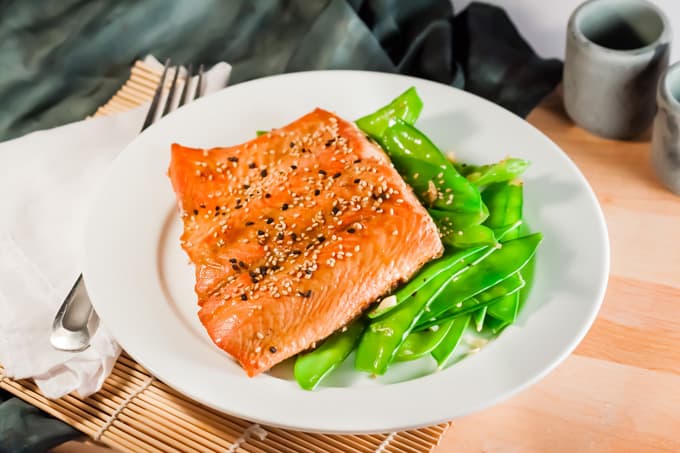 Ingredients
2 tbs hoisin sauce
1 tbs low-sodium soy sauce
1/2 tsp dark sesame oil
4 (6-oz) wild salmon fillets
1 tsp sesame seeds
Instructions
Preheat oven to 400F.
Combine hoisin sauce, soy sauce, and sesame oil in a large dish and marinate salmon fillets for 10 minutes.
Remove salmon from marinade and place, skin side down, on a foil lined baking sheet. Discard excess marinade.
Bake 8 minutes until salmon flakes easily with a fork. Garnish with sesame seeds.
Nutritional Information
Calories 160 / Total Fat 2.1g / Trans Fat 0.0g / Cholesterol 68mg / Sodium 294mg / Potassium 6mg / Total Carbohydrates 1.1g / Sugars 0.6g / Protein 36.2g
Weight Watchers Points: 3 / PointsPlus: 4
https://www.homesweetjones.com/2014/05/hoisin-glazed-salmon/
Adapted from Cooking Light via MyRecipes.