I call this "cabbage salad" when I bring it to barbecues so that folks don't associate it with the heavy, mushy, mayonnaisey cole slaws they may be more familiar with.  While the yogurt dressing adds just the right bit of creaminess and traditional celery seed flavor, the vegetables stay crisp while the onions give it a subtle zest.
Last weekend I made it for friends who didn't think they liked red onion or cabbage but who ended up keeping the leftovers so give it a shot even if you're not usually a cole slaw fan.
It can be made as much as a day in advance but if it sits much longer it will begin to get bitter.  Enjoy this salad as an excellent burger topping or Summer BBQ side dish.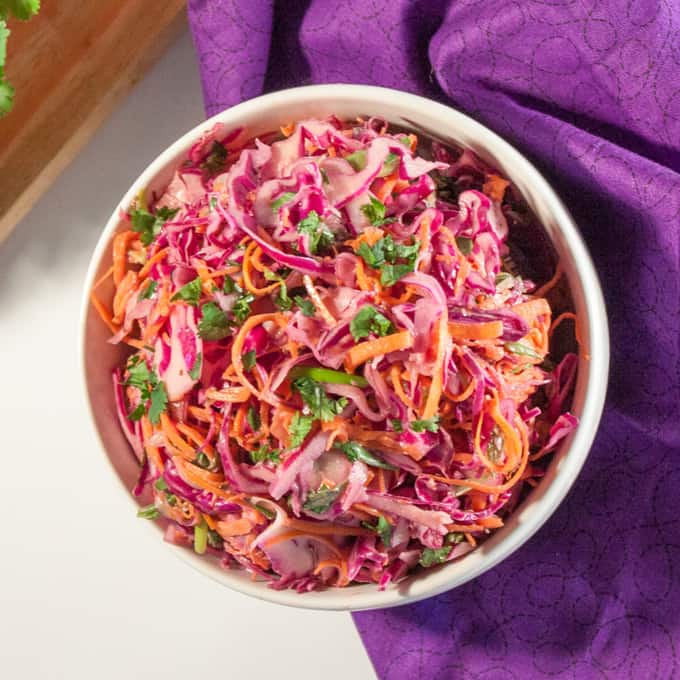 Ingredients
Dressing

1/4 c plain yogurt
2 tbs apple cider vinegar
2 tsp celery seeds
1 tsp sweetener of choice
1 pinch salt, to taste



Slaw

1/2 red cabbage, thinly sliced
3 medium carrots, shredded or spiralized
2 tbs red onion, thinly sliced
6 green onions, thinly sliced, lengthwise
1/4 c cilantro, chopped
Instructions
Whisk the dressing ingredients together in a large bowl.
Add the cabbage, carrots, and onions and stir until evenly coated.
Let sit 4 hours or overnight.
Nutritional Information
Calories 47 / Total Fat 0.4g / Trans Fat 0.0g / Cholesterol 1mg / Sodium 45mg / Potassium 298mg / Total Carbohydrates 9.6g / Dietary Fiber 2.3g / Sugars 5.2g / Protein 1.9g
Weight Watchers Points: 1 / PointsPlus: 1
https://www.homesweetjones.com/2014/05/hold-mayo-cole-slaw/