Bok choy is such a versatile veggie.  It can be sauteed, roasted, stewed , or served raw in a salad.  I'm so happy that the extra tender "baby" version has become so readily available. I bought these beautiful babies washed and ready to cook at the local Trader Joe's.   After some unnecessarily agonizing internal debate, I decided to give them a quick stir fry with garlic, ginger, red pepper and soy sauce.  They still needed a little brightening and the drink of vinegar made all the difference.  Be careful not to overcook – they should be served crisp-tender and still have a little bite.
I served these alongside my quick and easy Teriyaki Chicken and had dinner on the table in under 30 minutes.  Use gluten-free soy sauce or liquid aminos to make this gluten-free and paleo.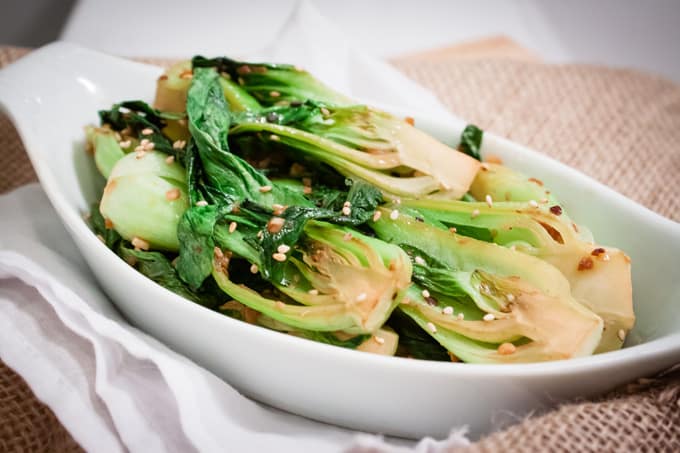 Ingredients
1 tsp olive oil
1 lb baby bok choy, halved
2 tsp garlic, minced
2 tsp fresh ginger, minced
1 tsp red pepper flakes
2 tbs soy sauce
1 tbs rice vinegar
1/2 tsp toasted sesame oil
1 tsp sesame seeds
Instructions
Heat oil in a large pan or wok over high heat. Add garlic, ginger and red pepper and saute 30 seconds. Add bok choy and saute, turning, until beginning to wilt, about 3 minutes.
Add soy sauce and vinegar and saute 1-2 more minutes until cut edges begin to brown. Serve with a drizzle of sesame oil and garnished with sesame seeds.
Nutritional Information
Calories 47 / Total Fat 2.5g / Cholesterol 0mg / Sodium 525mg / Potassium 333mg / Total Carbohydrates 4.6g / Dietary Fiber 1.5g / Sugars 1.6g / Protein 2.5g
Weight Watchers Points: 1 / PointsPlus: 1
https://www.homesweetjones.com/2014/05/sauteed-baby-bok-choy/