I do my menu planning in Google Calendar.  Whenever I have an idea, a craving for an old favorite, or a new recipe I want to try, I add it to the calendar.  Every weekend, I go through and pick out the 5-7 recipes for the week from this list based on what ingredients are in season, variety of cuisine, level of effort, and the right balance of proteins – usually fish or poultry a few times a week.  I almost always make 4 servings and we eat the leftovers for lunch later in the week.  
This idea has been on the calendar as "Harissa Eggs in Purgatory" for almost a year since I came across the Italian dish Eggs in Purgatory and wanted to try it with a more North African/ Middle Eastern slant.  Little did I know that North Africa had beaten me to it centuries ago. Shakshuka, also Shakshouka, is a traditional Tunisian dish also popular in Israel and now popular in our home.

I use my favorite Harissa spice blend from World Spice Market in Seattle and the traditional cumin.  Additionally, I add fenugreek and sumac for extra Middle Eastern flare.  Don't worry if you don't have those on hand, your favorite herbs and a squeeze of lemon will also work.  Leave out the jalapeno if you're sensitive to spicy foods.  There's plenty of kick to this dish without it.
I use Trader Joe's light feta and calculated nutritional information accordingly.  Serve with pita points, crostini or bread to mop up the extra sauce.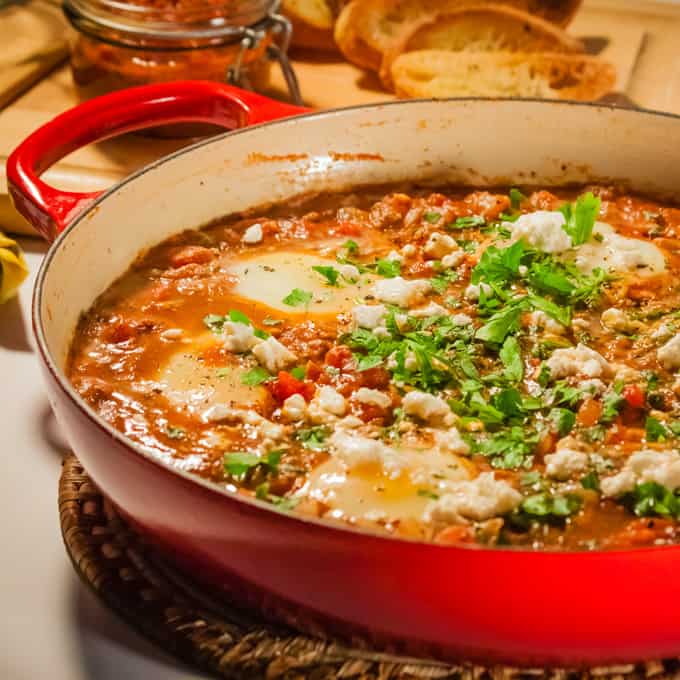 Ingredients
1 tbs olive oil
1 onion, diced
1 jalapeno, seeds removed, minced (optional)
5 cloves garlic, minced
1 tsp cumin
2 tbs harissa, or to taste
2 14.5-oz cans no-salt-added diced tomatoes (I use Muir Glen Organic)
1 tsp dried fenugreek leaves
1 tsp sumac
sat and black pepper, to taste
6 eggs
1 oz feta, crumbled
1 tbs fresh parsley, chopped
Instructions
Heat oil in a large pan or brassier over medium heat. Add onions and jalapeno, if using, and saute, stirring, until translucent, about 5 minutes.
Add garlic, cumin and harissa. Continue cooking until fragrant, about 1 minute.
Add tomatoes and juice, fenugreek and sumac. Bring to a simmer and cook about 5 minutes to combine flavors. Adjust seasoning to taste.
Create 6 wells in the sauce and crack an egg into each. Cover pan and cook until whites are solid but yolks are still runny, about 8 minutes.
Sprinkle with crumbled feta and chopped parsley. Serve.
Nutritional Information
Calories 301 / Total Fat 15.8g / Saturated Fat 3.8g / Trans Fat 0.0g / Cholesterol 332mg / Sodium 401mg / Potassium 221mg / Total Carbohydrates 22.8g / Dietary Fiber 3.1g / Sugars 13.2g / Protein 16.3g
Weight Watchers Point: 7 / Points Plus: 8
https://www.homesweetjones.com/2014/05/shakshuka-eggs-spicy-tomato-sauce/