This is the first dinner photographed in our new mini studio that Brad set up in a corner of our home office.  It's just a table with a couple of cleverly rigged work lights and backdrops but it's a huge step considering that, pause for it, all our other pictures the last few months have been taken in the bathroom.  Know my shame!  With the kitchen under construction, it's the only room where I could get decent light at night when I cook.  But no longer!  Henceforth, final shots will be taken in the mini studio and we can keep the camera out of the bathroom.  For the record, I wasn't cooking in the bathroom, just photographing.  Although I have been washing our dishes there.
Just a few more months until we have a real kitchen…
This recipe is adapted with only minor changes from last month's Cook's Illustrated and is as yummy as you'd expect from that illustrious publication.  Don't be deterred by what seems like a lot of steps.  It's actually very simple and comes together quickly; it made a great weeknight dinner that would be fancy enough for company.  I really liked it with the anchovies but you can substitute anchovy paste or even leave it out completely if you're an anchovy hater.  I added a bit more red pepper than called for because we like it spicy and my red pepper is really old.  Adjust the amount depending on your tastes and the age of your spice rack.  We served it over a cup of quickly sauteed spiralized zucchini sauteed for a filling meal under 350 calories.  In addition to being delicious, this dish is gluten-free and paleo-compliant.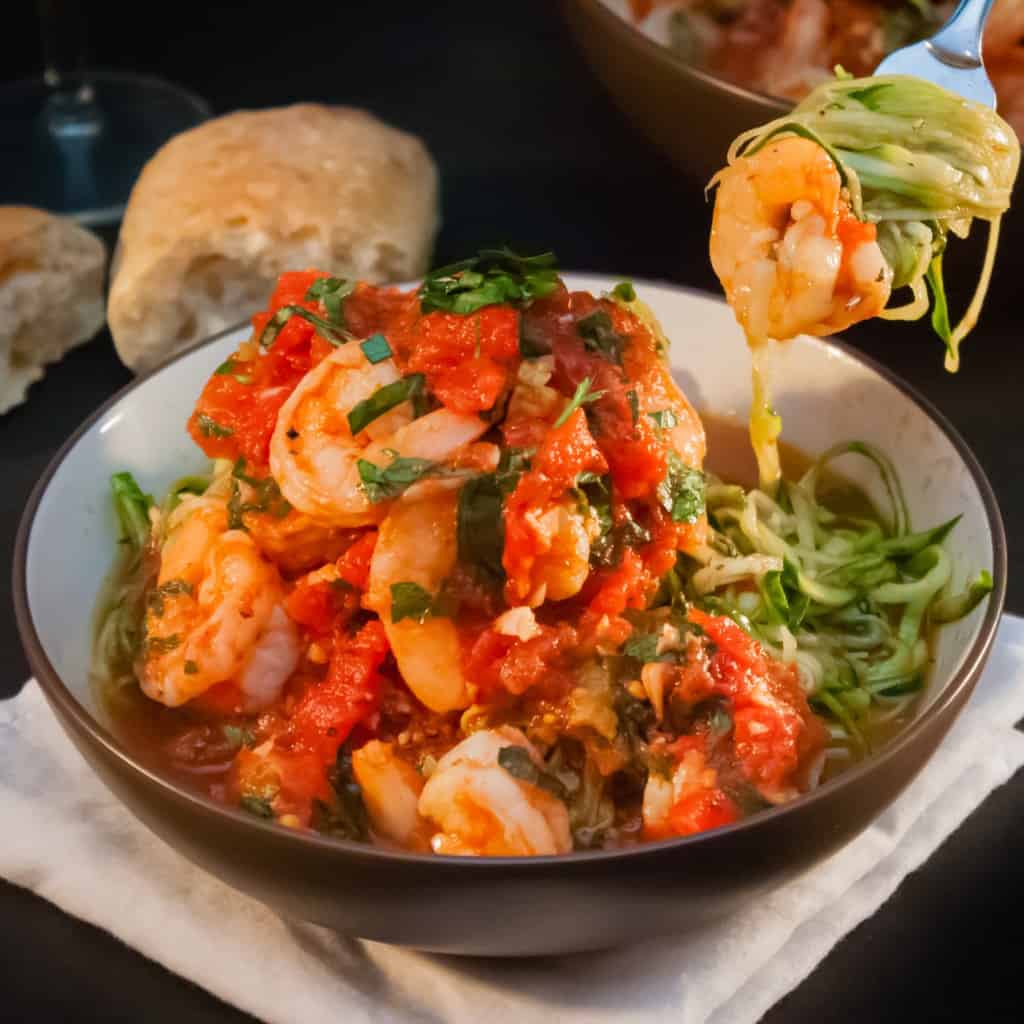 Ingredients
1 1/2 lbs large shrimp, peeled and deveined, shells reserved
1 (28-ounce) can whole peeled tomatoes
2 tbs olive oil, divided
1 c dry white wine
4 garlic cloves, minced
1 tsp red pepper flakes
1 tsp dried oregano
2 anchovy fillets, minced
1/4 cup fresh basil, chopped
1/4 cup fresh parsley, chopped
1 1/2 tsp pepperoncini, minced, plus 1 teaspoon brine
salt and pepper, to taste
Instructions
Pour the tomatoes into a colander set over a bowl. Pierce them with a rubber spatula and stir, pressing against the side of the colander, to collect the juice. Set aside.
In a large pan, heat 1 tbsp olive oil over high heat and add reserved shrimp shells. Cook until shells are beginning to brown, about 2-4 minutes. Add the wine and simmer until reduced by one half, about 5 minutes. Add the tomato juice, reduce heat to medium, and continue simmering for 5 minutes to blend the flavors.
Pour the tomato juice mixture back through the colander into the same bowl and discard the shrimp shells.
Wipe the pan clean with a paper towel and heat the remaining tablespoon of olive oil over medium heat. Add the garlic, red pepper flakes, and oregano and saute until fragrant, 1-2 minutes. Add the anchovy fillets and saute another minute, stirring. Add drained tomatoes and mash with the back of a spoon.
Return the tomato juice mixture to to the pan and bring to a simmer. Add the shrimp and simmer, turning the shrimp, until just cooked through, about 5 minutes.
Remove the pan from the heat and stir in basil, parsley, pepperocini, and brine. Season to taste.
Serve over linguine, zucchini noodles, or with a heel of crusty bread.
Nutritional Information
Calories 301 / Total Fat 7.4g / Saturated Fat 1.1g / Trans Fat 0.0g / Cholesterol 245mg / Sodium 772mg / Potassium 122mg / Total Carbohydrates 14.4g / Dietary Fiber 2.1g / Sugars 5.2g / Protein 34.5g
Weight Watchers Points: 6 / Points Plus: 6
https://www.homesweetjones.com/2014/05/shrimp-fra-diavolo/