Peas!  I love them all:  crispy-sweet snap peas, English peas, garden peas, split peas, and,of course, snow peas.  I throw them into my curries, stir-fries, rice dishes and soups year round but they're so good this time of year that they need a chance to shine on their own.  This may not be that dish, though, since the peas get a lot of help from the garlic, red pepper and sesame oil.
Be very careful not to overcook these – the four minutes of cooking time is plenty for a crisp-tender pea.  I used double the red pepper since we like things spicy (and I suspect my red pepper is a little old and starting to lose potency).  Start with the quarter teaspoon and bump it up as needed.  We served this with hoisin-glazed salmon for a super-yummy, super healthy 300-calorie dinner.   Stay tuned for the salmon recipe!
Finally, make this paleo-friendly and equally delicious by swapping olive oil for the canola and honey for the sugar.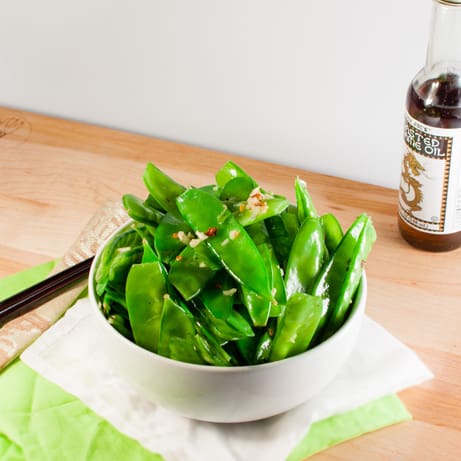 Ingredients
1 tsp canola oil
1 lb snow peas
2 tsp garlic, minced
1/4 tsp crushed red pepper, or more to taste
1/4 tsp sugar
1/2 tsp dark sesame oil
Instructions
Heat oil in a large pan over medium-high heat.
Add peas and saute, stirring, 2 minutes. Add minced garlic and red pepper; cook another minute. Add sugar and saute another minute.
Remove from heat and drizzle with sesame oil.
Nutritional Information
Calories 66 / Total Fat 2.0 / Cholesterol 0m / Sodium 5m / Potassium 278m / Total Carbohydrates 8.8 / Dietary Fiber 3.2 / Sugars 4.9g / Protein 3.8g
Weight Watchers Points: 1 / PointsPlus: 2
https://www.homesweetjones.com/2014/05/spicy-garlic-snow-peas/
Adapted from Cooking Light via MyRecipes.