Ever since I made last week's Vietnamese Summer Rolls I've been dreaming about that Spicy Peanut Sauce. I didn't think Brad would let me get away with making those rolls twice in a week and was considering new variations like "Spicy Peanut Sauce Soup."
Luckily, Cake Pants Lady swooped in to my rescue with a Thai Mango Salad that would be the perfect vessel for more Spicy Peanut Sauce. And oh my gosh, it was indeed perfect.
I added an extra touch of vinegar and some fresh lime juice to convert my precious from a dipping sauce to a dressing. There was a moment of near crisis when I realized I only had a tablespoon of peanut butter left but luckily I had PB2 to supplement
 and it worked great. I've included both options below but calculated the nutritional information using the PB2.
(Note: The above is an affiliate link but it's a link to the exact product I have on Subscribe and Save.  Seriously, my Subscribe and Save list is disgusting.)
This happened to be a great vegetarian/ carnivore compromise dish since I could easily add a handful of cubed chicken breasts to Brad's serving.  If you live in a divided household, peace is on the horizon.  To me, though, this stands alone as a perfectly filling dinner salad without the meat.  It hits all the right notes: crispy, spicy, sweet and tangy.  The leftovers made a great lunch the next day, too.
Update: Lately I've been making this super healthy, raw, whole foods version of this dressing that has become a staple around our house.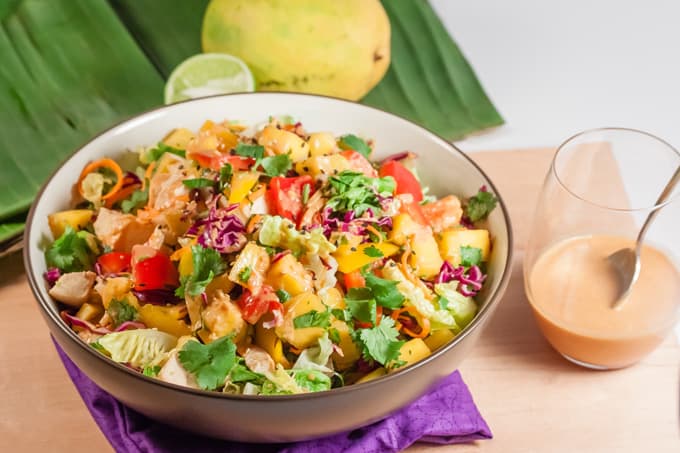 Ingredients
1 mango, diced
1 head butter lettuce, leaves torn into bite size peices
1 red pepper, diced
1/2 cup red cabbage, shredded
2 carrots, spiralized or shredded
1 c snap peas, halved
1 avocado, diced
1/4 c fresh cilantro, chopped
1 tsp black sesame seeds, for garnish



Dressing

2 tbs all natural peanut butter or 4 tbs PB2
2 tbs soy sauce
2 tbs rice vinegar
1 tbs sriracha, or more to taste
1 tbs minced garlic
1 tbs minced fresh ginger
juice of 1 lime
Instructions
Combine the dressing ingredients in a small bowl and whisk to blend. Set aside.
Combine salad ingredients except for sesame seeds in a large bowl. Drizzle with dressing and garnish with sesame seeds.
Nutritional Information
Calories 249 / Total Fat 11.5g / Saturated Fat 2.2g / Trans Fat 0.0g / Cholesterol 0mg / Sodium 611mg / Potassium 762mg / Total Carbohydrates 32.4g / Dietary Fiber 10.2g / Sugars 16.3g / Protein 8.0g
Weight Watchers Points: 5 / PointsPlus: 6
https://www.homesweetjones.com/2014/05/thai-mango-salad-spicy-peanut-dressing/