There's a little Hawaiian bar called Duke's off the Pacific Coast Highway in Malibu where Brad and I go for Mai Tais and ocean views.
Up until three years ago we also went for the greatest food on the planet: Duke's Tuna Poke Rolls. When they took them off the menu, I wept. Then I consulted the Oracle/ the Internet and, thanks to the Sure Save grocery store in Hawaii, learned out how to make them myself. That link is now defunct so maybe this is the only place you can learn to make these insanely perfect treats? Crazy.
Be warned: this recipe is firmly cemented in the "Splurge" category. After finding out what's in these babies, I'm no longer sad they're not readily available at Duke's. But they're so good. They're almost worth it. And I actually reduced the original recipe by two sticks of butter. Seriously, the original recipe calls for three sticks of butter. Holy Paula Deen, Batman! But did I mention they're so good?
The nutritional information assumes you'll finish all the sauces which you probably won't but, best to be prepared. Next time you have 650 calories to spare for dinner or want to blow away your guests, you must try this dish!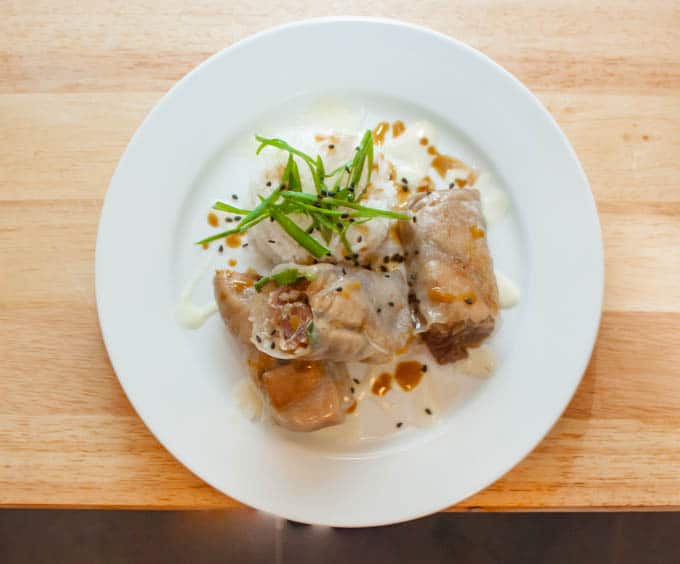 Ingredients
Poke Rolls

1 lb sashimi-grade ahi tuna, 1" dice
1/4 c maui onion, finely diced (can substitute other sweet onion)
2 tbs green onion, finely sliced, plus additional for garnish
2 tbs soy sauce
1 tbs sesame oil
8 8" spring roll rice paper sheets
1 tbs oil
2 tsp black sesame seeds, optional



White Wine Butter Sauce

1/4 c. dry white wine
1/4 c. onion, chopped
2 Tbs. parsley, chopped
2 Tbs. chives, chopped
juice of one lemon
1/4 c. heavy cream
1 stick unsalted butter, softened
1/4 tsp. salt



Wasabi Mustard Sauce

2 tsp. wasabi mustard
4 tsp. Coleman's mustard
2 Tbs. soy sauce
2 tsp. water
Instructions
Combine tuna, sweet onion, green onion, soy sauce and sesame oil in a medium bowl and refrigerate at least 1 hour.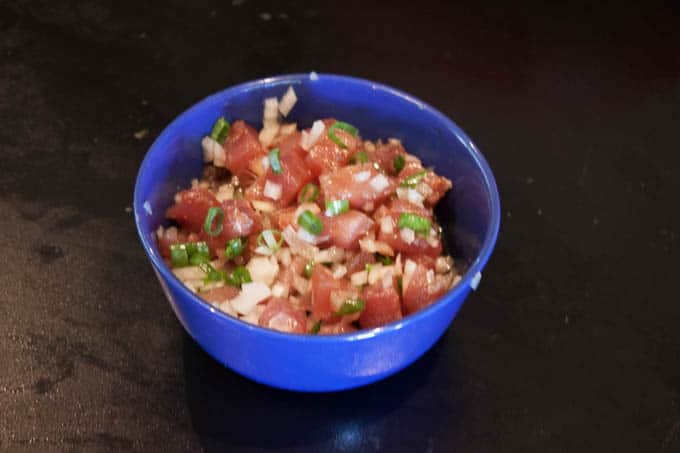 Meanwhile, prepare the sauces following the instructions below.
After one hour, soak rice paper sheets in lukewarm water for 30-60 seconds, until pliable. Place the rice paper on clean surface and spoon 1/8th of the ahi mixture onto the sheet. Roll, tucking in the edges, to form a small burrito-like roll.
Set aside and cover with a damp towel while preparing the remaining rolls.
Heat 1 tbs oil in a large pan over high heat. Place poke rolls in pan and quickly sear both sides until crispy golden brown, about 1-2 minutes a side. Remove rolls from heat and gently pat with a paper towel to remove excess oil. Slice the rolls in half.
Plate by placing 2 tbs White Wine Butter Sauce on a clean plate. Then add 4 half-rolls and top with 2 tsp Wasabi Mustard sauce.
Serve with rice and the extra sauce on the side. Garnish with julienned green onions and black sesame seeds.
Wasabi Mustard Sauce
Thoroughly mix all ingredients together in a small bowl. Set aside.
White Wine Butter Sauce
Combine wine, onion, parsley, chives, and lemon juice in small saucepan over medium heat. Simmer until liquid is reduced to about 2 tbs, about 5 minutes. Stir in the heavy cream and simmer another 2 minutes. Remove the saucepan from the heat and whisk in the butter one tablespoon at a time. When all the butter has been incorporated, poor the mixture through a fine sieve or cheesecloth into a clean bowl and hold at room temperature.
Nutritional Information
Calories 654 / Total Fat 35.9g / Saturated Fat 17.3g / Trans Fat 0.0g / Cholesterol 121mg / Sodium 1321mg / Potassium 122mg / Total Carbohydrates 30.7g / Dietary Fiber 1.6g / Sugars 3.3g / Protein 31.8g
https://www.homesweetjones.com/2014/05/tuna-poke-rolls/