Summer rolls are a healthy Vietnamese variation on Spring rolls that aren't deep fried.  In fact, no cooking at all is required for these fresh, crispy rolls so they're also perfect for a season when you may not want to turn on your oven.
The spicy peanut sauce is kind of amazing. I ended up taking down the leftovers with some celery sticks the next day. The sauce would compliment just about any roll fillings so experiment with different vegetables or protein – it would be amazing with shrimp, mushrooms, snap peas, or steamed asparagus. The mint, basil and cilantro really make these for me but it might also be fun to play with lemongrass, chives or other herbs.  Let me know what you try!
Substitute liquid aminos or gluten-free soy sauce for the soy sauce to make this gluten free.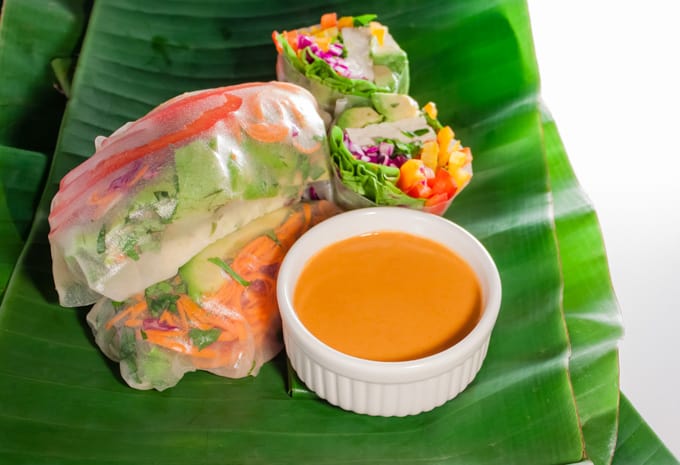 Ingredients
8 rice paper rolls
1 yellow bell pepper, seeded and thinly sliced
1 red bell pepper, seeded and thinly sliced
16 leaves butter lettuce
2 carrots, shredded or spiralized
14 oz firm tofu, sliced into 8 bricks
1 avocado
1 c red cabbage, thinly shredded
2 tbs fresh mint, chopped
2 tbs fresh basil, chopped
2 tbs fresh cilantro, chopped



Spicy Peanut Sauce

2 tbs natural, no salt added peanut butter
2 tbs shriracha
2 tbs soy sauce
1 tbs rice vinegar
1/2 - 1 tbs minced ginger or to taste
1/2 - 1 tbs minced garlic or to taste (see note below)
1 tsp sesame oil
1-2 tbs water
Instructions
In a medium bowl, whisk together the sauce ingredients to combine. Add additional water if the sauce is too thick. Set aside.
Note that the the pungency of your garlic and ginger may vary. We love very strong flavors but you may want to start with less and add more until you hit the right level of spice for your palate.
Working one at a time, soak the rice paper rolls in warm water until pliable, about 30 seconds.
Lay the roll on a clean surface. About 2 inches from the edge, stack a quarter of the red pepper, yellow pepper, shredded carrot and cabbage. Add 2 leaves of butter lettuce, avocado, tofu and herbs. Roll, tucking in the edges as you go. Finish remaining rolls.
Gently slice each roll in half and serve with spicy peanut sauce on the side.
Nutritional Information
Calories 364 / Total Fat 19.4g / Saturated Fat 4.0g / Trans Fat 0.0g / Cholesterol 0mg / Sodium 747mg / Potassium 766mg / Total Carbohydrates 36.7g / Dietary Fiber 7.7g / Sugars 8.9g / Protein 13.0g
Weight Watchers Points: 8 / PointsPlus: 10
https://www.homesweetjones.com/2014/05/vegan-summer-rolls-spicy-peanut-sauce/