I've been seeing watermelon and feta salads on more and more restaurant menus lately but haven't had the courage to try them.  It wasn't until our local market had personal watermelons on sale that I figured the time was right.  I can't believe I waited this long!
This is the single most refreshing salad I've ever had and will be making many appearances at our table this Summer. The salty feta, sweet watermelon, bitter arugula, and cool mint create a perfect flavor balance.  I looked to Ina Garten for a complimentary dressing and her tangy-sweet vinaigrette did not disappoint.   While it's best if eaten immediately, the leftovers were still delicious the following day.
I'm already looking forward to making this and blowing everyone away at our next barbecue.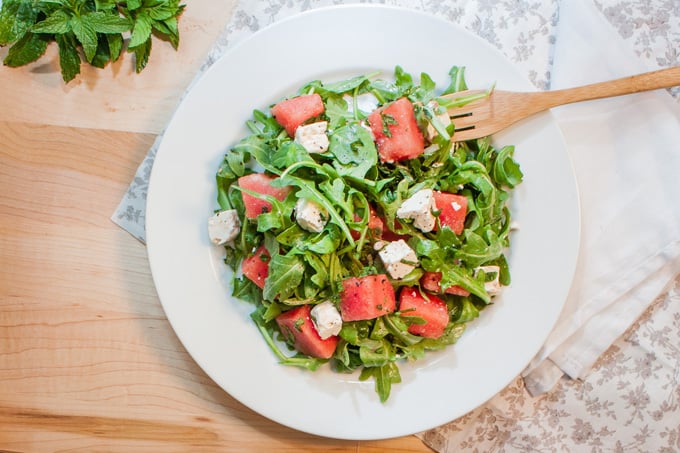 Ingredients
4 cups packed arugula
6 oz light feta cheese (I use Trader Joe's)
1/2 personal-sized watermelon
1/2 c fresh mint leaves, julienned



Dressing

2 tbs olive oil
2 tbs lemon juice
2 tbs orange juice
1/2 tbs honey
2 tbs shallot, minced
salt and pepper, to taste
Instructions
Combine the dressing ingredients in a small bowl and set aside.
Slice the top and bottom off the watermelon and slice off the rind. Cut 1/2 the watermelon into 1-inch cubes. Reserve the remaining watermelon for another use.
Cut the feta into 1/2-inch cubes.
Combine watermelon, arugula, feta and mint in a large bowl. Drizzle with 1/2 the dressing and toss to combine. Serve with additional dressing on the side.
Nutritional Information
Calories 178 / Total Fat 9.6g / Saturated Fat 2.6g / Trans Fat 0.0g / Cholesterol 8mg / Sodium 577mg / Potassium 256mg / Total Carbohydrates 17.3g / Dietary Fiber 1.9g / Sugars 12.8g / Protein 9.1g
Weight Watchers Points: 4 / PointsPlus: 5
https://www.homesweetjones.com/2014/05/watermelon-feta-arugula-salad/
Recipe adapted from Ina Garten.