Spicy blackened salmon with a light, fruity salsa puts an elegant twist on taco night but still takes fewer than 15 minutes to prepare.  This is perfect for a frenzied weeknight dinner when you don't want to dirty a lot of dishes. Just throw away the foil after you bake the salmon and the only dish you have to worry about is the salsa bowl – which you'll probably lick clean.
Use corn tortillas or skip the tortillas completely to keep this gluten free.  Serve with a side of black beans, green rice, or salad for a delicious, stress-free meal.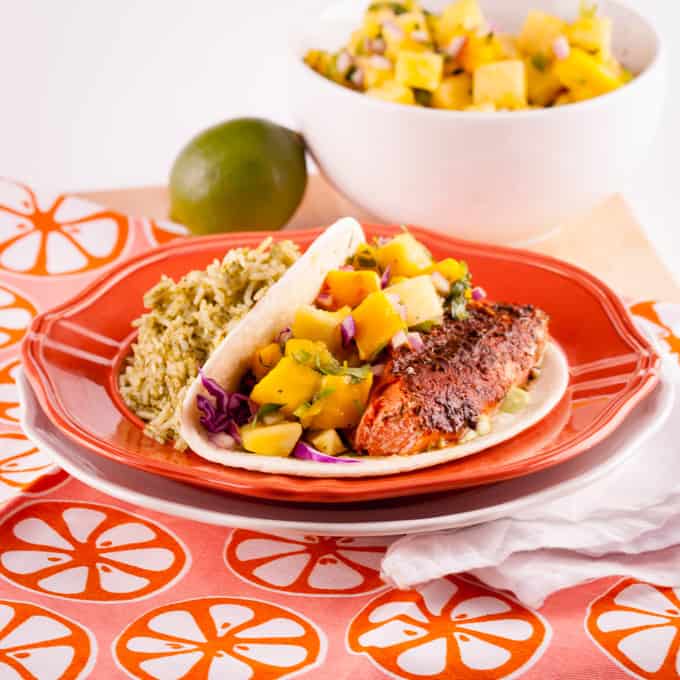 Ingredients
1 lb wild-caught salmon filets
2 tsp paprika
1 tsp garlic powder
1 tsp onion powder
1 tsp dried thyme
1/2 tsp freshly ground black pepper
1/2 tsp dried oregano
1/2 tsp cayenne pepper, or to taste
8 fajita-size tortillas (nutritional information accounts for flour tortillas)
1/2 c shredded cabbage, optional



Salsa

1-1/2 c pineapple, diced
1/2 c mango, diced
1/4 c red onion, finely diced
2 tbs cilantro, chopped
1/2 - 1 jalapenos, or to taste, minced
juice of 1 lime
salt and pepper, to taste
Instructions
Preheat oven to 350F.
Line a baking sheet with foil. Combine spices in a small bowl and rub into salmon. Place skin side up, seasoned side down and bake until flaky, about 12-14 minutes.
Meanwhile, combine salsa ingredients in a bowl and set aside.
Serve salmon and salsa in a tortilla. Add cabbage if desired.
Nutritional Information
Calories 350 / Total Fat 10.6g / Saturated Fat 1.5g / Trans Fat 0.0g / Cholesterol 81mg / Sodium 276mg / Potassium 870mg / Total Carbohydrates 30.3g / Dietary Fiber 4.0g / Sugars 9.9g / Protein 31.7g Weight Watchers Points: 7 / PointsPlus: 9
https://www.homesweetjones.com/2014/06/blackened-salmon-tacos-pineapple-mango-salsa/