I bought loads of piquillo peppers for our Spanish tapas night and, as delicious as they are stuffed with goat cheese, I was eager to try some new uses.  I'm so glad I did – this sauce was scary delicious.

White wine and butter are pretty much all I need in a food but add to that some fragrant garlic and smokey-sweet piquillos and you have about as good a sauce as you could want to smother your chicken breast or run a crust of bread through.
Most magical of all, it took fewer than 30 minutes to prepare and used just one pan. Win! Before you start the chicken, prep some Spanish saffron rice – just add the following to your rice maker: 1 c rice, 2 c broth, 1 pinch saffron, 1 sprinkle turmeric, 1 fistful currants. Garnish with parsley and sliced almonds and you have a healthy meal that's gluten-free and paleo-friendly.  Substitute roasted red bell peppers if you can't get your hands on any piquillos.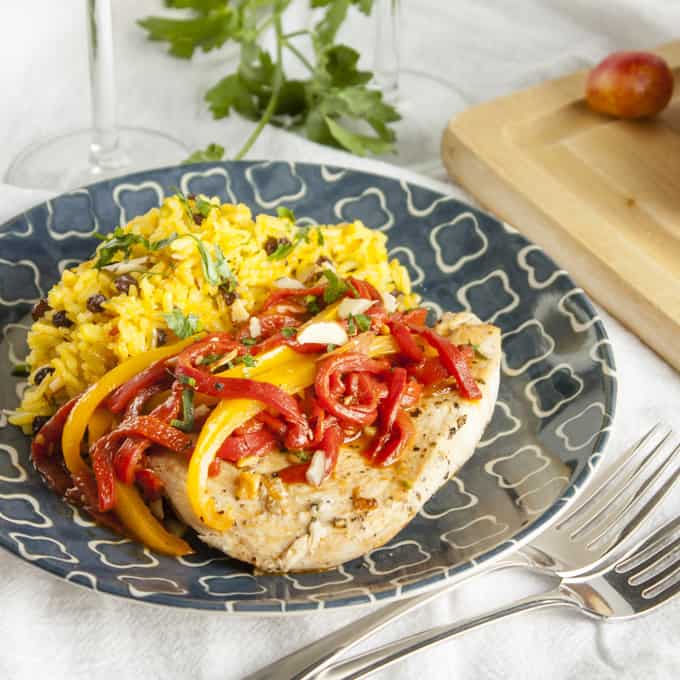 Ingredients
1 tbs olive oil
2 8-oz boneless, skinless chicken breasts, sliced in half lengthwise
salt and fresh ground black pepper, to taste
1 yellow pepper, thinly sliced
3 cloves garlic, minced
1 tsp crushed red pepper flakes, or to taste
1 7.5-oz can piquillo peppers, thinly sliced
3/4 c white wine
2 tbs butter, cut into small pieces
Instructions

Heat olive oil in a large pan over medium heat. Season chicken breast halves with salt and pepper, going a little heavy on the pepper. Add to the pan and cook until outside is brown and meat is cooked through, about 5 minutes per side. Set aside and tent with foil to keep warm.

Add yellow pepper, garlic, and red pepper flakes to the same pan and saute 5 minutes. Deglaze with small amounts of white wine as needed.

When yellow pepper is just tender, add piquillo peppers and remaining white wine. Simmer until wine is reduced by half, about 4 minutes. Stir in butter and season to taste. Serve chicken topped with piquillo pepper salsa.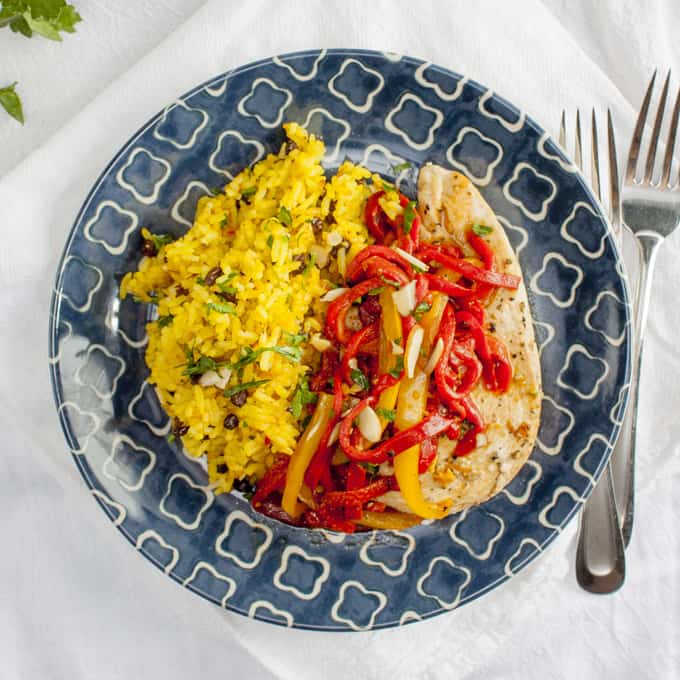 Nutritional Information

Calories 276 / Total Fat 12.3g / Saturated Fat 4.2g / Trans Fat 0.0g / Cholesterol 88mg / Sodium 179mg / Potassium 582mg / Total Carbohydrates 7.4g / Dietary Fiber 1.2g / Protein 24.8g
Weight Watchers Points: 6 / PointsPlus: 6

https://www.homesweetjones.com/2014/06/chicken-piquillo-pepper-salsa/