Chicken Puttanesca is our most frequent go-to meal and is the first dish I ever made for this blog.  That was back in the dark ages of six months ago when I was sure I could do this thing with pictures from my cell phone.  Don't look; it's mortifying.
We probably make this once a month because:
The main ingredients (canned tomatoes, onion, garlic, anchovy paste, capers, olives, chicken breast) are staples that I always have on hand.
It's a classic "clear out the fridge" dish.  Vegetables going bad in the crisper? Throw them in this.  Squash, zucchini, bell peppers, mushrooms, spinach, eggplant, and vegetables I've probably never heard of are all awesome additions to this recipe.
It's the ultimate in practicality: SO fast and easy and healthy and cheap and only dirties one dish.
It's crazy delicious.
Not necessarily in that order.


This particular variation has been our recent favorite.  I use canned or frozen artichokes to keep that whole fast/ cheap/ easy streak alive.  This is a total make ahead dish – the leftovers are as good as the day you make it.  We serve it with a side of zucchini roasted or sauteed with Italian seasoning for a paleo, gluten-free dinner that clocks in under 400 calories.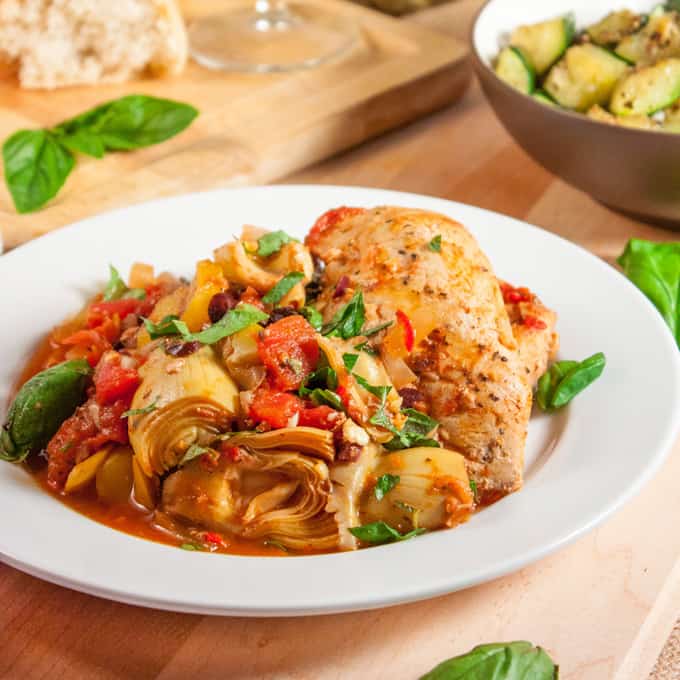 Ingredients
1 tbs olive oil, divided
2 8-oz boneless, skinless chicken breasts, sliced in half lengthwise
salt and pepper, to taste
1 large yellow onion, diced
1/4 c white wine
1 yellow bell pepper, diced
3 cloves garlic, minced
1/2 tbs dried thyme
1 tbs crushed red pepper, or more to taste
1 tbs anchovy paste
1 14.5-oz can no-salt-added tomatoes
1 14.5-oz can no-salt-added artichoke hearts, halved or 2 cups frozen artichoke hearts
1/4 c kalamata olives, chopped
1 tbs capers, chopped
1/4 c fresh basil, chopped
2 tbs fresh parsley, chopped
Instructions
Heat 1 tbs oil in a large pan over medium-high heat. Season chicken breast pieces with salt and pepper and cook until outside is brown, about 5-7 minutes per side. Remove to a plate.
Add remaining oil to the pan and reduce heat to medium. Add onion saute about 2 minutes, scraping up brown bits, before adding bell pepper. Deglaze with white wine if brown bits threaten to burn,.
Continue to saute until onion is transparent and soft. Add garlic, dried thyme, red pepper, anchovy paste and cook, stirring, until fragrant, about 1 minute,
Add tomatoes, any remaining wine, olives, and capers. Bring to a simmer. Return chicken to the pan and nestle in the sauce, adding any chicken juices. Simmer, uncovered, until chicken is cooked through and sauce is slightly reduced, about 20 minutes.
Stir in fresh herbs, adjust seasoning to taste, and serve.
Nutritional Information
Calories 241 / Total Fat 11.0g / Saturated Fat 1.6g / Trans Fat 0.0g / Cholesterol 80mg / Sodium 546mg / Potassium 680mg / Total Carbohydrates 17.2g / Dietary Fiber 3.2g / Sugars 10.3g / Protein 29.9g
Weight Watchers Points: 5 / PointsPlus: 7
https://www.homesweetjones.com/2014/06/chicken-puttanesca-artichokes/