It was a lazy Saturday morning and Brad wanted to grill later. We decided on chicken since he wanted meat and grilling fish takes so little time it's hardly griling at all. I knew I wanted fruity salsa and, while we toyed with tomatillo, pineapple, and watermelon throughout the morning, around the time I finished my decaf it hit me: Chipotle Peach.
I can't get enough of stone fruits this time of year and I knew the smokey chipotle would compliment the sweet peach. The end result is only a salsa in the sense that salsa means "sauce" but it packs plenty of heat and flavor. Brad declared this "awesome" and it's been promoted to permanent Summer rotation.
We served this over a giant bed of spinach for a hearty, gluten-free meal that left lots of room in the calorie budget for a few cocktails to wash down the fiery sauce. The amounts below were perfect for our palate but adjust the chipotle and adobo to your taste.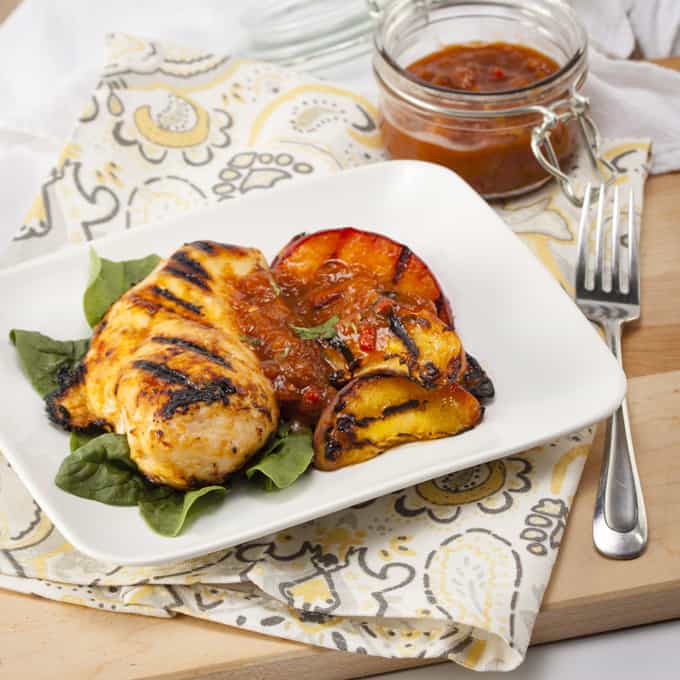 Ingredients
1 lb boneless, skinless chicken breast
3 peaches, sliced into eighths



Marinade

1 c peach nectar
1 peach, peeled and chopped
1 chipotle in adobo
1 tbs lime juice
2 tbs olive oil
1 tsp salt



Chipotle Peach Sauce

1/4 c reserved marinade
1/4 c peach nectar
2 peaches, peeled and diced
2-4 tbs adobo sauce, to taste
minced chipotle pepper, to taste
1 clove garlic, minced
1 tbs bourbon
1 tbs balsamic vinegar
Salt and pepper, to taste
Instructions
Blend marinade ingredients with a blender or food processor. Add chicken breast and let marinate 4 hours or overnight.
Heat grill to high. Remove chicken, reserving marinade. Grill chicken, turning once, until cooked through, about 5 minutes a side. Grill peaches 1-2 minutes per side. Let chicken rest 10 minutes.
Meanwhile, combine 1/4 cup reserved marinade with sauce ingredients in a medium pan over medium-high heat. Simmer, stirring frequently, until mixture has reduced to a jam-like consistency, about 10 minutes. Adjust seasoning to taste.
Serve chicken with grilled peaches and sauce.
Nutritional Information
Calories 265 / Total Fat 6.9g / Saturated Fat 1.9g / Trans Fat 0.0g / Cholesterol 66mg / Sodium 281mg / Potassium 411mg / Total Carbohydrates 23.1g / Dietary Fiber 3.2g / Sugars 19.9g / Protein 27.3g
Weight Watchers Points: 5 / PointsPlus: 7
https://www.homesweetjones.com/2014/06/chipotle-peach-grilled-chicken/