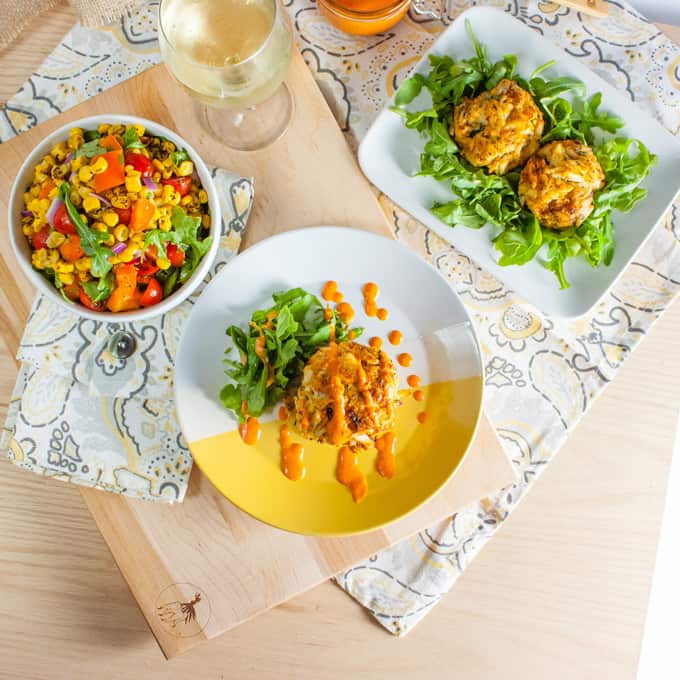 Summer is my favorite season. I love hot temperatures, sunshine, girls in dresses, and the smell of sunblock.  My absolute favorite thing, though, is the long days.  I love how easy it is to wake up in the morning with the sun streaming in and how late we can sit outside enjoying the neighborhood before it gets dark.
This is the kind of meal you want to eat on one of those long, lazy Summer nights – preferably with friends and maybe a few too many drinks.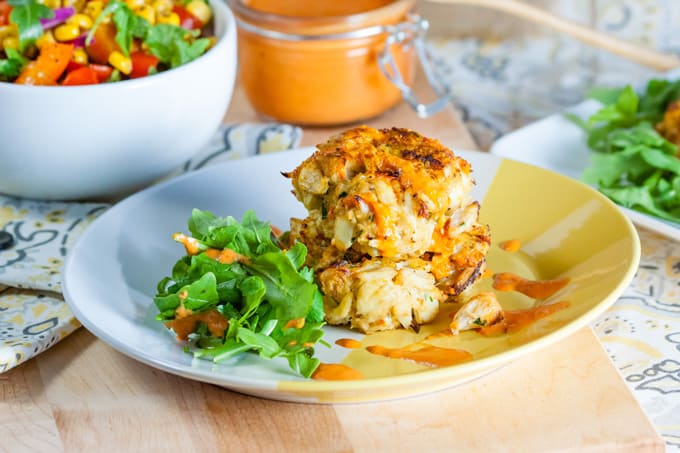 For me, crab cakes were always attended by anxiety over the flipping.  I'd use crab with the consistency of cat food and tons of binder but work myself into such a panic about not wanting to burn them that I'd inevitably turn too early so that they'd fall apart – but still somehow manage to burn.  Using giant chunks of buttery crab was out of the question – they'd fall apart if I looked at them too hard.
Well here, my friends, is the Prozac of crab cakes: a technique to banish all anxiety and allow you to use the most jumbo of lump crab with barely enough binder to keep them together.  Here it is, are you ready?  It's a twofold trick: 1) refrigerate them first and then 2) bake them.
Sounds crazy, right? Surely it can't be that easy?  It really is, though. Totally foolproof.  Heck, even Maggie-proof.
Give them some time to solid-up in the fridge, then brush them with a butter/ oil/ paprika mixture, throw them in a toaster or conventional oven, and take them out only when completely done.  You never even have to see the crumbly awkward stage. While they're cooking, whip up a side like this roasted corn and arugula salad or simply sip some wine – you don't need to worry any more.
You've probably been using this technique for years but I just figured it out and it changed my life.  I can suddenly consider crab cakes a viable dinner party food without fear of burning, crumbling, or both. I can even entertain guests while they cook…
Whoa.
Anyway, not to toot my own horn (too late), but this recipe is really kind of amazing.  It's all about the crab and tastes deceptively light until you're halfway in and realize how rich it really is.  The roasted red bell pepper remoulade is just the thing to balance out that richness.  Just as good with a cold beer as a cool white wine, this is something you should probably make immediately.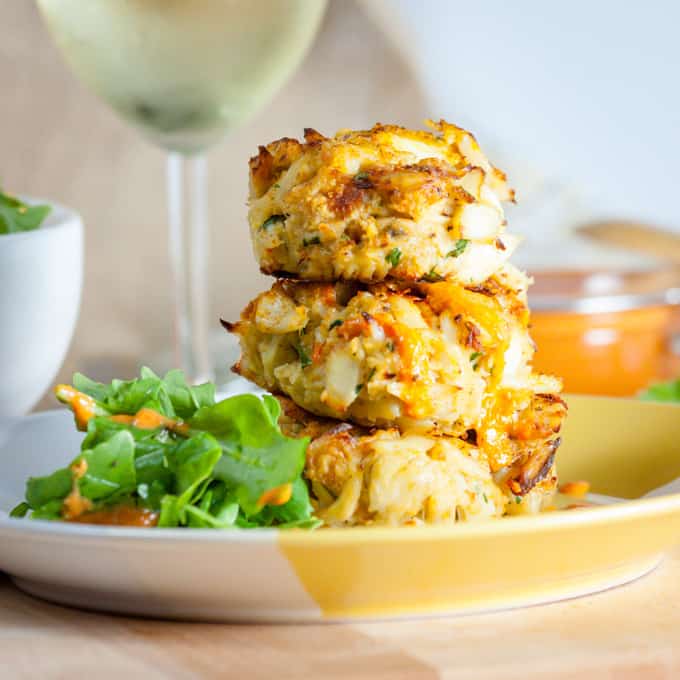 Ingredients
1 lb. jumbo lump or backfin lump crabmeat, fresh or pasteurized
1 large egg
1/4 cup light mayonnaise
2 tsp Dijon mustard
1 tsp Old Bay seasoning
1 tsp fresh lemon juice
1/2 tsp Worcestershire sauce
8 slices soft white sandwich bread, crusts removed and torn into small pieces (about 3/4 cup - try not to compress it too much)
1/4 c panko
1 tbs chopped fresh flat-leaf parsley
1 tbs butter
1 tbs olive oil
1/4 tsp paprika



Remoulade

1 roasted red bell pepper
1/3 c light mayonnaise
1/2 tbs mustard
1/2 tbs prepared horseradish
1/2 tbs capers, drained
1/2 tbs lemon juice
Instructions
Combine remoulade ingredients in a blender or small food processor and blend until smooth. Refrigerate until ready to serve.
Place crab in a large bowl. Add egg, mayonnaise, mustard, Old Bay, lemon juice, Worcestershire, bread crumbs, panko and parsley. Combine gently being careful not to break up the crab too much.
Refrigerate mixture for 30.
Shape into eight equally-sized balls and refrigerate another 30 minutes to an hour.
Preheat oven to 375F.
Combine butter and oil in a small cup and microwave in 10 second increments until butter is melted. Stir in paprika.
Line a baking sheet with foil and brush lightly with oil mixture. Place the crab balls on the foil and brush with remaining oil mixture.
Bake 15-20 minutes until golden brown.
Serve with remoulade on the side.
Nutritional Information
Calories 382 / Total Fat 20.8g / Saturated Fat 4.6g / Trans Fat 0.0g / Cholesterol 178mg / Sodium 1018mg / Potassium 508mg / Total Carbohydrates 19.6g / Dietary Fiber 1.8g / Sugars 3.9g / Protein 27.6g
https://www.homesweetjones.com/2014/06/crab-cakes-roasted-red-pepper-remoulade/