I recently had a request for a gluten-free version of my Creamy Chicken Gnocchi Soup.  While a hearty, creamy bowl of soup in Summer might sound crazy, we were in the throws of the annual "June Gloom" here in LA and this was actually a great cure.
While I would have loved to make my own gnocchi with this Serious Eats recipe, we're still neck-deep in the kitchen remodel (drywall is up!) and a time when I can spend an afternoon making pasta is months away.
What I could do was experiment with every gluten-free pasta available on Amazon.  The winner for me was Le Veneziane's Gluten Free Potato Gnocchi
 (not pictured).  Made sure you get the Potato Gnocchi and not their weird non-potato gnocchi.   I mean, it will work and you won't be hungry after you eat it but, to me, gnocchi means potato and without it this is just a really creamy chicken noodle soup.  Also yummy, but sort of misleading given the title of this recipe.
This is a little more caloric than the non-gluten-free version but still clocks in under 500 calories for a super hearty meal.  It's best served immediately but the leftovers are still good for lunch the next day both cold and reheated – which is a good thing because we're swimming in leftovers 🙂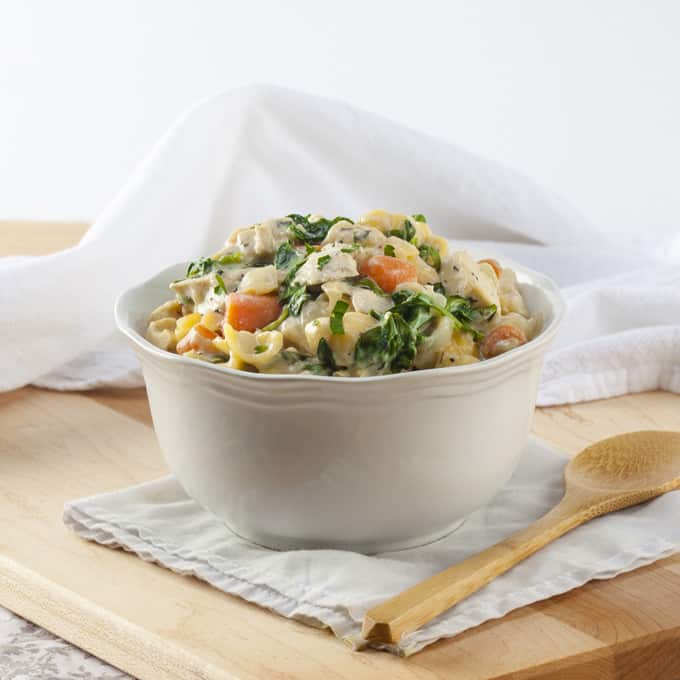 Ingredients
2-1/2 tbs cornstarch
2 c low-sodium chicken broth, divided
1 tbs olive oil
1 medium onion, diced (about 2 cups)
1-1/2 c chopped carrots
1/2 tbs dried thyme
3 cloves garlic, finely minced
2 c skim milk
1 c half-and-half
1 package gluten-free potato gnocchi (recommend homemade or Le Veneziane)
12 oz cooked chicken breast, diced
2 c fresh spinach, packed, coarsely chopped
1/2 tsp cayenne pepper, or to taste
1/4 tsp nutmeg
salt and pepper, to taste
2 tbs flat-leaf parsley, coarsely chopped (optional)
Instructions
Whisk the cornstarch with 1/2 cup chicken broth and set aside.
Heat the olive oil in a large pot or dutch oven over medium heat. Add the onion and carrots and cook, stirring, until the onion is translucent and the carrot crisp-tender, about 5 minutes. Add the thyme and garlic and cook another minute, until fragrant.
Add the milk, remaining chicken broth, and half and half and bring to a boil.
Stir in gnocchi and cook 2-3 minutes or time indicated on the package instructions.
Add cornstarch slurry, cayenne and nutmeg and stir until soup begins to thicken, 1-2 minutes. Stir in the chicken and spinach and cook for 1-2 minutes until heated through.
Remove from heat and let sit, covered 5-10 minutes.
Season with salt and pepper to taste, garnish with parsley, and serve.
https://www.homesweetjones.com/2014/06/gluten-free-chicken-gnocchi-soup/