Goat cheese stuffed piquillo peppers are one of those items I will always order when I see it on a restaurant menu.  I'm so excited by how easy they are to make at home.  We made these for Tapas night along with Spanish-Style Garlic Shrimp, Manchego with Quince Pasteand, of course, plenty of sangria.  Brad's been asking for them almost every night since.
Piquillo peppers are picked only in the Navarra region of Spain and are roasted and jarred on site.  I buy mine on Amazon
but you can also find them in some specialty stores.  They have a sweet, barely piquant, faintly smokey flavor that is begging to be paired with creamy goat cheese and garlic.  The name means "little beaks" in reference to their perfectly stuffable shape.
We've tested many many variations including goat cheese mixed with everything from shallots to mint to lemon zest or a combination thereof. Ultimately, I love the simple, unadorned version and don't find extra ingredients worth the effort. These are so easy to make they'll make an appearance at any party I host.  Prep them hours in advance and just throw them under the broiler for a few minutes when you're ready to blow away your guests.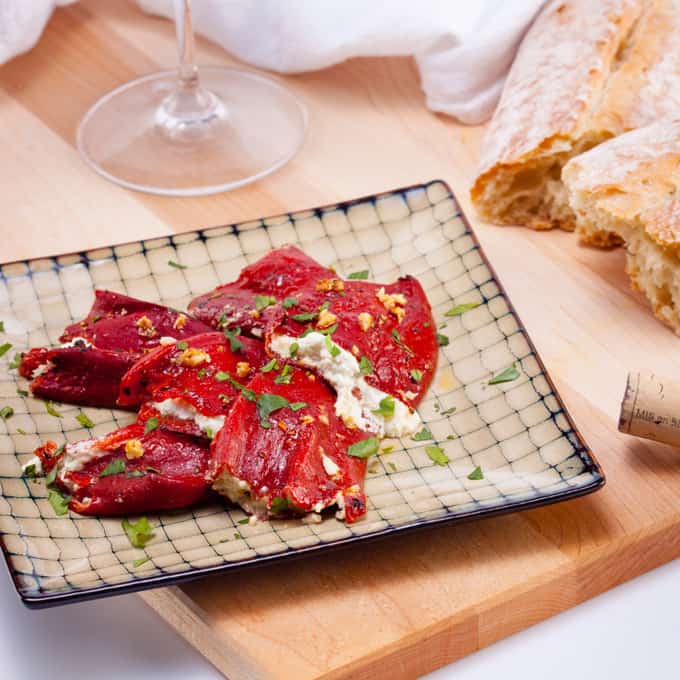 Ingredients
1 7.5-oz jar piquillo peppers in water (about 10 peppers)
5 oz goat cheese
1 tbs olive oil
2 cloves garlic, minced
1 tbs parsley, chopped
Instructions
Stuff each pepper with 1/2 oz goat cheese.
Place on a foil-lined baking sheet, drizzle with olive oil and sprinkle with garlic.
Place under broiler until cheese is melted and oil is sizzling, about 8-10 minutes.
Garnish with parsley and serve with crusty bread.
Nutritional Information
Calories 85 / Total Fat 6.4g / Saturated Fat 3.7g / Trans Fat 0.0g / Cholesterol 15mg / Sodium 129mg / Potassium 11mg / Total Carbohydrates 2.5g / Dietary Fiber 0.5g / Sugars 1.3g / Protein 4.4g
https://www.homesweetjones.com/2014/06/goat-cheese-stuffed-piquillo-peppers/