So, I love cooking – and I'm pretty decent at it – but baking isn't really my thing. Of the 130+ recipes published on this blog so far, only 2 involve baking and both use a mix. I think the problem is that I like to be a little fast and loose in the kitchen but baking is all about science and the following of directions.
I proved my crappy baking skills yet again last weekend when I butchered this fantastic lemon cake recipe from Ina Garten.
Nevertheless, let my failures serve as a a great learning experience and heed me when I tell you what not to do when making this awesome bread:
Don't substitute non-fat yogurt for the full-fat yogurt.
Don't try to use two small paper loaf pans instead of the one large metal loaf pan.
Don't pour the lemon syrup onto the cake while it's still in the loaf pan. Follow the directions and pour it over the cake while the cake is on a baking rack over a sheet pan.  Otherwise it ends up swimming in sugary syrup.
Don't reduce the cooking time to compensate for the change in loaf pan size – especially if you don't know what you're doing.
Maybe cook this in a conventional oven instead of a toaster oven.

Even with my "improvisations," it wasn't all that bad, just not as good as I know it could have been. Brad looked at me like I was trying to poison him after the first bite but only because he was expecting the texture of fully cooked cake rather than the super dense half-baked loaf I presented. I can see the potential but, all my mistakes aside, it's still a bit sweet for our tastes and I'll probably forgo the glaze if we make this again.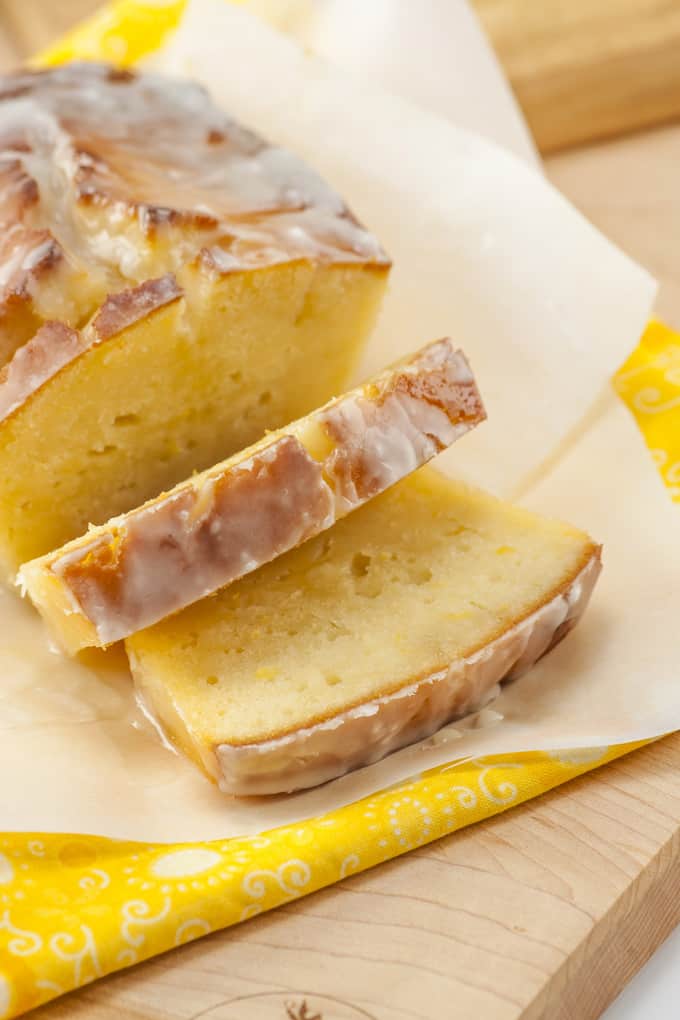 Ingredients
nonstick spray
1-1/2 c all-purpose flour
2 tsp baking powder
1/2 tsp kosher salt
3 extra-large eggs
1 c plain whole-milk yogurt
1-1/3 c sugar, divided
2 tsp grated lemon zest (2 lemons)
1/2 tsp pure vanilla extract
1/2 c vegetable oil
1/3 c freshly squeezed lemon juice


Glaze:
1 c confectioners' sugar
2 tbs freshly squeezed lemon juice
Instructions

Preheat the oven to 350F. Spray an 8-1/2" x 4-1/4" loaf pan with non-stick spray and line with parchment paper.

In a medium bowl, sift together flour, baking powder, and salt. In a large bowl, whisk together the eggs, yogurt, 1 c sugar, lemon zest and vanilla. Slowly add the dry ingredients to the wet, whisking constantly. Fold in the vegetable oil, stirring until it's completely combined.

Pour the batter into the loaf pan and bake until a toothpick inserted in the middle of the cake comes out clean, about 50 minutes.

Meanwhile, combine remaining 1/3 cup sugar with the lemon juice in a small saucepan over medium heat. Stir until sugar dissolves and the syrup is transparent. Set aside.

When the cake is done, cool in the pan for 10 minutes and transfer to a baking rack placed over a sheet pan. Poke holes in the cake using a toothpick and then pour the lemon syrup over the cake. Let cool.

When cool, combine the confectioners' sugar and lemon juice in a small bowl and pour over the cake. Serve.

Nutritional Information

Calories 384 / Total Fat 16.1g / Saturated Fat 3.7g / Cholesterol 72mg / Sodium 199mg / Potassium 259mg / Total Carbohydrates 55.2g / Dietary Fiber 0.5g / Sugars 42.4g / Protein 5.8g
Weight Watchers Points: 9 / PointsPlus: 11

https://www.homesweetjones.com/2014/06/ina-gartens-lemon-yogurt-cake/