It's Peach Fest here at Chez Jones.  We had some yummy, ripe fruit and juice left over from our Chipotle Peach Grilled Chicken and knew they would only find true peachy fulfillment by being turned into Bellinis.
This cocktail always tastes like celebration to me – in this case we're just celebrating surviving another Monday.
The peaches add just the right amount of sweetness and the fragrance is just amazing.  I committed a few cocktail sins in the pictures: 1) this drink is traditionally made with Prosecco and I'm not hiding the fact that I'm pouring a bottle of Champagne very well and 2) the original recipe calls for white peaches and I've used yellow.  I'm sure you can forgive me.  Heck, I bet this would still be delicious with Cava and nectarines. Scandal!

Whether the occasion is a sunny afternoon, a batch of ripe peaches, or another day without losing your mind, this drink will make it special.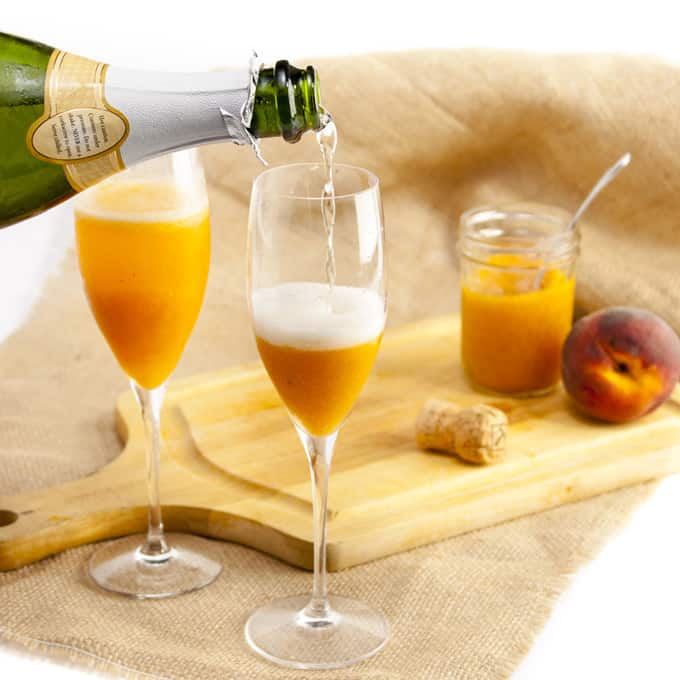 Ingredients
Sparkling white wine (Prosecco is traditional)



Peach Puree

2 white peaches, peeled, pitted and sliced
1/2 c Peach nectar
Instructions
Blend together peaches and peach nectar with a blender, small food processor, or hand blender.
Spoon 1-2 ounces of peach puree into a champagne flute. Top with sparkling white wine.
https://www.homesweetjones.com/2014/06/peach-bellini/