When I first met Brad he had an actual recipe file.  In this file was an actual hard copy of a recipe for "Cream cheese and salsa dip." The ingredients were cream cheese and salsa. The instructions were to serve the salsa over the cream cheese as a dip. I have never let him live that down.
Now it's time for him to get a little bit of his own back as I proudly introduce Manchego with Quince Paste. The ingredients are manchego and quince paste. The instructions are to eat the manchego with the quince paste.
I realize this isn't really a recipe and yes, I'm embarrassed, but it's such a fun, simple flavor combination that I'm overcoming my shame to tell you about it. Besides, if Rachel Ray and Paula Dean can get away with it, why shouldn't I?
Queso con Membrillo is a traditional Spanish tapa. We served it most recently with Garlic Shrimp and Goat Cheese Stuffed Piquillo Peppers for Spanish Tapas night and it help set the tone beautifully. The combination of manchego and quince paste is so rich and sweet it could be dessert. This would be a great hors d'oevre at your next dinner party. Don't forget the sangria!
You can find quince paste at cheese shops, specialty stores, and, most conveniently of all, my beloved Trader Joe's.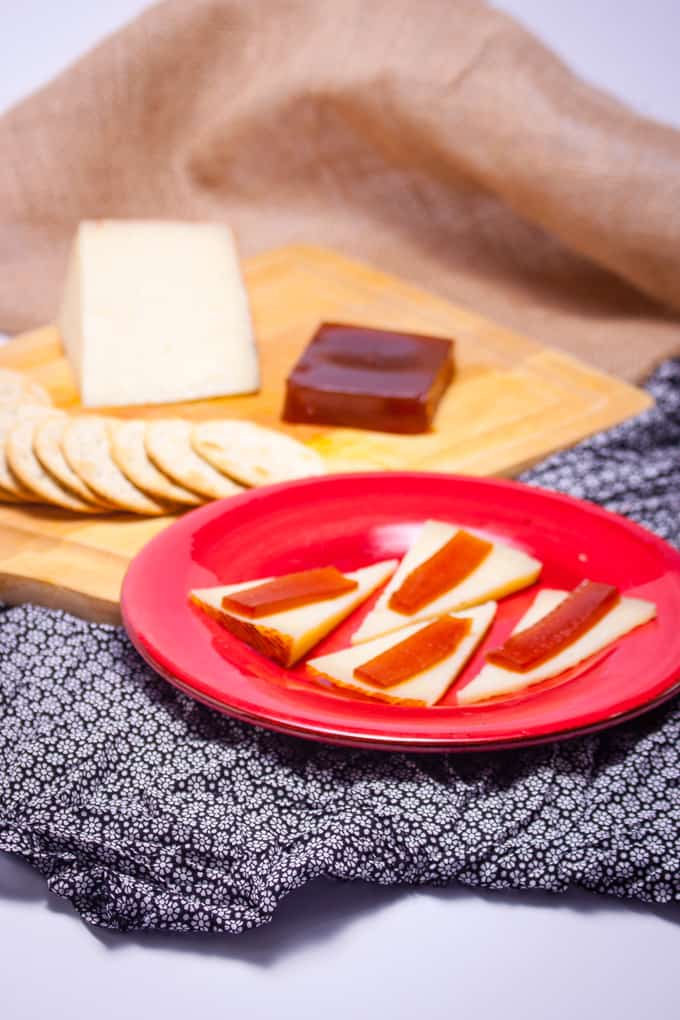 Ingredients
Manchego Cheese
Quince Paste
Crackers, optional
Instructions
Slice Manchego and top with a slice of quince paste. Eat as is or with a cracker.
https://www.homesweetjones.com/2014/06/queso-con-membrillo-manchego-quince-paste/