Fourth of July is my favorite holiday and has been since I was a kid. This year we're barbecuing with some friends and I volunteered to make dessert. Brad suggested something red, white and blue (to be awesome) but we also need something vegan, gluten-free, and oil-free (to accommodate a variety of diets).
Vegan coconut cream swept through the Internet in 2007 but I only just discovered it this month. It's already changed my life. It was tricky for me at first. The traditional technique involves finding the right kind of full-fat coconut milk, storing it in the fridge so it separates, scooping out the solids and whipping them up. I read all kinds of research and personally tested 3 types of coconut cream with mixed results.
Wondering how I would transport this delicate whipped cream to the barbecue, I suddenly realized I might be able to use our siphon whipper
. After a bit more experimentation I had a reliable and very stable recipe thanks to the addition of agar powder.
Originally, I thought I'd create a parfait of simply white coconut whipped cream, red strawberries, and blue blueberries for maximum unadulterated American-ness.   Then I discovered this mousse.
This mousse.
So so good.
It's so rich and dense it reminds me more of pot de crème than an airy mousse but the Internet calls it a mousse so I will, too.  I used to raise an eyebrow at the notion of silken tofu in desserts but luckily Gintare at Gourmantine convinced me to try it.  The tofu flavor is completely masked by the dark chocolate and liqueur. Use a high quality chocolate with at least 70% cacao for maximum deliciousness (and health benefits).  A little of this goes a long way and neither Brad nor I have been able to finish more than half a serving in one sitting.
And so it is that the final dessert is red, white, blue and brown. Nevertheless, it satisfies the most important requirement: it's crazy delicious.
I'm going to pack up the mousse and berries in half pint mason jars and bring them in a cooler with my loaded whipper so these will be a snap to assemble when the time comes.
I've loved this experiment with vegan, gluten-free, oil free cooking and am looking forward to experimenting with more recipes.  Let me know if you have any recommendations!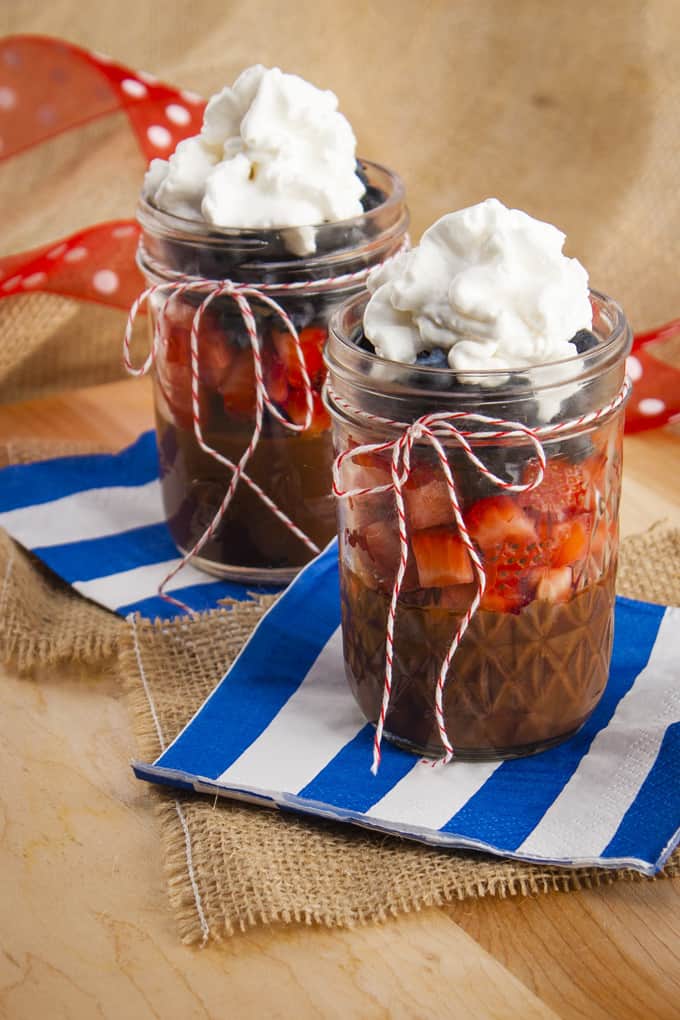 Ingredients
Chocolate Mousse

1 package (270 grams) silken tofu, well drained
4-1/4 oz dark chocolate, broken into pieces (I use 85% cacao dark from Trader Joe's)
1/4 c unsweetened cocoa powder
1/4 c water
1 tbs almond milk
1/2 c sugar
1/4 c Chambord, or liquor of your choice



Whipped Cream

1 can full-fat coconut milk or coconut cream
2-3 tbs sugar or sweetener of choice, to taste
1 tsp vanilla
1/4 tsp agar, optional (see below)


1 c blueberries
1 c strawberries, diced
Instructions
Mousse
Blend the tofu in a blender, foodprocessor or tall container with a handblender until very smooth. Set aside.
Set up a double broiler or place a heatproof bowl over a pot of simmering water. Add chocolate, cocoa powerder, sugar, almond milk, water. and chamboard and heat, stirring, until chocolate is melted and mixture is smooth.
Fold the tofu into the chocolate mixture and divide between 4 serving dishes. Chill in the refrigerator at least one hour and serve.
Whipped Coconut Cream
Technique 1: Place a can of full fat coconut milk in the refrigerator overnight until the solids separate. Remove solids and reserve liquid for another use. Whip solid using a mixer until stiff peaks form. Add sweetener and vanilla to taste. [See Tasty Yummies excellent tutorial]
Technique 2: If you have a siphon whipper, combine the amount of coconut cream recommended by the manufacturer (1 cup for a 1 pint whipper, etc) with sweetener and vanilla to taste. Add 1/4 tsp agar powder per cup, pour into the whipper and charge. Chill in the refrigerator for at least an hour before dispensing.
Parfait
To serve, layer berries on top of mousse and top with coconut whipped cream.
Nutritional Information
Nutritional Information accounts for 2 tbs coconut cream, before whipping (about 1/4 c whipped), per serving.
Calories 505 / Total Fat 22.0g / Saturated Fat 14.4g / Trans Fat 0.0g / Cholesterol 0mg / Sodium 32mg / Potassium 417mg / Total Carbohydrates 66.8g / Dietary Fiber 8.5g / Sugars 53.2g / Protein 9.2g
https://www.homesweetjones.com/2014/06/red-white-blue-vegan-chocolate-mousse-parfait/