So, I had every intention of making this flatbread completely from scratch.  Even though we're halfway through our kitchen remodel and don't have an oven, counter space, or… you know… a kitchen, I was all fired up to make the dough myself and grill it outside.   Then work got crazy, dinners were shifted around, construction madness reached a crescendo and I found myself putting "pizza dough" on our shopping list. Not my proudest moment but boy was I glad I did when it came time to make this for a hurried lunch.  I promise I'll share a great pizza crust recipe later but, in the meantime, perhaps this will save your rear end, too, when you're in a rush but need a beautiful, delicious, and impressive meal.   You really can't go wrong with roasted peppers, oozy cheese and fresh basil.  And for me, calling it a flatbread instead of a pizza takes some of the pressure off achieving a perfect pizza-style crust texture.
The peppers can be roasted a day or two in advance or buy them already roasted for super convenient prep.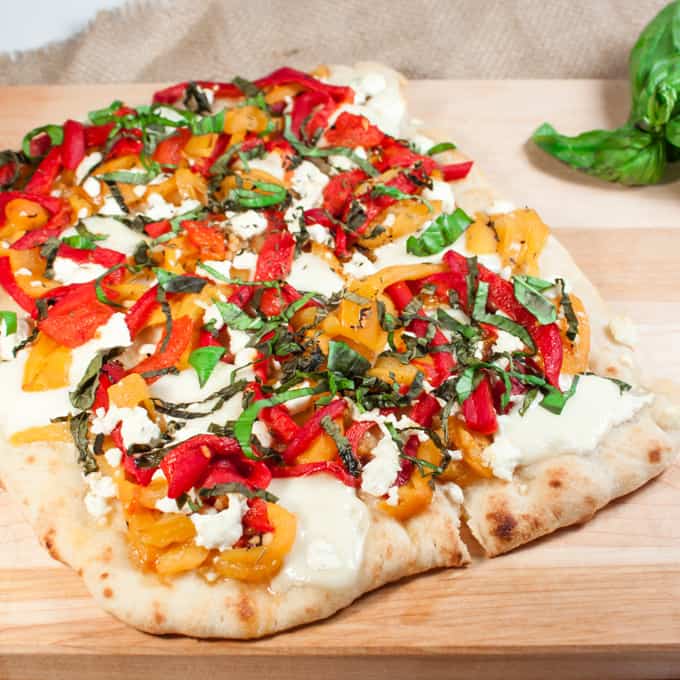 Ingredients
1 red bell pepper
1 yellow bell pepper
1/2 lb prepared pizza dough
2 oz goat cheese
4 oz fresh mozzarella, cubed or shredded
1/4 c fresh basil, chopped, divided
Instructions
Preheat oven 450F.
Roast the Peppers
Bake whole peppers on a baking sheet until charred, about 30-40 minutes, turning twice during roasting. Immediately transfer the peppers to a bowl covered with plastic wrap or a plastic bag to steam off the skins. When the peppers are cool enough to handle, remove the skins, seeds, and inner membranes. Don't peel them under running water as this will rinse away all the delicious juices.
Slice the roasted peppers into thin strips.
Prepare the Flatbread
On a floured surface, roll the dough into an 8x10" rectangle. Top with mozzarella, bell pepper strips, and crumbled goat cheese. Sprinkle with 1/2 the basil.
Transfer flatbread to the oven and bake until crust is cooked through and cheese is melted and beginning to brown, 8-10 minutes. Cut into eight pieces, top with remaining basil and serve.
Nutritional Information
Calories 295 / Total Fat 11.8g / Saturated Fat 6.6g / Trans Fat 0.0g / Cholesterol 30mg / Sodium 662mg / Potassium 169mg / Total Carbohydrates 29.2g / Dietary Fiber 2.5g / Sugars 2.8g / Protein 16.1g
https://www.homesweetjones.com/2014/06/roasted-pepper-goat-cheese-flatbread/