I've been making these shrimp for over a decade.  They're known around these parts as "Maggie's Shrimp" and are requested by a friend at all BBQs and by Brad most Fridays in Summer. We serve them taco night style with a pile of tortillas and various toppings.  The only truly critical topping is our Chipotle Baja Sauce. A creamy, spicy, magical sauce that tastes good on just about anything (including spoons and fingers) but best on tacos.

The crazy green tortillas pictured here are Nopaltillas, tortillas made from organic cactus.  They taste like vegetable-flavored corn tortillas.  Not bad but I'm not sure I'd recommend them.  Flour tortillas are my favorite with this dish but I have a gross of Nopaltillas in the freezer so here we are.  The nutritional information below is for corn tortillas based on the assumption that people relying on the nutritional information are too health conscious to eat flour tortillas.
Skip the tortillas and serve these wrapped in lettuce for a paleo, gluten-free version. We love them served with a side of black beans – another excellent vessel for Chipotle Baja Sauce.
These pair very well with Mexican beer and margaritas.  They are seriously delicious and you should make them next Friday.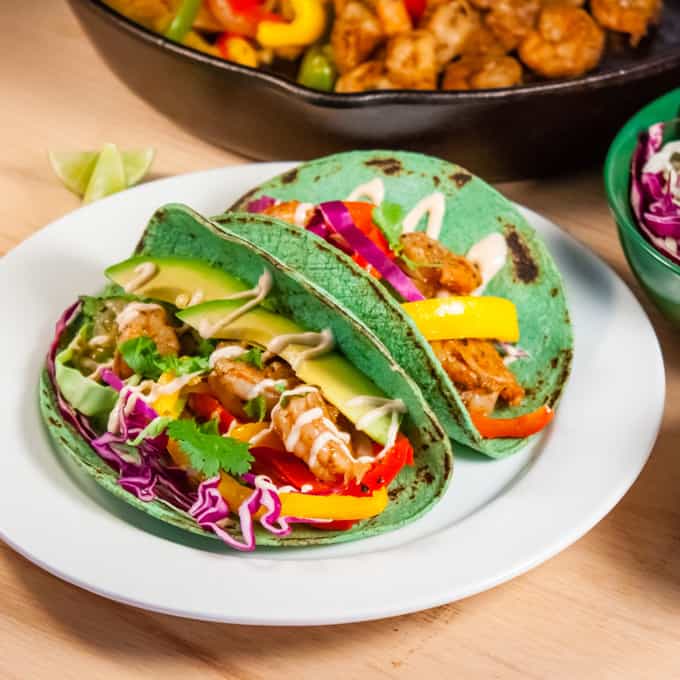 Ingredients
1 tbs + 1 tsp olive oil, divided
1-1/2 tsp cumin
1 tsp garlic powder
1 tsp onion powder
1 tsp paprika
1 tsp dried cilantro
1/2 tsp cayenne pepper, or to taste
1/4 tsp salt
1 lb raw shrimp, peeled and deveined
1 large onion, sliced vertically
3 bell peppers, assorted colors, sliced
2 cloves garlic, minced
salt and pepper, to taste
1 lime wedge



Chipotle Baja Sauce

1/2 c fat free sour cream
2 tbs light mayonnaise
1 tbs lime juice
1 chipotle pepper + 1 tbs adobo sauce, more or less to taste



To serve

Lime wedges
1/2 c cilantro, chopped
1 avocado, sliced
2 c cabbage, shredded
8 fajita size tortillas, warmed
your favorite hot sauce, optional
guacamole, optional
black beans, optional
Instructions
Combine sauce ingredients in a food processor or blender and blend until smooth. Set aside.
Combine cumin, garlic powder, onion powder, paprika, cilantro, cayenne pepper and salt in a large bowl. Add peeled shrimp and stir to combine. Set aside.
Heat oil in a large pan over medium heat. Add onions and saute 2 minutes. Add bell peppers and garlic. Season to taste and continue to saute until vegetables are tender, about 8 more minutes. Transfer to a serving platter and keep warm.
Increase heat to medium-high and add remaining oil to the pan. Add seasoned shrimp and cook, turning, until shrimp are pink and just cooked through, about 2 minutes a side. Add a squeeze of lime and adjust seasoning to taste and transfer to the serving platter.
Serve with tortillas, avocado, cabbage, cilantro, limes, and guacamole. Let each person assemble his own tacos.
Nutritional Information
Calories 497 / Total Fat 20.5g / Saturated Fat 3.7g / Trans Fat 0.0g / Cholesterol 244mg / Sodium 529mg / Potassium 847mg / Total Carbohydrates 45.7g / Dietary Fiber 10.6g / Sugars 12.4g / Protein 32.3g
Weight Watchers Points: 11 / PointsPlus: 12
https://www.homesweetjones.com/2014/06/shrimp-fajita-tacos/