Mmmm… sangria…


In the colder months we tend to drink mostly wine and IPAs, maybe the occasional Irish whiskey, but Summer belongs to cocktails and sangria is one of my favorites. This is a drink that's made to be enjoyed in the sunshine with friends. Or alone in the sunshine, I really don't judge.  As far as cocktails go, this is reasonably healthy given the antioxidant properties of red wine and fruit.  Even the two tablespoons of sugar beat out the chemicals packed into so many other drinks.
We have lots of fancy recipes for sangria that I'll be sharing this season but this version, loaded with summer fruits, is the classic. Mix up the fruits with what's on hand: any combination of stone fruits and berries is delicious.

We served this for a lazy Saturday dinner of Spanish tapas but I don't think there's anything that wouldn't be good with this sangria. When you finish the first batch just add more sugar, brandy and wine. It won't be quite as good as round one but, after a bottle, you may not really notice. This recipe also doubles beautifully if you have a large enough pitcher.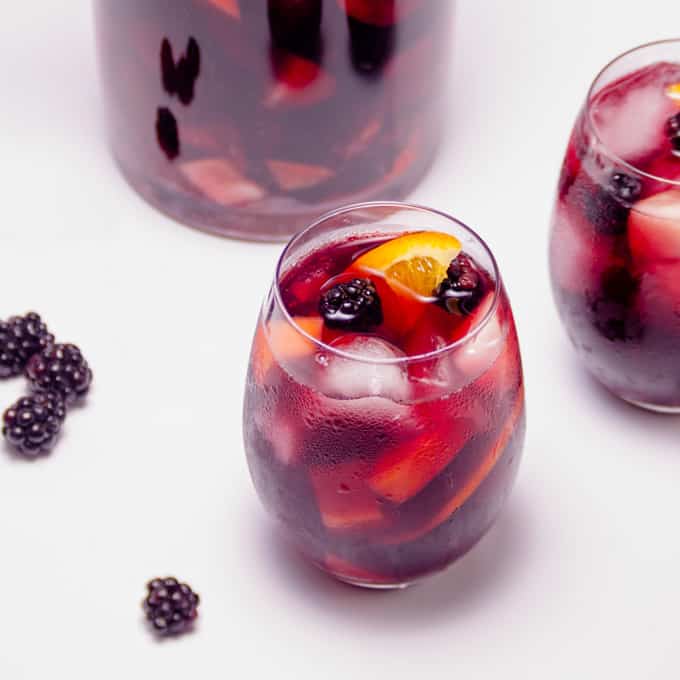 Ingredients
1/2 orange, thinly sliced
1/2 lemon, thinly sliced
2 plums, pitted and diced
1 peach, pitted and diced
1 nectarine, pitted and diced
6 oz blackberries
2 tbs sugar
1/4 c brandy
1 bottle inexpensive but decent red wine (burgundy or merlot work well)
Instructions
Combine fruit with sugar and brandy in a large pitcher. Refrigerate 6-8 hours. Add wine, stir, and refrigerate another hour if you have the patience.
Serve over ice.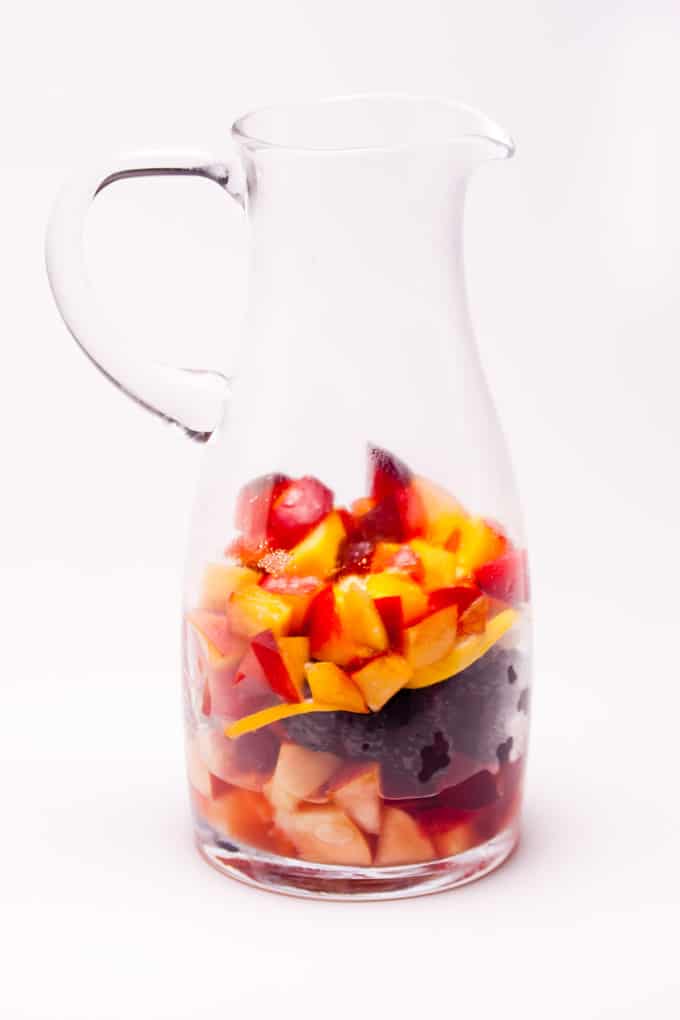 Nutritional Information
Calories 204 / Total Fat 0.0g / Cholesterol 0mg / Sodium 9mg / Potassium 179mg / Total Carbohydrates 10.9g / Sugars 7.4g / Protein 0.1g
https://www.homesweetjones.com/2014/06/simple-summer-red-wine-sangria/