Holy Cow! This is an amazing dish and one of Brad's favorites.  It gets raves every time I serve it completely regardless of the fact that it's under 235 calories a serving.  Replacing half the pasta with cauliflower detracts from the calories but not the flavor or texture. The saffron, garlic, herbs and anchovy paste add amazing complexity.  Nevertheless, this is still wonderful without anchovy paste, saffron or wine so don't hesitate to try it out even if you don't have those ingredients on hand.
This baked ziti is my go-to make-ahead meal.  We're gearing up for the end of the quarter and I knew I'd have a lot of late nights this week so I prepped this sucker on Sunday and had a homemade meal standing by in the fridge when I rolled in late Tuesday night.  After the pasta is assembled, you can store it in the fridge up to two days before baking.  If you have time, let it warm up to room temperature for 30 minutes before putting it in the oven.

You'll notice that in these picture's I'm not using a 9×13 baking dish.  That's only because our kitchen is being remodeled and I needed to fit this in our tiny toaster oven.  Even so, it still baked up perfectly.
The big scandal here is that I use penne instead of ziti but if anything I think its better.  Use whatever pasta you have on hand and make this recipe yours.  I often add spinach or broccoli to give it a little green.  No matter how you adapt this I know you will love it.  Give it a try!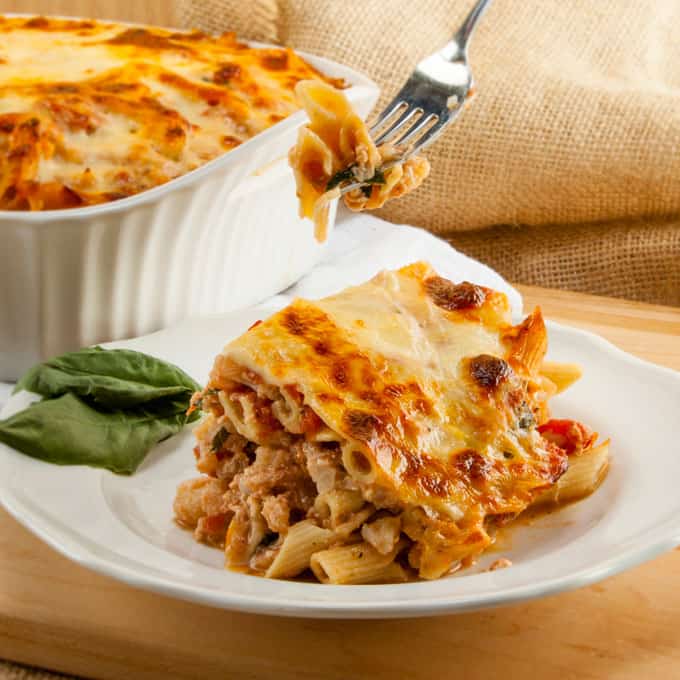 Ingredients
1 small pinch saffron
2 tbs red wine
1 small head cauliflower (about a pound)
6 oz ziti or penne
1 tsp olive oil
1/2 tsp red pepper flakes, or to taste
1/2 medium onion, diced
1 tbs garlic, minced
2 15-oz cans no salt added diced tomatoes
8 oz non-fat ricotta (I use Trader Joe's)
8 oz light shredded mozzarella, divided (I use Trader Joe's)
1/4 c Parmesan cheese , shredded
2 tbs fresh basil, chopped
2 tbs fresh oregano, chopped
salt and pepper to taste
Instructions
Preheat oven to 375 degrees F.
In a small cup, add saffron to wine and set aside.
Bring a large pot of salted water to a roiling boil over high heat. Break cauliflower into florets and add to the pot. Boil cauliflower until tender when poked with a fork, about 8-10 minutes.
Remove cauliflower using a slotted spoon and set aside. Return water back to a boil, adding more to fill the pot if necessary. Add pasta and boil until al dente according to package instructions.
Drain pasta and set aside.
In the same pot, heat oil over medium heat and add onion. Saute, stirring regularly, about 5 minutes. Add red pepper flakes and continue to saute until onion is translucent, 3-5 more minutes. Add garlic and saute 30 more seconds, until fragrant.
Add tomatoes with juice, wine, saffron, basil and oregano. Stir in ricotta, 1/2 the mozzarella (4 oz), and 1/2 the Parmesan (2 tbs). Season to taste.
Add pasta to tomato cheese mixture. Crumble the cauliflower into small florets and add to the pot. Stir to combine.
Transfer the pasta and sauce to a 13x9 baking dish. Top with remaining mozzarella and Parmesan.
Bake, uncovered, 30 minutes. If necessary, broil under high heat another 2-3 minutes until the top begins to brown.
Nutritional Information
Calories 234 / Total Fat 5.0g / Saturated Fat 1.6g / Trans Fat 0.0g / Cholesterol 13mg / Sodium 315mg / Potassium 320mg / Total Carbohydrates 31.8g / Dietary Fiber 3.7g / Sugars 11.4g / Protein 16.6g
Weight Watchers Points: 4 / PointsPlus: 6
https://www.homesweetjones.com/2014/06/skinny-baked-ziti/
I'd previously published this back in 2013 but I worry no one tried it because the pictures were so awful.  This is really truly amazing and much better tasting than this shot would lead you to believe: