I still remember that fateful day in 2008 when I came across this recipe in an issue of Cook's Illustrated.  I love garlic, shrimp, and anything I can dip bread in.  This combines those three loves into something even I could never have imagined.
Like most Cook's Illustrated recipes, I can't find a way to improve it except maybe to make more of it.
This made for an amazing Spanish Tapas night served with Goat Cheese Stuffed Piquillo Peppers, Manchego with Quince Paste and, of course, plenty of Sangria.  Make sure to have lots of crusty bread on hand to dip into the garlic flavored olive oil.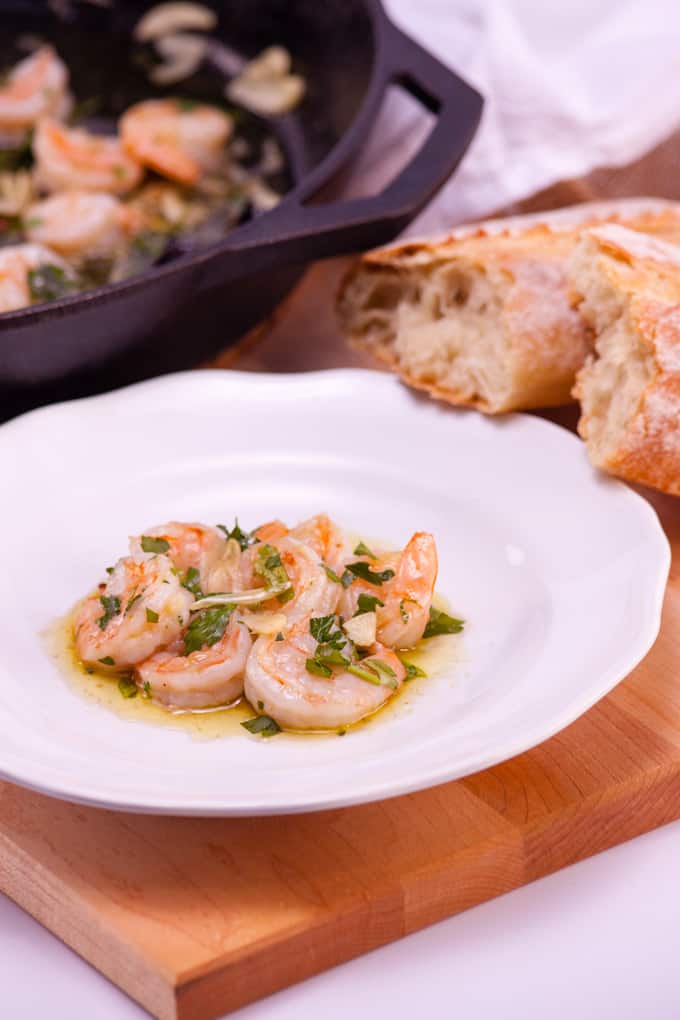 Ingredients
14 medium garlic cloves, peeled
1 pound large shrimp, peeled, deveined, and tails removed
8 tbs olive oil
1/2 tsp salt
1 bay leaf
1 2-inch piece cascabel chile (or substitute New Mexico chile), crushed
1 1/2 tsp sherry vinegar
1 tbs fresh parsley leaves, chopped
Instructions
Mince 2 garlic cloves and combine with shrimp, 2 tbs olive oil, and salt in a large bowl. Set aside to marinate at room temperature for 30 minutes.
Meanwhile, heat remaining 6 tbs olive oil in a large skillet or cast iron pan over medium low heat. Crush 4 garlic cloves and add to the pan. Cook, stirring occasionally, until the garlic is beginning to brown, about 5-7 minutes. Remove the browned garlic with a slotted spoon and discard.
Reduce heat to low. Thinly slice the remaining 8 garlic cloves and add to the oil along with the bay leaf and crushed chili. Cook, stirring occasionally, until the garlic is tender but not browned, another 5-7 minutes.
Increase heat to medium low and add the shrimp with the marinade to the pan in a single layer. Cook until the shrimp are just almost cooked through, about 2 minutes per side.
Increase heat to high and add sherry vinegar. Cook, stirring constantly, until the shrimp are cooked through and the oil is bubbling, about 15-20 seconds. Sprinkle with parsley and serve immediately.
Nutritional Information
Calories 391 / Total Fat 30.0g / Saturated Fat 4.6g / Trans Fat 0.0g / Cholesterol 239mg / Sodium 570mg / Potassium 241mg / Total Carbohydrates 5.3g / Protein 26.5g
https://www.homesweetjones.com/2014/06/spanish-style-garlic-shrimp/
Adapted from Cook's Illustrated January 2008.