The end of the quarter is always a hectic time for us at work and this month is especially busy as we have a huge project we've committed to release in June. I'm expecting a few late nights this week and spent Sunday prepping some meals I can whip up in a snap.
One of my favorite make-mostly-ahead meals is this Spicy Peanut Shirataki Noodle dish. Letting the chicken marinate and the noodles soak in the broth overnight only adds extra flavor. All you have to do the next day is heat up the noodles (microwave or stovetop) and stir-fry the chicken and veggies – tasks that take less than 15 minutes including clean-up.
If you've never used shiritaki noodles, they're vegan, gluten-free, no-calorie noodles made from the konjac yam.  They're a little stinky when you first open a package but give them a rinse in hot water or a quick boil and they absorb all the flavors of the delicious broth you put them in – perfect for a dish like this!  You can find them at Asian markets or in the refrigerator section of some grocery stores.  I buy mine online from Miracle Noodle. Be warned that there are also tofu shirataki noodles out there that have more calories. They'd probably work in this dish but the nutritional information will be different.
Get 10% Off on All Miracle Noodle Products  Coupon Code: AFF10 
You can prepare the noodles and marinate the chicken up to 2 days in advance.  Substitute liquid aminos for the soy sauce to make this gluten free.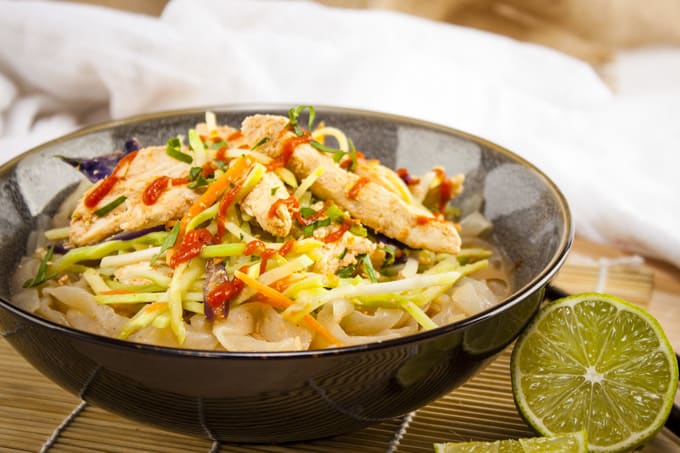 Ingredients
4 7-oz bags Shirataki noodles
1 lb boneless, skinless chicken breasts, sliced into strips
2 tbs fresh ginger, minced, divided
1-1/2 tbs fresh garlic, minced, divided
2 tbs Sriracha, divided
3 tbs soy sauce, divided (tamari for gluten-free)
1 tbs lime juice
2 c chicken broth
1 tbs honey
5 tbs PB2 (or substitute 3 tbs peanut butter)
1/2 tsp sesame oil
12 oz broccoli slaw
1/2 c cilantro, chopped
Instructions
Combine 1 tbs minced ginger, 1 tbs minced garlic, 1 tbs Sriracha, 1 tbs soy sauce and 1 tbs lime juice to create marinade. Cut chicken into strips and marinate 30 minutes to overnight.
Meanwhile, thoroughly rinse shirataki noodles in hot water.
Combine chicken broth, 1 tbs minced ginger, ½ tbs minced garlic, 1 tbs Sriracha, 2 tbs soy sauce, honey and PB2 and bring to a boil. Add noodles and simmer 5 minutes. Noodles can be served immediately but absorb the flavors and get even tastier overnight.
Heat a pan over medium-high heat. Add sesame oil, chicken strips, and marinade. Stir fry until chicken is just cooked through, about 5 minutes. Add broccoli slaw and stir fry for another 2 minute until slaw is softened and chicken is browned.
Divide noodles between 4 bowls and top with broccoli and chicken. Garnish with cilantro and serve with plenty of Sriracha on the side.
Nutritional Information
Calories: 243 / Fat: 5.6 g / Saturated Fat: 1.6 g / Trans Fat: 0.0 g / Cholesterol: 66 mg / Sodium: 643 mg / Total Carbohydrate: 16.3 g / Dietary Fiber: 4.4 g / Sugars: 8.2 g / Protein: 32.4 g;
Weight Watchers Points: 5; PointsPlus: 6;
https://www.homesweetjones.com/2014/06/spicy-chicken-and-shirataki-peanut-noodles/
This is an older recipe from the archives that I updated because the pictures were so bad I was sad no one would make this awesome dish.  Proof here:
Awwww… so adorable. Remember those days?