I haven't been able to get enough of Thai flavors lately. Ever since I fell in love with this Spicy Peanut Dipping Sauce I've been looking for new ways to use it. As amazing as the taste of that sauce is, it takes a back seat here to the rockstar combo of sweet grilled pineapple and moist, spicy turkey.
Adding shredded carrots to my turkey burgers is a tip I picked up from Gina over at Skinny Taste and I'll never go back. The result is so moist and much more flavorful than plain ground turkey. The patties are a bit delicate, though, and won't hold together on the grill so if you're cooking outside use a grill-friendly skillet.
We like things spicy but if you have a more sensitive palate, back off the Sriracha and find the right balance for your tastebuds.
We served these with sweet potato fries and our new favorite sweet potato fry dipping sauce: equal parts real maple syrup and adobo sauce from a can of chipotles. Yum! This meal is all about sweet and spicy combo.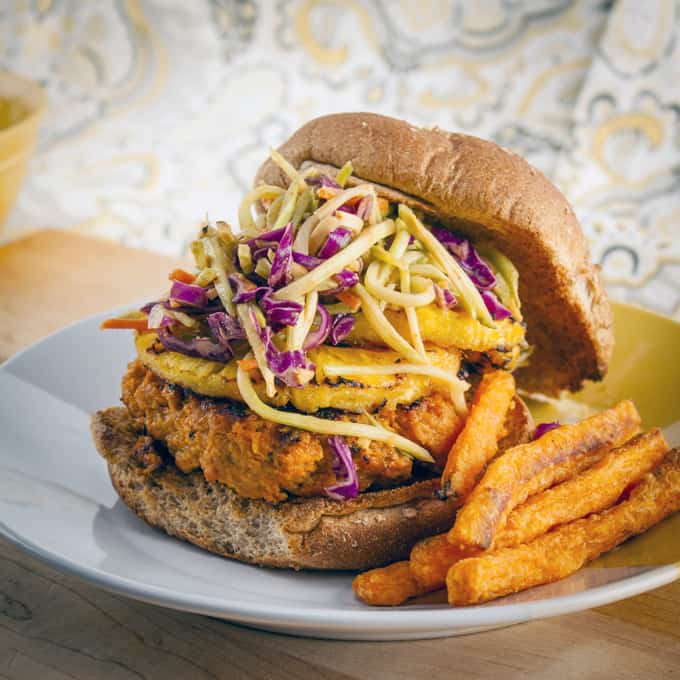 Ingredients
1/2 tbs fresh ginger, minced
1/2 tbs garlic, minced
1 tbs low sodium soy sauce
1/2 tbs rice vinegar
1 tbs water
2 tbs PB2 (or 1 tbs peanut butter)
1/2 tbs Sriracha
1/2 tbs honey
juice of half a lime
6 oz broccoli slaw
20 oz 99% fat free ground turkey
2/3 c shredded carrot
1 garlic clove, shredded
1 tbs red onion, shredded
1 tsp Worcestershire Sauce
1/4 c bread crumbs
1/4 c c Sriracha
non-stick spray
5 1/2-inch thick pineapple slices
5 whole wheat buns
Instructions
In a small bowl, whisk together the first 9 ingredients (through lime juice). Combine half the dressing with the broccoli slaw and reserve the other half.
In a large bowl, combine ground turkey, carrot, garlic, onion, Worcestershire, bread crumbs and 1/4 c Sriracha until well blended. Shape into 5 equally sized patties.
Heat a large skillet over medium high heat and spray with non-stick spray. Add patties and saute until cooked through, 4-5 minutes per side.
Meanwhile, heat grill to high and grill pineapple slices, about 2-3 minutes per side.
Place burger on a bun topped and top with pineapple and broccoli slaw. Serve with additional peanut sauce on the side.
Nutritional Information
Excluding bun: Calories 217 / Total Fat 1.8g / Trans Fat 0.0g / Cholesterol 71mg / Sodium 362mg / Potassium 235mg / Total Carbohydrates 19.6g / Dietary Fiber 2.6g / Sugars 7.3g / Protein 31.7g Weight Watchers Points: 4 / PointsPlus: 5
https://www.homesweetjones.com/2014/06/thai-sriracha-turkey-burger-grilled-pineapple-spicy-peanut-slaw/