You're about to fall victim to some serious voodoo. Prepare to be enthralled by these shrimp.
I've been having dreams about this sauce. It's so crazy complex and flavorful I don't even know how to describe it. Spicy, creamy, and just plain mesmerizing.  Pictures will never do it justice.  You need to get it in your mouth.

I researched dozens of recipes while developing this and most use lobster base or shrimp bouillon. Making your own stock by boiling the shrimp shells doesn't take that much more time but adds so much more depth to the sauce while letting you control the sodium and other flavorings. I also lighted it up by replacing the standard heavy cream with half and half.
Dixie Blackened Voodoo Lager is the traditional beer but I sadly couldn't find it at either of my local beverage specialty stores. Guinness black lager was an outstanding substitute and readily available. If you can't find it, though, use another dark lager.

We've been serving this over a creamy polenta made by bringing 2 cups of chicken stock to a boil, slowly adding 1 cup corn meal whisked with 1 cup half and half, simmering for 5 minutes and finishing with salt, lots of freshly ground black pepper, and an ounce of shredded Parmesan. It would also be great over garlic mashed potatoes, grits, rice, noodles, or some toasted corn bread wedges.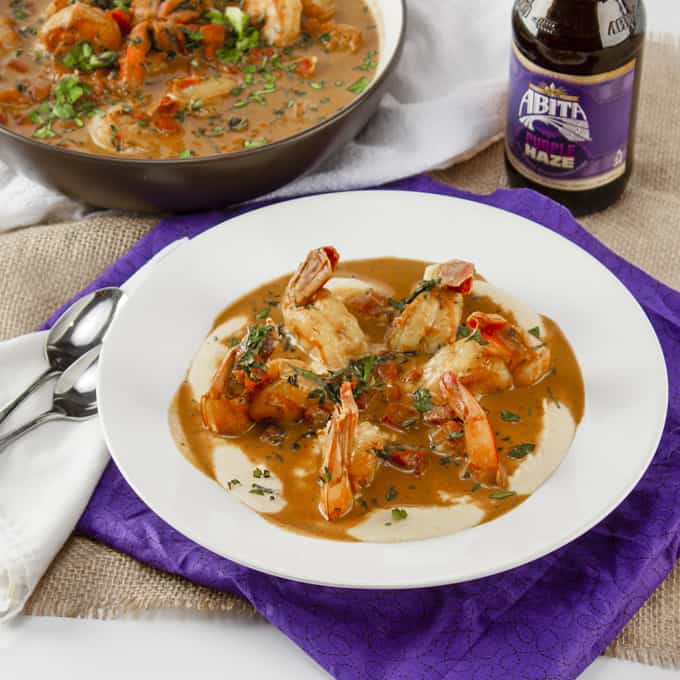 Ingredients
2 tsp paprika
2 tsp salt
2 tsp garlic powder
2 tsp freshly ground black pepper
1 tsp onion powder
1 tsp cayenne pepper
1 tsp dried oregano
1 tsp dried thyme
2 pounds large or extra-large shrimp, shelled and deveined, shells reserved
1 tbs olive oil
2 tbs minced garlic
1/2 medium onion, chopped
3 bay leaves
1 lemon, peeled and sectioned
1 c water
12 oz black lager or other dark beer
1/3 c Worcestershire sauce
1 c half and half
1 tbs brown sugar
1 14.5-ounce can petite diced tomatoes, well drained (about 3/4 c)
1 tbs butter
2 tbs fresh basil, chopped
2 tbs fresh parsley, chopped
salt and pepper, to taste
Instructions
In a small bowl, combine paprika. salt, garlic powder, black pepper, onion powder, cayenne, oregano and thyme.
Combine 1/2 the spice mix with the peeled shrimp and mix well. Set aside.
Heat olive oil in a large pot over high heat. Add the onions and garlic and saute 1 minute, until fragrant. Add the shrimp shells, remaining 1/2 of spice mix, bay leaves, lemon, water, Worcestershire sauce, and beer. Bring to a boil and reduce heat to medium. Simmer for 30 minutes to reduce. Strain the liquid into a measuring cup. There should be about 1-1/2 to 2 cups.
Discard solids and return the strained liquid to the large pot over medium heat. Add half and half and brown sugar. Bring to a boil and reduce to 1-1/2 cups, about 10-15 minutes.
Add the shrimp and drained tomatoes. Return to a simmer until shrimp are pink and just cooked through, about 4-5 minutes. Stir in the butter, basil, parlsey, and adjust seasoning to taste. Serve shrimp and sauce spooned over grits, polenta, mashed potatoes, rice, or toasted corn bread.
Nutritional Information
Calories 315 / Total Fat 9.8g / Saturated Fat 4.1g / Trans Fat 0.0g / Cholesterol 333mg / Sodium 1313mg / Potassium 441mg / Total Carbohydrates 14.5g / Dietary Fiber 1.3g / Sugars 5.5g / Protein 36.6g
Weight Watchers Points: 7 / PointsPlus: 7
https://www.homesweetjones.com/2014/06/voodoo-shrimp/