My eight-year-old niece just got an email account and it's been so much fun chatting with her.  One of her first emails just melted me.
Here is a root beer float ( that I made )
Mom told me you like taking pictures
of the ( awesome ) food you make.
       Love ,
                  Alayna
What a natural!  Brad and I can't get over how great her food styling and composition are.  The little melty drip, the wooden background, subtle back light and excellent use of props are all straight out of foodgawker. Not to mention that the root beer float looks delicious!  I can't wait for her next creation.  Huge thanks to her for giving me permission to post her beautiful picture.
In honor of Alayna I'm introducing a new "Kid Friendly" tag and inaugurating it with this healthified version of a childhood favorite: chicken fingers.
We slash fat and calories by baking these instead of frying.  Panko breadcrumbs gives them a crispy crust while the long soak in buttermilk marinade makes for the most tender, flavorful chicken I've ever tasted.  Replace the breadcrumbs with crushed pork rinds to make these paleo.
We served them with ketchup and a honey mustard sauce that was a perfect compliment.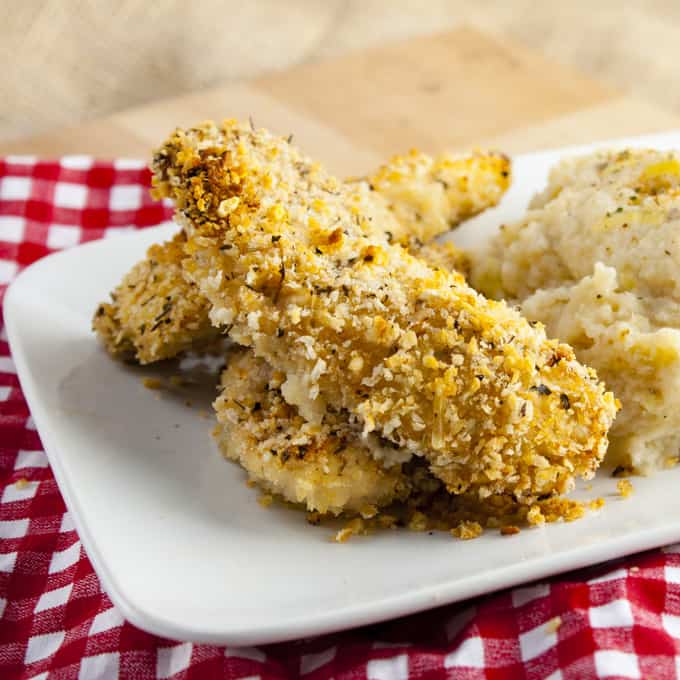 Ingredients
2 cups buttermilk
1 tablespoon Dijon mustard
1 tablespoon hot sauce
2 teaspoons paprika
1 teaspoon salt
1 onion, chopped
5 garlic cloves, smashed
1 lb boneless, skinless chicken breast, sliced into strips
freshly ground black pepper
2 cups panko breadcrumbs
2 tbs Parmesan cheese, grated
1 tbs Italian seasoning
olive oil spray
Instructions
Prepare the marinade by combining buttermilk, mustard, hot sauce, paprika, salt, onion and garlic in a large plastic freezer bag. Add the chicken to the bag, press out the air, seal the bag and marinate the chicken in the refrigerator for at least 24 hours.
When ready to cook the chicken, preheat the oven to 400 degrees F.
Remove the chicken and discard the excess marinade. Season the chicken with salt and pepper. Combine breadcrumbs, Parmesan cheese, and Italian seasoning and spread on a flat plate. Press each piece of chicken into the breadcrumb mixture to completely coat all sides.
Line a baking sheet with foil and spray lightly with oil. Place the chicken on the baking sheet and spray with oil.
Bake 20 to 25 minutes, or until the chicken is cooked through and the crust is golden brown.
Nutritional Information
Calories 279 / Total Fat 6.4g / Saturated Fat 1.2g / Trans Fat 0.0g / Cholesterol 80mg / Sodium 944mg / Potassium 484mg / Total Carbohydrates 22.1g / Dietary Fiber 1.4g / Sugars 1.9g / Protein 30.1g Weight Watchers Points: 6 / PointsPlus: 7
https://www.homesweetjones.com/2014/07/crispy-baked-buttermilk-chicken-fingers/