This is a gluten-free version of one of our all-time favorite recipes.  This creamy, herby dish is perfect for hectic schedules: it takes only about a half hour and uses just one dish.  Steam some veggies while the chicken is cooking and you have a delicious, super healthy dinner that clocks in at under 250 calories leaving plenty of room in the calorie budget for an extra glass of wine.
Substitute 1/2 tbs dried thyme if you don't have any fresh and it will still be fantastic.  Because this version uses cornstarch for thickening instead of flour, the sauce will be a bit thinner the next day in the unlikely event you have leftovers.
We love this served with asparagus or green beans but it would also be great over rice if you're looking for something heavier.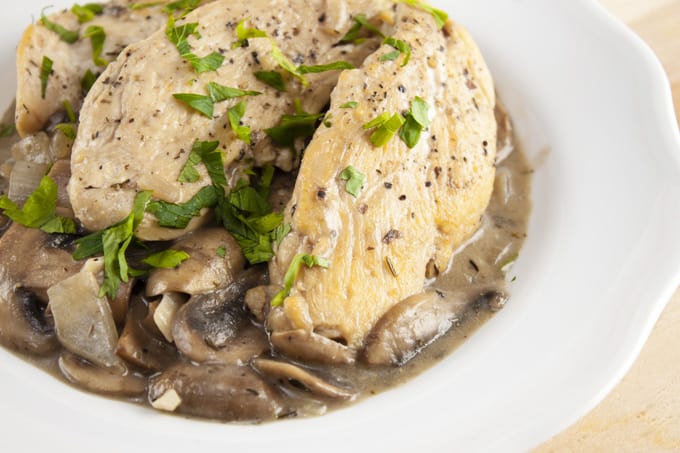 Ingredients
olive oil spray
1 lb boneless, skinless chicken breasts, cut into strips
salt and pepper to taste
1 medium onion, diced
2-3 cloves garlic, minced
1 lb mushrooms
1 tbs cornstarch
1/2 c dry white wine
1 c low-sodium, fat-free chicken broth
1 tbs fresh thyme leaves, chopped
1 tbs Dijon mustard
2 tbs flat leaf parsley, chopped (optional)
Instructions
Whisk cornstarch into 1/2 c chicken broth and set aside.
Heat olive oil in a large pan over medium heat. Season chicken breasts with salt and pepper and cook until browned, about 5 minutes per side. Remove chicken to a plate.
Spray pan with additional olive oil and add onions. Saute, stirring and scraping up brown bits, until translucent, about 5 minutes. Add garlic and mushrooms and continue cooking until mushrooms have released their juices, about 5 minutes. Deglaze with a small amount of wine if the fond begins to darken too much.
Add remaining wine, broth, thyme, and mustard and bring to a boil. Return the chicken breasts to the pan and simmer, uncovered, until chicken is cooked through, about 10 minutes. Stir in cornstarch mixture and boil, stirring, until sauce is thickened.
Serve chicken with sauce and garnish with parsley.
Nutritional Information
Calories 211 / Total Fat 3.9g / Trans Fat 0.0g / Cholesterol 73mg / Sodium 301mg / Potassium 900mg / Total Carbohydrates 10.0g / Dietary Fiber 2.2g / Sugars 3.4g / Protein 29.4g
Weight Watchers Points: 4 / PointsPlus: 5
https://www.homesweetjones.com/2014/07/gluten-free-chicken-creamy-mushrooms/