One of our closest friends has celiac disease and, a decade before being gluten-free was all the rage, she taught us about rice flour and the unexpected fact that Hefeweizen is gluten-free. She and her husband also recently adopted a vegan diet that excludes expressed oils. We barbecued together this weekend and I was craving potato salad but wanted to make a version that they could eat. While we toyed with making a mayo-free German potato salad that just didn't feel right for the 4th of July weekend. Besides, I absolutely love a culinary challenge like this.  So I set out to find a vegan, gluten-free, oil-free mayonnaise-like dressing.


I tested several recipes based around silken tofu and coconut milk but the hands-down best version came from Bryanna Clark Grogan's Vegan Feast Kitchen.   Her technique is so easy and produces a thick, creamy spread that nails both the taste and texture of traditional mayonnaise.  After much experimentation, I increased the amount of cashews for texture and adjusted the flavors slightly for my taste. This mayonnaise was a hit.  Not only did it make a delicious potato salad that I'll share tomorrow but we used it to top veggie burgers and dogs.
For a zesty variation I blended half a chipotle pepper and a tablespoon of adobo sauce  into one cup of this dressing.  That jar was completely devoured within hours.
Not only is this easier to make than traditional egg and oil mayonnaise, it's  much less expensive and far healthier at only 13 calories a tablespoon.  We're not vegan but this may become our standard mayo.
Find agar powder
and the Vegg vegan egg yolk substitute
at specialty stores or buy online from Amazon like I did.  The Vegg is completely optional and just gives an extra eggy flavor to the dressing. Similarly, you can swap out soy or hemp milk for the almond milk.  Enjoy!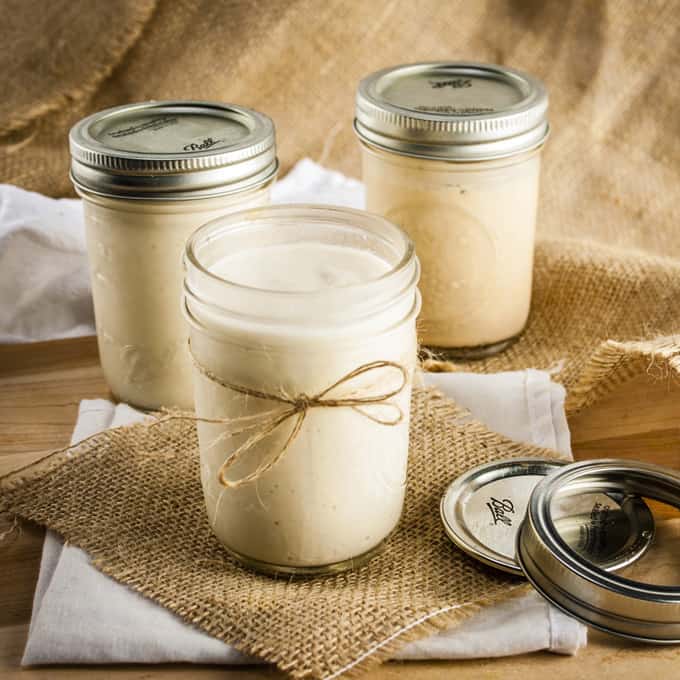 Ingredients
1 c boiling water
1/3 c raw cashews
1 c unsweetened, unflavored almond milk
2 tbs apple cider vinegar
1/4 tsp salt
1/2 tsp mustard powder
1/4 tsp The Vegg powder, (optional, not gluten free)
10 tbs (1/2 c + 2 tbs) cold water
1/2 tsp Agar Powder
3-1/2 tbs cornstarch
Instructions
Pour boiling water over cashews and let soak 10 minutes. Drain.
Combine softened cashews, almond milk, vinegar, salt, mustard powder and VEGG in a blender and liquefy. Set aside.
Combine cold water, agar powder, and cornstarch in a microwave safe bowl and whisk until well-combined. Microwave 45 sec and whisk again. Continue microwaving in 30 second increments, stirring vigorously between each, until mixture is thick. smooth, translucent and no longer chalky white.
Add cornstarch mixture to the blender and blend until smooth. Pour into storage jars and refrigerate at least 4 hours. Dressing will thicken as it chills.
Store in an airtight container in the refrigerator for up to a week and a half.
Nutritional Information
Calories 13 / Total Fat 0.8g / Trans Fat 0.0g / Cholesterol 0mg / Sodium 26mg / Potassium 14mg / Total Carbohydrates 1.2g / Protein 0.3g
Weight Watchers Points: 0 / PointsPlus: 0
https://www.homesweetjones.com/2014/07/vegan-oil-free-mayonnaise/