I'm so excited to have had two recipes featured in the Fall issue of Go Gluten Free Magazine: Thai Vegetable Curry and Creamy Chicken Gnocci Soup. There are loads of other great recipes so check it out if you see it at the market.

To celebrate, I wanted to share another favorite recipe that happens to be gluten-free.


I've gushed about my favorite spice store on this blog plenty of times. Last July when we were in Seattle I stopped by and picked up a magical new Indonesian Ayam spice mix. I was inspired by a recipe on their blog for this grilled ayam with peanut sauce and now I'm addicted.
This grilled chicken and pineapple salad with spicy-sweet peanut dressing hits all the right notes for me.  Fragrantly exotic but still crazy accessible  it comes in under 350 calories a serving (more if you add avocado like I did) and is easy to make – just mix, marinate, and grill.


The smell while this is cooking is utterly mouthwatering and everyone in my office was jealous when I brought leftovers for lunch. If you're not lucky enough to make regular trips to Seattle to visit the World Spice Market, you can order the spice blend online (no affiliate relationship, just regular fanboyism) or make your own by combining turmeric, ginger powder, garlic powder, coriander, cumin, bay leaves, chile, onion powder, cinnamon, fennel seed, black pepper, and fenugreek seeds.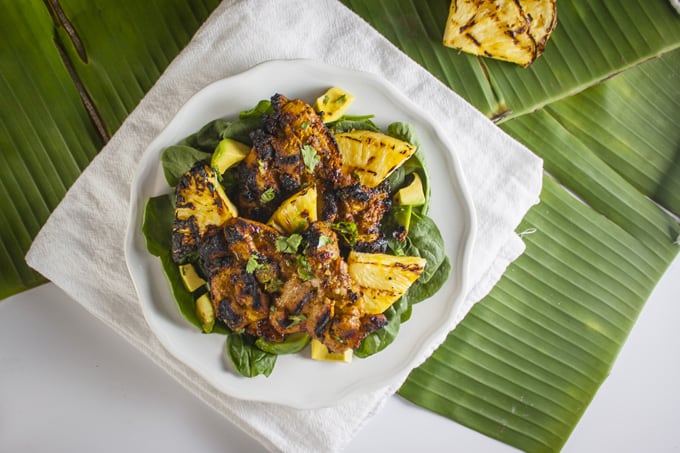 Ingredients
6 tbs ground Indonesian Ayam Spice, divided
1/2 c soy sauce
1/2 c rice wine vinegar
1/4 c PB2 (can substitute peanut butter)
1/4 c fresh cilantro, chopped
1/4 c lemon juice
2 tablespoons honey
1 tablespoon sesame oil
6 boneless, skinless chicken thighs
1/2 pineapple, sliced into 6 1/2 inch rounds and quartered
8 c baby spinach, washed
1 avocado, cubed (optional)
Instructions
Whisk together 3 tbs Ayam Spice mix, soy sauce, rice wine vinegar, PB2, cilantro, lemon juice, honey, and sesame oil. Set aside.
Rub the chicken thighs with the remaining 3 tbs Ayam spice. Marinate the chicken in the refrigerator, covered, in 1/2 the dressing for 2-4 hours. Reserve the remaining dressing.
Grill the meat over medium-high heat for about 20 minutes, until it is cooked through. Grill the pineapple slices for 2-3 minutes a side until beginning to brown.
Arrange chicken and grilled pineapple over spinach and avocado (if using). Serve with reserved dressing on the side.
Nutritional Information
Calories 344 / Total Fat 14.3 / Saturated Fat 4.0 / Trans Fat 0.0g / Cholesterol 70m / Sodium 1567m / Potassium 481m / Total Carbohydrates 31.6 / Dietary Fiber 4.9g / Sugars 19.9g / Protein 23.5g
Weight Watchers Points: 7 / PointsPlus: 9
https://www.homesweetjones.com/2014/09/indonesian-grilled-chicken-pineapple-salad-peanut-dressing/