I hate when half the calories of my meal come from a tiny drizzle of sauce so 99% of the time I use a lightened-up version of whatever dressing my salad calls for.  The biggest challenge to this habit hit when, towards the end of Summer, we discovered a new favorite salad that went best with creamy poppy seed dressing.  I've never made poppy seed dressing from scratch and wasn't even sure where the unique flavor profile came from.  What I did know is that I couldn't keep guzzling the Newman's Own and laying off this particular salad was out of the question.
I hit the kitchen after work one day with a stack of recipes, a bottle of Newman's Own, and a taste for experimentation.   By the time Brad got home I was ready.  I giddily subjected him to a taste test before even saying hello and he confirmed my hypothesis: poppy seed success.
The final recipe has all the flavor of the original but less than a third of the calories and a quarter of the fat.  Pureeing the onion to extract it's juice seems like a little extra work but this is an extra special dressing and totally worth it.
I've successfully stored this in an airtight container in the fridge up to 2 weeks but it's best in the first week.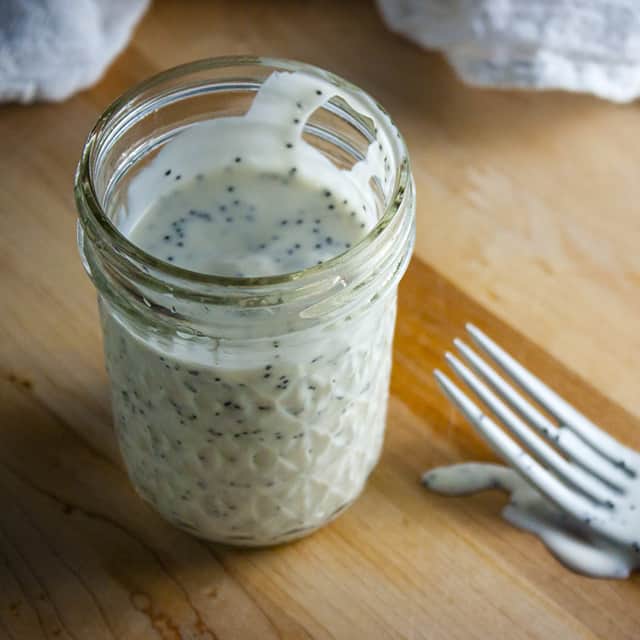 Ingredients
1/2 onion, yellow or sweet variety
6 tbs nonfat Greek yogurt
6 tbs light mayonnaise
4 tsp apple cider vinegar
1 tbs sugar
1 pinch salt
1 pinch mustard powder
2 tsp poppy seeds
Instructions
Coarsely chop the onion and place in a blender or food processor. Puree until liquefied. Strain onion pulp through cheesecloth into a cup.
Measure 3 tbs of onion juice into a small bowl. Add remaining ingredients and whisk to combine. Refrigerate.
Nutritional Information
Calories 42
Total Fat 2.9g
Trans Fat 0.0g
Cholesterol 2mg
Sodium 132mg
Potassium 34mg
Total Carbohydrates 2.1g
Sugars 2.0g
Protein 1.2g
Weight Watchers Points: 1
PointsPlus: 1
https://www.homesweetjones.com/2014/09/low-calorie-creamy-poppy-seed-dressing/