So, I'm a little bit of a minimalist.  I hate "stuff." Buying stuff, storing stuff, all that is awful.  Until I married Brad, everything I owned – furniture included – could fold up and fit in one hatchback.  Brad jokes that if it were up to me, we still wouldn't own anything and he's probably right.  Except when it comes to food.  Then the secret hoarder in me comes out.
When I see a pretty bit of produce or an exotic spice mix, I must own it.  My tyrannical menu planning came about really as a way to avoid letting all those beautiful fruits, vegetables and spices go bad before I used them.

I've been pretty good the last few years but the end of the season is always a struggle.  Knowing that Summer is coming to a close I couldn't let this batch of gorgeous tomatoes go by un-purchased (what if they were the last tomatoes of the season?!?!?!).   I didn't have a plan for them, though, and they sat a little longer than I would have liked.  Luckily, I recently discovered that a roasted older tomato is just about as delicious as a roasted tomato just off the vine.

I've also been hoarding my last batch of fancy pasta from the Seattle Pike Place Market: a rosemary garlic flavor. This pairing seemed obvious and tasted just like I'd hoped.  The sweet roasted tomato flavor combines so beautifully with the fresh rosemary I'm sure I'll be making this even when the weather cools.

It's a super comforting dish that just happens to be vegan.  If you're not vegan, however, you can jazz it up with a little dusting of Parmesan if you're into that sort of thing.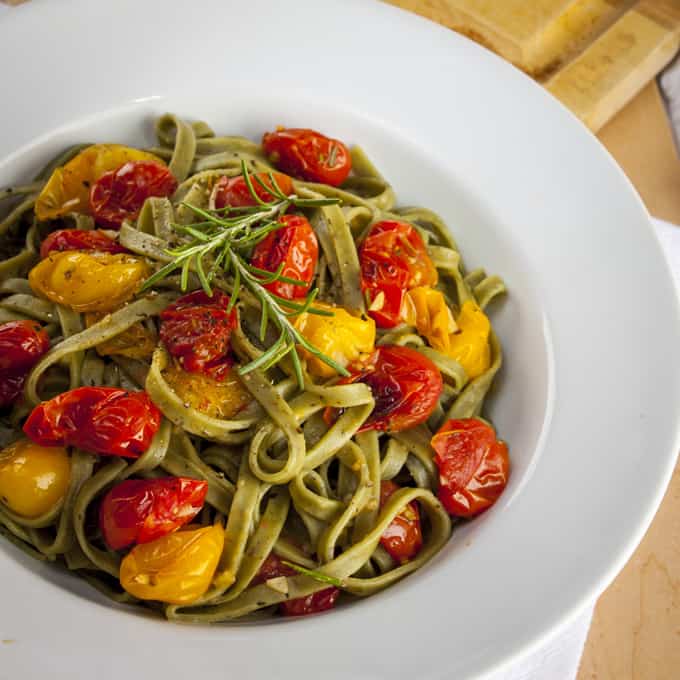 Ingredients
8 oz pasta
1 lb fresh tomatoes, mini heirloom, grape or cherry
2 tbs olive oil, divided
1 clove garlic, minced
1 tbs fresh rosemary, minced
salt and black pepper, to taste
Instructions
Cook pasta according to package instructions.
Meanwhile, preheat oven to 450F. Toss whole tomatoes with olive oil, garlic, rosemary, salt, and lots of freshly ground black pepper.
Cook on a foil-lined baking sheet until you can hear the tomatoes popping, about 10-15 minutes depending on size.
Combine tomatoes and their juices with pasta. Season to taste and garnish with fresh rosemary, if desired.
Nutritional Information
Calories 299 / Total Fat 8.7g / Saturated Fat 1.3g / Cholesterol 41mg / Sodium 15mg / Potassium 365mg / Total Carbohydrates 50.0g / Dietary Fiber 2.8g / Sugars 14.5g / Protein 7.7g
Weight Watchers Points: 6 / PointsPlus: 8
https://www.homesweetjones.com/2014/09/roasted-tomato-rosemary-pasta/